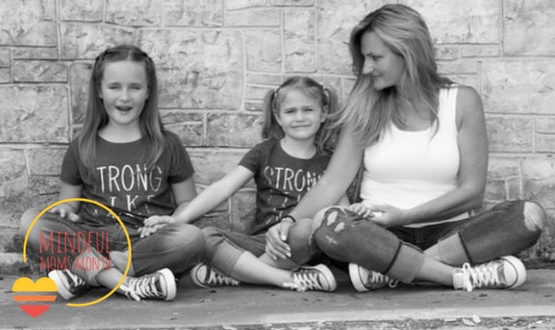 I sometimes feel like my very existence deserves an apology.
I didn't plan on being a single mom, but sh*t just kind of happened, and it worked out that way.
I'm not asking you to agree with my choices or to look at me like I'm Superwoman—although I would rock the outfit.
All I am asking is that you stop expecting me to act like a damn Supermom.
I do the best I can—and while maybe some think that's not enough, for me and my kids, it happens to be just enough. So, here's what I want you to know:
I'm sorry that my girls and I are loud and unpredictable.
I know that oftentimes, we come sweeping into places like a wild hurricane, but we're excited about a lot of things—especially living. We have loads of energy, and we like to make our mark. I don't even know what it would look like to walk in to a school function with both kids lingering by my side. Do kids even do that?
Usually, my youngest has already run ahead and is well into taking hostages, while my oldest has disappeared into a crowd behind me, and I'm searching for the fastest way to get in and out before anything gets broken.
I'm sorry that my child pushed yours. In truth, your child probably had it coming. 
My daughter doesn't take any crap from anyone, including your child, who blocked the slide while you played on your iPhone for half an hour. So no, I don't really care that she pushed your child. I don't want her to be the playground bully, but I also know that as a woman in the world, she's going to need to learn how to stick up for herself—and guess what, she can.
I'm sorry that I don't send my daughters to school each day with double French braid twists, or whatever you want to call them.
We brush our hair, mostly, but not always. And if we braid it one day, we can get at least three days out of it, which is a huge score, especially if we can time it with some special school event, like Crazy Hair Day. Most days, underwear is our priority. (On that note, I'd like to give a special shout out to Gramma for catching my youngest going to school sans panties last year, wearing a pair of leggings with a huge hole in the—well, you can guess where.)
Mornings move pretty fast at our house, and there's always something going on, like we need to rescue a bird, a bug, or even just my youngest from some sort of trouble. I've nursed back almost every critter you can imagine, and on the off chance I can't save one, we've held funerals as well. At these graveside services, I've "said something to God," as my youngest once requested. So yes, I'm late for work some days, but if you had to prepare a burial for a moth you might be too.
I'm sorry that I'd rather cuddle with my kids on the couch than cook them a meal they probably won't eat anyway.
My kids love to eat, when they are in the mood—or when the Earth perfectly transits the sun during the special eclipse once every 10 years—otherwise, they are a nightmare. Neither child ever wants the same thing at the same time, and sudden and surprise allergies or taste preferences spring up at the most inconvenient moments, even if hours ago they were eating the very thing they are now protesting.
Food inconsistencies aside, they love cereal and peanut butter and jelly—so sometimes, I'd rather take five minutes getting them food for their bellies, rather than waste time in the kitchen only to have them poke at it and walk away.
I'm sorry…well, I know I don't drive the "mom car," but I can't apologize about that.
I don't really believe in SUVs, especially for a family my size, and since I drop my children off five minutes after leaving my house, I don't really see the point in driving around the rest of the day wasting gas like it's my day job.
Plus, I like my fast car. Maybe it seems unpractical to you—but, to me, it's perfect. It's small, fuel efficient, fun to drive, and for a mom and her two kids who love to take off on road trips, it couldn't be more perfect. Not only can I hand them juice boxes, but I can also reach an arm back and start batting at them when the fighting gets to the point of attracting the attention of neighboring cars.
I'm sorry that I'm no good at school functions, and while I do love to bake, I can't muster the energy to do it for a group of kids who won't even know the difference.
I gave up trying to look like the "perfect mom" a long time ago, because I'd rather get in a few extra hours of sleep, catch up on "Scandal," or read a book, than do something that I don't truly have to do.
I love my children, but I'm okay with doing the best that I can, instead of trying to be the best.
This means that we may roll in a little late, possibly without underwear, most likely with messy hair, but also with a couple of the biggest smiles you'll ever see. And, just in case you're wondering—yep, it's us playing tag on the way into the school in the morning.
We're more concerned with enjoying this life than figuring out how we should follow the rules better. Some days are better than others, but each day there is something to be grateful for and something to laugh about—and it's those moments that truly make this whole mom thing worthwhile.
~
~
Author: Kate Rose
Image: Author's Own
Editor: Nicole Cameron
Copy Editor: Yoli Ramazzina
Social Editor: Yoli Ramazzina