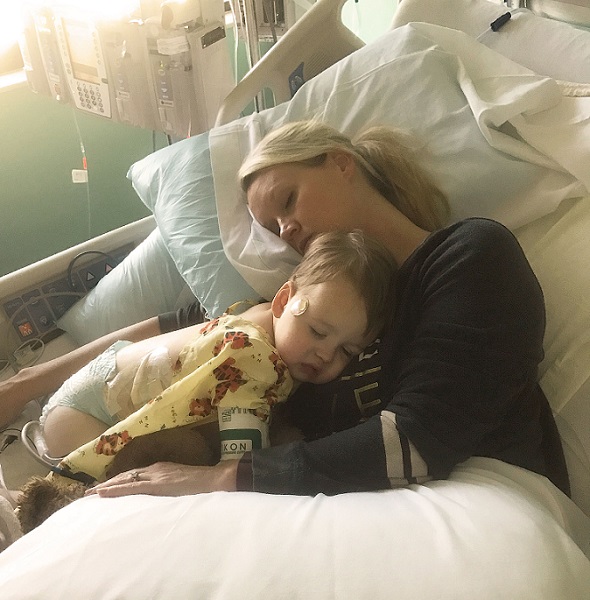 My husband and I tell people that it's like our house was hit by a tornado. It wasn't, but when you lose it, everything in it, and almost lose your child, it might as well have been.
We spent the better part of December in the hospital with our two-year-old. He had been sick with what we thought was a common bug that had been going around. Early on a Monday morning, his breathing was so shallow that we took him to the emergency room. He was down to 25 percent lung capacity in his right lung. They started administering oxygen and called for an ambulance to take him to the ICU at a children's hospital.
The next day, he had surgery on his lung and was unconscious and intubated the following day. During surgery, he acquired an infection that kept us in the hospital for the next two weeks. His fever was up to 106 and there was nothing the doctors could do to keep it down.
He was so swollen with edema that the nurses could not find a vein for his IVs. They were constantly poking him and moving the needles deeper and in circles to try to find one. His little hands and feet were scarred and bruised from all their failed attempts. You could hear his screams down the halls. Finally, we had a PICC line inserted so we could take him home and give him IV medication through the catheter in his chest.
Home—we were so excited to be home. Home in our beautiful new house that we had just finished building four months prior. We held on tight to each other and celebrated a late Christmas. Our tree was surrounded by presents from friends and family who had supported us through our son's hospital stay.
Then he got sick again.
So did our five-year-old. So did my husband, and so did I. So did everyone who walked into our house. Since we had moved in, the "new construction" smell had developed into a full-blown, foul stench. Stepping into our house meant you would immediately start coughing, get a headache, and your eyes would burn. The odor was so offensive that people could smell it on our clothing when we were out. We ordered testing of every kind we could think of and went to stay with my parents. We left everything.
We were with my parents for three weeks and in hotels for two weeks. Packing my children's lunches for school in the bathroom at the Holiday Inn eventually took its toll on me. We finally moved into a two-bedroom apartment with nothing.
We had no furniture, no dishes, and only a few new articles of clothing for each of us. Everything we owned was toxic and left in our deserted house. Our amazing friends came together and set us up with anything extra they could spare—a dining table and chairs, a bed, a TV, dressers, pots, pans, toys, plates, and cups. Family gave us generous gifts that helped us try to make the best of the situation and get the children back into some semblance of a routine.
It's summer now—six months later. We still live in the apartment and still pay our mortgage for the toxic house every month. The air and soil tests are apparently not showing conclusive enough evidence of what our lawyer needs to prove the house is inhabitable. Still more testing. Our nearby neighbor's homes have the odor as well. Many of them got sick too. At one point, 12 families had moved out of the neighborhood to be safe. Many of them have since had test results come back that made them feel their home was safe enough to return to. The rest of us just wait.
Some people are upset with us. Having one toxic home and possibly more in the neighborhood does a number on property values. A neighbor even claimed that we did this all on purpose to try to get money, that we plotted our two-year-old's near death for financial gain.
We've had so much love and support though, that it's hard to focus on the naysayers.
And honestly, if it wasn't for yoga and the yoga community in our town, I don't know where I'd be. In three months, I gained 20 pounds and a pretty impressive drinking problem. But I climbed out of my self-made hole and onto my mat.
Yoga gives me an entire hour of no worries—a chance to focus on one breath at a time.
When life gets hard, it's hard to breathe. When you see your child unconscious on a hospital bed, it feels like you have been kicked in the chest. Thoughts of "What happened to get us here?" and "What is going to happen?" are constantly swirling around.
Breathing is what keeps us alive. Purposeful, slow breathing is what helps keep us sane. Whether we've lost our homes, gone through a painful divorce, or have had yet another miscarriage, it is safe to say that in every scenario, bringing our focus back to slow breathing, in and out, while dropping the thoughts of what happened or what will happen (even if just for a bit) can bring us a moment of peace. And that's all we can hope for at first—just a moment.
With a little time and practice, that moment may become two. When we show up on our mats, we may even come out of our broken shells long enough to see others are fighting their own battles. We need to reach out to them, because when we do things together, the moments of peace can grow twice as fast than if we try to do it alone.
Yoga class can be hard. Sometimes it's so hard that we have to drop down to our knees in Child's Pose. Life can be hard too; it can bring us to our knees—but with yoga, with breathing in and out, with focusing on just one breath at a time, we can find our moments of much-needed peace.
If life is throwing you those curve balls, as it tends to do, make your way to a yoga mat. Spend an hour focusing on the present moment. Recharge. I used to believe in the physical and psychological healing aspects of yoga when I was teaching it, before all of this happened, but now I know for sure.
Yoga really can save you. It is saving me.
I wish I had an end to the story to share. We're still waiting. And while we wait, I'm going to finish this cup of tea and head to the yoga studio.
~
~
Author: K.B. O'Connell
Image: Author's Own
Editor: Nicole Cameron
Copy Editor: Catherine Monkman
Social Editor: Catherine Monkman