As an Englishwoman living in the South, the phrase
 

"You say 'tomaeto,' I say 'tomahto,'" resonates far beyond just pronunciation.

Southern dishes are so similar yet so completely different from the food I grew up with. The ingredients are the same, but what they do with them down here under the baking sun is nothing short of magical. (Don't knock that fried pickle 'til you've tried it.)

This is best exemplified in the weekend summertime ritual known as the cookout.

Growing up in London, cooking out meant throwing a few sausages on the tiny charcoal barbecue on our patio and calling it good. In the South, the cookout is treated with a reverence reserved only for the traditional Sunday roast in England—it calls for a high-quality grill and careful attention to your main course.

As such, if you are invited to one, be sure to bring along a suitable side dish. Here are three of my favorite sumptuous Southern sides that are perfect for a summer cookout.
Southern Tomato Pie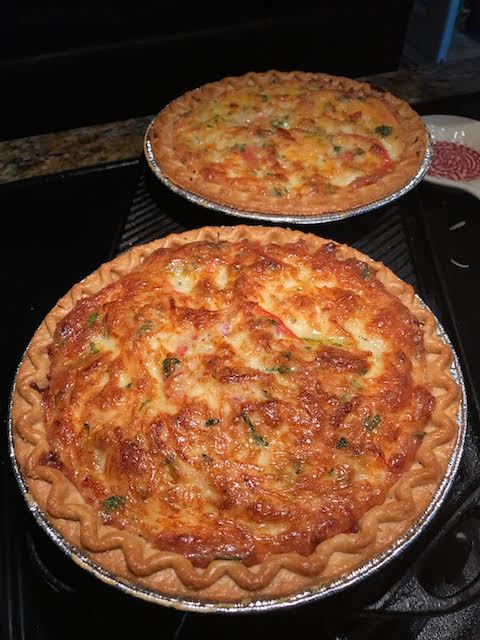 Pie is prime example of two countries divided by a common language.
In America, pie is sweet—apple pie, key lime pie, pecan pie. In England, it's savory—pork pie, shepherd's pie, steak and kidney pie. So when I stumbled across a tomato pie at a local sandwich shop during my first summer in the South, I was understandably confused. Was this going to be sweet? Tomato is technically a fruit, after all.
While sweet variations do exist, the traditional Southern tomato pie is not sweet, but it is possibly the most decadent way to eat the humble tomato.
Only made during the summer when tomatoes are at their peak, tomato pie is the siren's call of the season, welcoming you into the long, hot, Southern summer. This makes it the perfect accompaniment for a cookout, ideal as a starter or a vegetarian option.
Ingredients
Makes one pie
>> 2-3 large, ripe tomatoes, sliced thinly
>> 1 cup mayonnaise
>> 2 cups grated cheese (any variety—I use a mix of mozzarella, parmesan, and cheddar)
>> 1 medium red onion, sliced
>> 1 clove of garlic, chopped
>> 1 Tbsp. olive oil
>> 1 9-inch deep-dish pie crust
>> A handful of fresh basil leaves
>> Salt & pepper to taste
Directions
1. Preheat oven to 375 degrees, bake crust for 10 minutes, then lower the temperature to 350. Set crust aside and let cool completely.
2. Take a large baking sheet, layer some paper towels over it, and place the sliced tomatoes on it to drain. Sprinkle with salt to help draw out the juices. Leave them here until you're ready to put them in the pie.
3. Take a small frying pan, heat the olive oil on medium, and sauté the sliced onions slowly, until they are soft. Throw in the chopped garlic and cook for a minute more.
4. Sprinkle a handful of grated cheese on the bottom of the pie crust, place one layer of tomatoes, season with salt and pepper, and add one-third of the sautéed onions. Repeat until the pie is full, ending with a layer of tomatoes.
5. In a small bowl, mix together the remaining cheese, the mayonnaise, and the basil. Spread over the tomatoes to form the top of the pie.
6. Bake for about 30 minutes or until brown and bubbly. Serve warm or cold.
Southern Potato Salad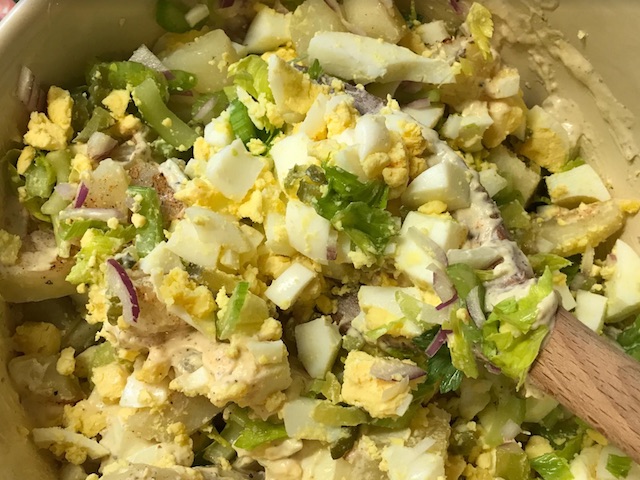 Growing up, two of my favorite dishes served at English garden parties (the equivalent of a "cookout") were devilled eggs and potato salad.
I've often discovered that America is pretty good at taking something the English do well and doing it bigger and better.  Suh is the case when it comes to Southern potato salad, which is basically these two decadent delights combined! Delicious, ingenious, and far less fiddly to make.
Ingredients
Makes two large bowls
>> 10 hard-boiled eggs
>> 2 lbs. Russet potatoes (about 3–4 large ones), peeled (can substitute red potatoes)
>> 1 leafy bunch of celery
>> 1 medium red onion
>> 2 cups mayonnaise
>> 2 Tbsp. Coleman's mustard powder
>> 2 Tbsp. grainy mustard
>> 2 Tbsp. Dijon mustard
>> 2 Tbsp. chopped bread and butter pickles
>> 2 tsp. paprika
>> Salt & pepper to taste
Directions
1. Peel and dice the potatoes. Fill a large pot with water, salt well. Add the potatoes and bring to a boil. Let simmer gently for 6-8 minutes, until the potatoes are soft but not crumbly. Drain, return to the pot, and cover with a clean kitchen towel to absorb the moisture. Set aside.
2. Place the eggs in a saucepan, cover with cold water, and bring to a boil. Turn the heat down and simmer for 7 minutes. Drain immediately, put the pan under cold running water for about one minute, then set aside to cool.
3. In a medium bowl combine the 2 cups of mayonnaise, and the 3 different mustards. Mix well and set aside.
4. While everything is cooling, finely chop the celery and onion, including the leafy parts of the celery. Add to a large bowl. Chop the pickles and add those.
5. Peel and chop your eggs and add those to the veggies. Next add the chopped potatoes. Sprinkle everything with cayenne pepper, salt, and pepper to taste. Gently mix together with a large wooden spoon.
6. Stir in the mayonnaise and mustard mixture. Transfer to serving bowls, cover, and refrigerate until ready to serve.
Southern Corn on the Cob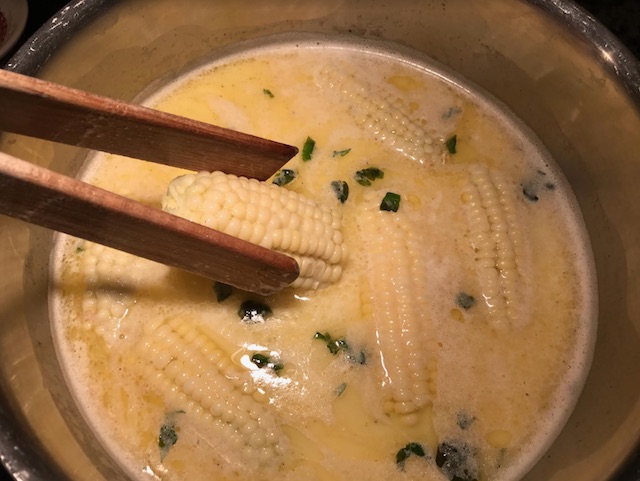 My cousin and her husband host fabulous impromptu cookouts. He was born and raised in rural South Carolina and worked as a chef for a barbecue caterer for many years, so I always take note of his cooking styles (when he'll let me near the grill—many of his recipes are closely guarded secrets!).
You can imagine my surprise when one Sunday afternoon, as we were waiting impatiently for his ribs and homemade beans to cook, I watched him drop two sticks of butter into the pot of boiling water containing the ears of corn we'd brought along. Turns out this is a common technique in the South, and the dairy doesn't end there—milk, cream, even some honey, combine with spicy seasonings to turn a common side dish into a mouthwatering centerpiece of a cookout.
Ingredients
>> 6 ears of corn, snapped in two
>> 1 stick of butter
>> 1 cup milk
>> ½ cup heavy cream
>> 3 Tbsp. honey
>> 2 tsp. cayenne pepper
>> 2 tsp. Southern seasoning Slap Ya Mama
>> Handful of fresh basil
>> Freshly ground pepper and sea salt
Directions
1. Fill a large pot midway with water, add all the ingredients, and place over a low heat, letting the milk warm and the butter melt.
2. Then, raise the heat to low-medium and simmer—not boil—for 10 minutes, until the corn falls off the cob when prodded.
~
Author: Jennifer Tuohy
Images: Tim Wright/Unsplash; Author's Own
Editor: Emily Bartran
Copy Editor: Leah Sugerman
Social Editor: Taia Butler