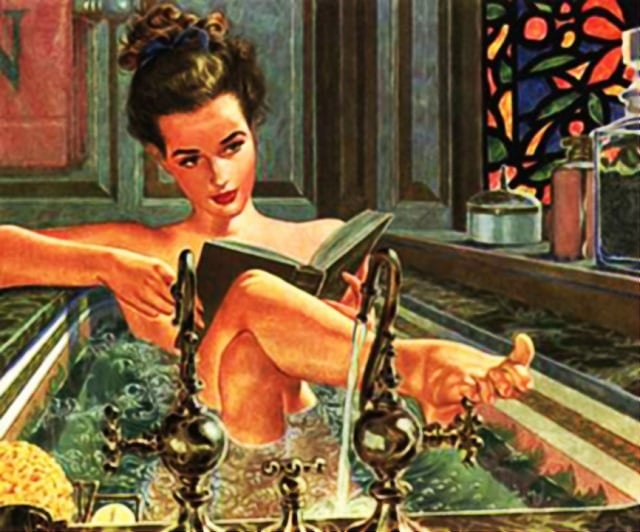 "There must be quite a few things a hot bath won't cure, but I don't know many of them." ~ Sylvia Plath
Therapy is expensive. Yoga is usually a car ride away—and at least a 20-dollar drop for the fee. Retail therapy is fun, but fleeting. I love to fill up online shopping carts with a glass of wine in hand, but the effects just don't last—and I hate paying for shipping!
But "passive heating" (which means that you are warming your body up while relaxing, instead of running or exercising to get sweaty) has been proven to be a pretty sweet way to improve your health and wellness.
A good, hot bath is self-care gold and my favorite way to relax and detox.
A hot bath can have the caloric burn as a half-hour brisk walk and help the body regulate blood sugar. It can help to reduce chronic inflammation and support the immune system. Sounds perfect for the upcoming cold season, right?
Aside from the health benefits, the other reason that I love recommending a hot bath to my clients is that it's a relatively cheap way to create a habit of self-care. A healing bath can be as luxurious as a trip to a spa, and as therapeutic as an hour on the couch in your therapist's office, without having to arrange for a babysitter or even leave your home.
In a world where it feels like every moment is plugged in, every little treat is ridiculously expensive, and life can be so over-complicated, bathing is really an ancient and inexpensive ritual that can pretty much cure it all.
So let's get the most bang for your bath buck and get you in the tub tonight, okay? Follow these steps below to have a soak that is fit for a goddess:
1. Set your Space: If you are anything like me, a mama of a young child, there is a good chance your shower is an obstacle course of empty kids' conditioner bottles, bath toys that have seen better days, measuring cups/bowls for playing, and a variety of other slippery and un-relaxing junk. Take it all out of the tub. No, do not go to organize it, throw out the toys, or do any other cleaning work. This is your self-care time, remember? Simply move it aside, or even place outside the bathroom door so you do not have to look at it. Take the rest of your things out of the tub, too. This includes loofahs, razors, or any other clutter. Start with a clear space.
2. Burn, Baby, Burn: Gather your candles and arrange them around your tub and sink. Have some incense? Great, bring in a stick, and light it up. Palo Santo? Sage stick? Get it burning. The healing of smoke medicine cannot be overstated. Lighting and burning is a clear way to start a ritual, clear stagnant energy, and invite in healing.
3. Saltwater Cures Everything: Time to bring in the Epsom salts. A cup or two will do. Magnesium from the salts is helpful for sore muscles and for relaxation. Feel free to add in a scoop of baking soda as well to give your bath an extra detoxifying kick.
4. Aromatherapy: This part is fun and a chance to really tailor your self-care to your mood or needs. Need to calm down or destress? A few drops of lavender will do the trick. Feeling a cold coming on and need to clear the sinuses? Eucalyptus oil is great. Is it that time of the month? Clary sage can be a helpful plant ally for cramps. Feeling a little blah or have the winter blues? Sweet orange oil is uplifting and can act like a natural anti-depressant. I like to scoop a bit of coconut oil into my hand, add the essential oils to the coconut oil as a carrier, and add to the tub like that.
And now for the Extras! Maybe you add some rose petals to the water or rose water. Maybe you set some of your favorite crystals around your bathtub to add to the high vibes. Maybe you pour yourself a glass of wine to relax with. Is there is a Spotify playlist that you go to for meditation or yoga that could fit really nicely into this healing routine? A simple honey face mask?
Go all out and make the most of this time for you! Act as if you creating a little relaxing sanctuary for a dear friend or someone you love that would be fit for a goddess. That someone you love, that goddess, is you!
Now hop in, and let the healing begin! Passive heating and active healing.
Author: Logan Kinney
Image: Pixabay
Editor: Emily Bartran
Copy Editor: Yoli Ramazzina
Social Editor: Waylon Lewis