On November 5, 2017, Devin Kelley walked into a Texas church and killed 26 people with a Ruger AR-556 semi-automatic rifle.
In the wake of this undeniable tragedy, many have been arguing about the best way to prevent it from happening again in the future. I mean, as many of us are probably aware, this is not the first time that there has been a shooting in the United States. In fact, according to the Gun Violence Archive, between January 1, 2017 to November 5, 2017 alone, there have been 307 mass shootings, averaging seven mass shootings a week.
So, yes—I think we all agree that this is a serious problem that needs to be stopped. But that begs the question: how do we do it?
The answer, for many people, has been to create stricter gun laws, something that has worked for other countries (Americans are 10 times more likely to be killed by guns than people in other developed countries). And—just to address my bias and get it out of the way—I agree with this approach.
But guns are not the only thing being blamed following a shooting.
After the Texas shooting, comedian Chelsea Handler tweeted:
Mental health issues without guns are people with mental health issues. With guns, they become murderers.

— Chelsea Handler (@chelseahandler) November 6, 2017
Now, I'm sure that when Handler tweeted this, she did not mean to imply that if you give any random person with mental illness a gun, they will immediately start shooting. I'm sure that she did not mean that any person with depression, generalized anxiety disorder, or schizophrenia is just one gun away from murder. That would be an insane generalization to make. But, at the same time, it is common for people to blame mental illness when mass shootings like these occur.
In fact, following the Texas shooting, Donald Trump did not even mention the issue of gun control and instead, called it a "mental health problem." More than that, 63 percent of Americans believe that shootings have more to do with mental health problems than they do with gun control.
And, I mean, sure—why wouldn't that be considered? It has been a common theme throughout many of these shootings.
Devin Kelley, the Texas shooter, escaped from a mental health facility in 2012 and had a violent history. James Holmes, who killed 12 people and injured 70 more at a shooting in Aurora, was diagnosed with a schizophrenic disorder. Stephen Paddock, responsible for the 2017 Las Vegas shooting, was on anti-anxiety medication and said to be susceptible to bouts of depression.
This does seem to be a theme that comes up, again and again, so why shouldn't it be mentioned, right?
Well, one thing that I think should be stressed is that, of the three examples that I gave above, only one of those men was actually diagnosed with a mental illness. Stephen Paddock was never diagnosed with anything, and Devin Kelley, despite escaping from a mental health facility, was there due to accusations of spousal abuse and violence. He was never actually diagnosed either. In fact, only 14.8 percent of shooters in the United States are diagnosed as psychotic.
And of people in the general population who are diagnosed with mental illness, rates of violence are surprisingly low. In fact, it is estimated that people with mental illness contribute to only three to five percent of all violent crimes in the United States. And of these three to five percent of violent acts, most do not involve guns.
In fact, a mentally ill person in America is more likely to be the victim of their own gun-related violence. In 2013, guns killed 33,636 people, and nearly two-thirds of these were suicides.
More: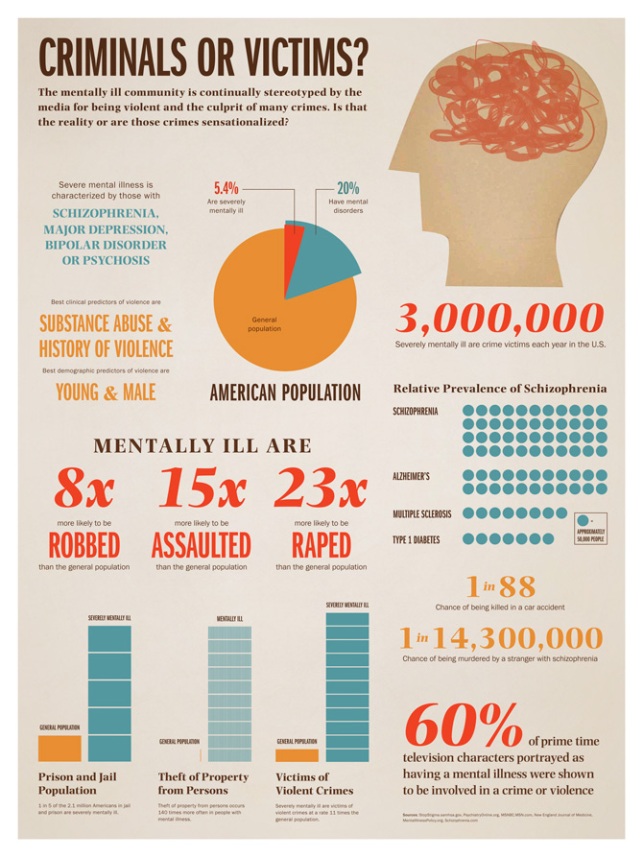 The problem that needs to be addressed here is not mental illness. There are thousands of mentally ill people who go their whole lives without once wanting to kill anyone.
I happen to be one of them.
Saying that shootings are a problem of mental health contributes to a society that views every person with dissociative identity disorder as Norman Bates, and every psychopath as Hannibal Lecter.
It inspires fear against the mentally ill, fear that has contributed to the fact that those with mental illness are actually 10 times more likely to be the victim of a violent crime. It also creates an environment that makes it harder for people with mental illness to seek help—they know that if they do, others will fear them. They do not want to be perceived as dangerous, and so they suffer in silence for society's sake.
As Jeffrey Swanson, professor in psychiatry and behavioral sciences at Duke University School of Medicine, said, "Imagine if [Trump] had said, 'veteran'—that this was a 'veterans' issue. He'd besmirch the whole community. Well, that's what he's doing with mental illness."
We need to stop blaming violence on those of us suffering with mental illness, because we are not solely responsible for it. We need to stop stigmatizing individuals who need help, who should be made to feel safe and supported so that they can reach out. Nobody should have to deal with a mental illness alone, but that is exactly what this sort of conversation is causing.
And if you are someone who is dealing with a mental illness right now, I sincerely hope that you find love and support from your community. I hope that you find or have someone who you can talk to, who won't judge you or look down on you, because you do not deserve any of that.
You are a beautiful, wonderful, valid individual, and I sincerely hope you know that, even in the wake of all this mess.
~
Author: Ciara Hall
Image: Wikimedia Commons; Cargocollective.com
Editor: Catherine Monkman
Copy Editor: Nicole Cameron
Social Editor: Yoli Ramazzina