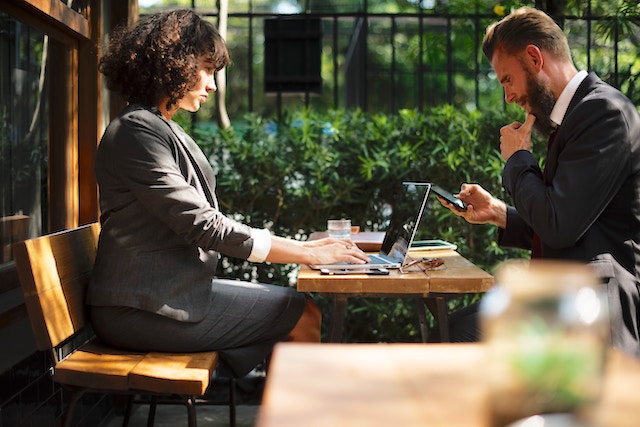 As women in the workplace, we know this to be true: In virtually every work environment and job we've held, a man was there to tell us "how it is."
For me, the worst harassment came from a male co-worker when I was almost 40 years old:
Him: "You know what your problem is?"
Me: "No, what's that?"
Him: "You just won't listen."
Me: "I'm listening, but I feel as though you don't like my responses."
Him: "Exactly. You need to obey."
Here I was, a successful woman with a booming startup, and still I'd somehow come to depend on this man and many other male colleagues in the eight years I worked with them, living off their leads and ensuring I didn't rock the boat. I thought I needed them for support, as if somehow, without their inventory and client base, I'd crumble. But the second the words "to obey" left his lips, who I was and what I stood for became much clearer.
"You're gonna miss me when I'm gone."
My male colleagues continued to belittle me—"We're playing chess, and you're playing checkers"—but one thing was different: I'd crossed a line in my career. I vehemently ignored his demand to obey. I began questioning whether this environment was really supporting me. I talked with supervisors, examined my role, and asked others for advice on how to navigate (and mediate) this uncomfortable circumstance. Through it all, I tried my best to stay relatable; I shared what I learned and simultaneously expressed my concerns.
Despite all of my efforts, I was let go two months later. In my exit interview, I made sure my boss understood this was his company's loss, not mine.
I made sure he understood how toxic and calculating the majority of his employees were and that though I was leaving the company, it wouldn't change my love for the industry. His decision wouldn't keep me from outperforming future peers or pursuing my dreams.
Although he wouldn't realize it immediately, my removal left a hole. Frankly, that's often the case: The loss of a woman in a workplace can be damaging to a business. In fact, a woman's exit from a company can affect its bottom line "far beyond the fairness of gender parity."
Still, this doesn't change the fact that women make less than men, that men far outrank women when it comes to receiving venture capital funding, and that women are harassed regularly in many forms—our bodies, minds, character, and our worth.
But know this: we can actually grow from it all.
Rise and shine, ladies.
While harassment in the workplace is overwhelming, it doesn't have to be defeating.
To start, we must understand societal disadvantages as women so we don't let them define us. A recent survey found that the higher women climb, the greater the pay gap becomes, and not a single industry exists where women make the same as men. Other research suggests that 40 percent of businesses worldwide don't employ women in senior management roles. I realize those figures are bleak, but unfortunately, they're the norm.
Get comfortable with holding others accountable. It's not easy, but it's necessary—especially as a woman. There is freedom on the other side of fear. We have an actual Wonder Woman to prove it: Gal Gadot, the leading lady in the 2017 blockbuster "Wonder Woman," refused to be the superhero in the film's sequel if filmmaker Brett Ratner, accused of sexual harassment, stayed on the project. That's the definition of holding someone accountable for his actions.
Invoke self-care to find clarity and courage to pivot. Self-care requires tuning in. We're inundated with technology and propaganda, all of which we must detach from occasionally and instead tune in to ourselves. Mindfulness, rest, and balance will keep you operating at full speed. And once you've mastered self-care, you're more prepared to explore new opportunities.
Keep moving forward—backward is not an option. Microshift into new opportunities and networks to find your real tribe. This includes seeking mentors, regardless of gender. In fact, one organization, Empowering a Billion Women by 2020, started an unusual (but effective) mentor movement.
ManBassadors is its global initiative; it's led by men in conjunction with the organization's female reps. These ManBassadors include anyone from CEOs to innovators to philanthropists. And don't hesitate to attend other women-centric events, like The Power of Women International Summit or myriad others that occur annually.
Bottom line: Find industries shattering glass ceilings; start an organization that advocates for workplace fairness; become a mentor to other women. We must become proud women in a man's world.
It can be done. Here I am two years later, and my company is kicking ass and taking names. Ladies, this is attainable and necessary. We're not playing games anymore.
~
~
~
Author: Kass Rose
Image: Unsplash/rawpixel.com
Editor: Travis May
Copy Editor: Yoli Ramazzina