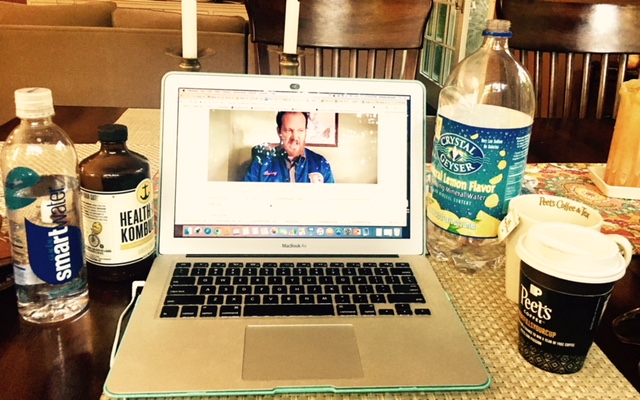 I always thought I was eco-friendly—until I was accepted to the Elephant Journal Academy for four months.
At the beginning of the experience, we were challenged to participate in one of the following:
>> Ask for your drinks without straws for the duration of the apprenticeship. Avoid that unneeded plastic!
>> Don't get to-go cups for the duration of the apprenticeship! Enjoy your hot beverage from the café for here or bring your own mug.
>> Don't text or use your phone while you're moving about. Pause, connect over social media, and continue about your day. How many times have you caught yourself texting and walking and not paying attention to the sky above?
One day, a family member brought home a box of straws, announcing it with pride: "Look what I got!"
Why are straws so fun? Is it because there's usually a milkshake, smoothie, or soda on the other side? I felt shock and alarm when I saw that box, and I immediately confiscated it. It's now in a drawer and I don't know what to do with it. I won't allow anyone to use them and I can't throw them away. After learning what straws do to the environment—that they never break down into little pieces, get stuck in the nostrils of sea turtles, and perforate the stomachs of penguins—I can't consciously use straws or let anyone else in my company use them again.
Those single-use plastic bottles are just as bad. While some companies are taking initiative, like Coca-Cola, to only make bottles out of 50 percent recycled plastic by 2020, it's not enough. Today, just 9 percent of plastic bottles are used from recycled material! This is a huge polluter of our oceans—and since not much of it breaks down, it's harming marine wildlife and spreading toxic chemicals.
So much for the tagline: "Reduce, Reuse, Recycle."
Even if we are doing our best, the manufacturers need to step it up too.
While I feel like I'm a good citizen—I was already recycling—I decided to take on the Elephant Journal challenge.
I decided I was not ready for number three yet, but the other two seemed pretty easy. I already had a collection of thermos to-go cups. I also had a recycling bin, a plethora of re-usable water bottles, and I use recycled grocery bags. I often exchange clothes with friends instead of buying new ones, and I give my kids' clothes to friends who can use them.
But, it wasn't long before I realized I had a bit of a drinking problem.
Every week, our group of apprentices have an online video meeting to discuss a specific topic and interact with each other. The meetings are led by the editors and our fearless leader, Waylon Lewis. It's great to see them live on screen, speaking with us as we interact via the live chat on the side of the screen.
I decided to take a photo of the meeting and post it in our Facebook group to poke fun at myself with the variety of bottles surrounding my laptop. I joked, saying that I had a drinking problem. But, I quickly realized that I was indeed not as eco-friendly as I'd thought. This really wasn't funny—I did have a drinking problem in the form of an addiction to one-use bottles, and it wasn't pretty.
I retraced my steps that day, wondering how I had gotten to this point. I felt like a gluttonous American. I had recently badgered and teased my friend about using Keurig cups. Who was I to do this when I clearly had a problem myself?
I was a hypocrite. The plastic bottles surrounding my laptop made it evident I needed to make a change. There was only one reusable mug on that table. I was a glutton of convenience, buzzing around my day collecting these containers. I had the full gamut represented—from the plastic bottles (two), to the glass bottle, to the coffee to-go cup with the plastic lid. Amazing inventions have become a serious problem.
Did you know that of the 33.6 million tons of plastic waste generated in the United States in 2014, only 9 percent was recovered for recycling?
I decided right then and there that I needed to make a change. I could surely decrease my litter contribution by bringing my travel coffee mug to the local coffee shops. After seeing that picture, it was a wake up call, and I felt determined to make a change.
Here are some suggestions we can all follow to reduce litter and consumption:
>> Purchase a travel stainless steel hot cup (that has a good cover so it won't leak when you drink).
>> Get a plain, non-BPA water bottle—and decorate it with stickers!
>> Leave them both out on your counter so they're ready to go each morning.
>> If you forget your hot travel cup, consider not taking a plastic lid if you use the paper to-go cup.
I found this daily routine of filling up my containers with my favorite beverages really decreases my waste. I enjoy using my reusable containers and they've become an extension of me. Plus, it has reduced my spending on coffee, tea, and water while I'm out. If I work out of a coffee shop, I simply re-fill my own coffee mug. If I forget it, I ask for a mug or no lid on the to-go cup.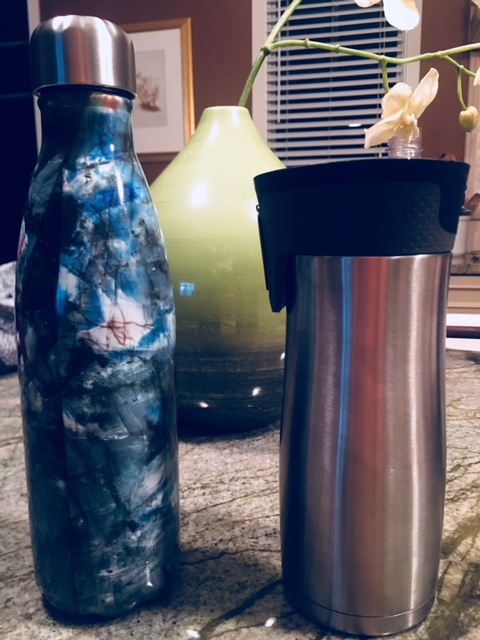 Because of this apprenticeship with Elephant Journal, I have reduced my carbon footprint by not using single-use containers. I don't know that I would have been so aware had the challenge not been presented to me.
~
Relephant Reads: 
Relephant Watch:
~
Author: Shelley Karpaty
Images: Author's Own
Editor: Catherine Monkman
Copy Editor: Nicole Cameron
Social Editor: Nicole Cameron