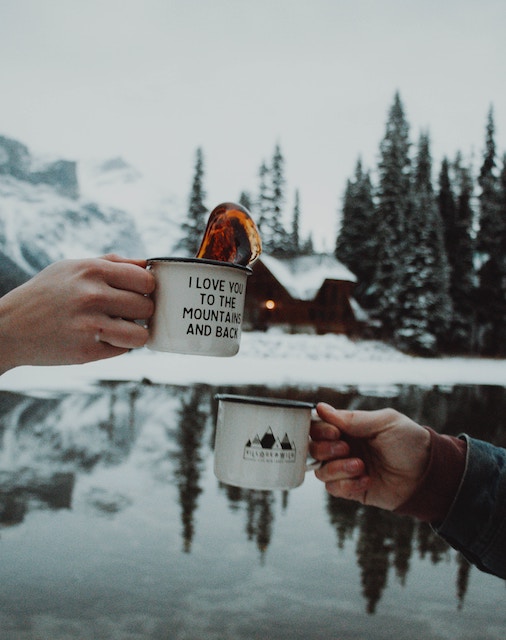 Leafless trees dot across cold opaline skies. Crystallized grass crunches beneath grubby boots. The wind howls and we tighten our pashmina, button up fleeces, and shove chapped hands into gloves while waiting for the grey blanket on the ground to dissipate.
We also get depressed.
For me, the after-holidays-let-down triggers the winter blues, leaving me feeling irritable, apathetic, and drained of energy. I am usually tempted to load up on carbs, but this year a friend suggested to pass on the cheesy fries and sip some ginger tea instead.
With a crown of thick, glossy hair, flawless skin, and an immune system that never quits, my friend touts ginger as her secret weapon. I had never used ginger before. Intrigued, I decided to do some research on the spice and was delighted by what I learned.
Native to warmer climates in Asia, India, parts of South America, Africa, and the Middle East, ginger comes from the handlike root of a leafy plant bearing pale yellow flowers.
Containing antioxidants that can protect the body against aging, ginger provides energy through thermogenic properties which help the body stay warm. It could be the perfect antidote to ward of Seasonal Affective Disorder. Many companies sell ready to use ginger tea, but I discovered making my own is easy.
You will need about two inches of fresh raw ginger, two cups of water, two tablespoons of honey or agave nectar, and one half of a lime. Peel and slice the ginger thinly and then boil it for 20 minutes, remove from heat, and add lime and honey.
This tea not only helps to improve mood and energy levels, but also aids in many stomach ailments. Ginger has long been used to help pregnant women suffering from morning sickness, and is an excellent treatment for the symptoms of Irritable bowel syndrome. Of course, always check with a doctor first before using any supplements. Ginger can interact with some medications such as Plavix, so it is best to ask your physician.
Once thought to ward off evil spirits, ginger was also valued as an aphrodisiac and appeared in the last chapter of the Kama Sutra. Move over champagne and strawberries. Ginger creates warmth in the body and increases the heart rate, mimicking the way one feels during love making. The best way to reap the romantic benefits is by drinking ginger tea. The scent of ginger also stimulates the circulatory system.
Widely used as a fragrance in soaps, candles, and cosmetics, ginger has a warm, spicy scent with lemony notes. Ginger can be used in hand creams to remedy dry skin as well as boosting radiance, combating acne, and imparting a youthful glow to winter weary faces.
Renowned for its healing properties, ginger helps with inflammation and improves skin tone. On a brisk evening, try whipping up a mask with equal parts grated ginger, honey, and fresh lemon juice. Thirty minutes later, say hello to a smoother, less ruddy complexion. Ginger can also be used as an antiseptic for dry, itchy scalps. Massage ginger oil onto the scalp and let set for 15 minutes. This will help get rid of dandruff which is a common problem when the temperatures drop.
Popular in teas and the makeup industry, ginger also adds a zesty, pungent flavor to many food dishes. Although intimidating to look at with its fingerlike appearance, ginger can be peeled, grated, and added to a variety of dishes both sweet and savory. Gingerbread squares, ginger lime fruit salad, and zesty lemon chicken with ginger marinade are just a few of the aromatic dishes that can be created with ginger.
When purchasing ginger, look for plump roots and be sure the ends are not dried out. Find a hand that has minimal bumps and blemishes as this will be easier to peel. Many cooks recommend using a spoon to scrape off the skin in a downward direction. Do not peel the entire piece of ginger, just the part you will use. When slicing ginger, make sure the pieces are kept thin.
You may also grate ginger, or use a mortar and pestle to grind it. Now it is ready to be used in teas, stir-frys, and marinades. To store your ginger, simply put it in a plastic bag and freeze it. It can last for up to six months. I asked friends to share their favorite ginger recipes on Facebook, and they obliged. Now I always have ginger on hand to create delicious foods, make invigorating teas, and enjoy the benefits ginger provides. Here is one of my favorites:
Ginger Milk Tea
3 ½ cups of hot water
4 tablespoons fresh ginger peeled and finely chopped
2 tablespoons of loose black tea leaves
½ cup milk
½ cup granulated sugar
Whipped cream (optional)
Bring water and ginger to a boil in a small pot. Once boiled, turn off heat. Stir in tea and cover. Let stand for three minutes. Pour the mixture through a sieve into a blender, discarding the solids. Blend until foamy. Pour into mugs and serve immediately. Top with whipped cream.
~
~
~
Author: Claudia Caramiello
Image: Unsplash/Alex Hawthorne
Editor: Travis May
Copy Editor: Catherine Monkman