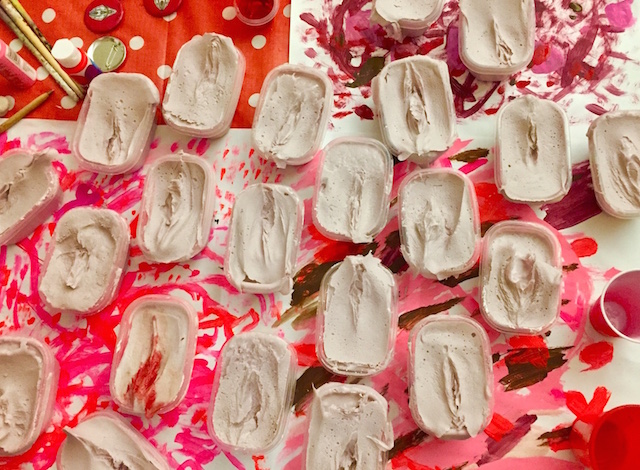 "What exactly happens at the 'Vagina Casting Ceremony'?" one of my girlfriends asked me when I invited my ladies night crew to join me in an evening hosted by "The Vagina China" project.
"Women, art, chocolate, tea, and ummm…making molds of our labia?" I replied tentatively. I was envisioning a cross between The Vagina Monologues and the vagina-viewing mirror party in "Fried Green Tomatoes," but also recalling the process of casting coyote footprints during a third grade field trip. It turns out, I wasn't far off.
It's a vulnerable thing, talking about vaginas (*fake whisper*)—let alone making a physical model of yours for the world to see. Even for someone who has no problem openly talking about vaginas in a taqueria or on the bus, I was feeling surprisingly sheepish while entering the San Francisco Women's Building to have my vulva cast in stone, or clay rather.
I've known Joy Alice Eisenhauer and Julie Maren, the artists behind "The Vagina China" project, for many years, and when they told me they were coming out to the Bay Area to do a casting ceremony, I couldn't wait to be a part of the "Women's Art League" (the official title for all the women who have donated the likeness of their vulvas to the project).
But now the moment had arrived, and I was feeling like a nervous teenager, wondering if my vagina was going to look weird compared to the others, and—oh god—should I have shaved in preparation?
But then I remembered what Joy and Julie told me earlier that day: facing that vulnerability is exactly the point of the project. Many women have never even looked at their own vaginas, let alone a stranger's, so of course we all think our vaginas are weird.
And guess what? They are weird. And wonderful! Each vulva is unique and beautiful, but we never get a chance to see non-sexualized, realistic examples, so Joy and Julie set out to demystify and celebrate this most taboo ladypart by creating a traveling art exhibition that showcases a wide array of vaginas on exquisite hand-painted plates.
"The Vagina China" project aims to create 13 different sets of china, each drawing inspiration from different historical pottery designs and exploring various facets of feminism, "from periods to pleasure, sex work to social activism." Its mission is to use art as a tool to engage in deeper conversations around women's issues.
"It is easy to fear and demonize the unknown, and that is exactly why we are interested in bringing light and conversation to this part of the body," the project creators believe. "We each have the right to use our bodies as we wish. And as we use our bodies for our own aims as women, we take back control of our femininity, our destiny, and our own narrative."
When I met up with Julie and Joy for the Vagina Casting Ceremony, they were still aloft from their previous week in New York. They had been invited by their second-wave feminist art hero, Judy Chicago, to join her on a panel at the Brooklyn Museum, where "The Dinner Party," her grandiose and now-legendary art installation, is in permanent collection.
Of course, "The Dinner Party" immediately came to mind when I first heard about "Vagina China," as it too features dozens of ceramic vulva plates and place settings, each inspired by a famous woman in history or lore. However, "The Vagina China" project ups the ante by fabricating ornate ceramic sculptures using casts of actual labia of willing participants (like me).
Judy Chicago herself has embraced Joy and Julie's project, and considers their work a continuation of her own. "Such projects," noted Chicago in a recent interview, "provide a shared divesting of shame, a celebration of what it means to be a woman and deep expression of self-worth through art."
Not only had "Vagina China" received Chicago's blessing, but Pussy Riot, the revolutionary rabble-rousers from the bloc, had given the project permission to use their anthem, "Straight Outta Vagina,"  to promote "Vagina China."
Dang. Now that's some serious feminist clout.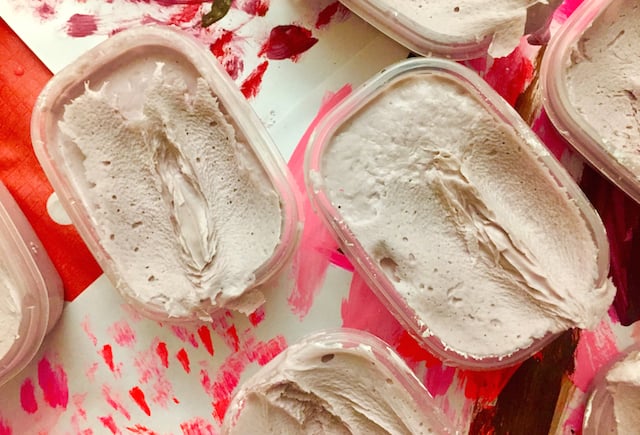 Back in the Women's Building, I approached a door marked "ceremony" and wondered if I was in the right place. I guess I had imagined a giant neon sign blinking "VAGINA CASTING" for all to see. Instead, I found it to be a pretty discreet affair.
Fifteen women sat around a big table filled with art supplies, and were in various stages of doodling, rolling lumps of clay into tiny oyster-shapes, and making signs for the Women's March the following day. Joy and Julie greeted me with handmade chocolates and hot tea, and invited me to settle into the shared space.
I was one-part relieved and one-part jittery to see that several of my girlfriends had shown up to take the leap with me, a motley bunch of local feminist heavy-hitters, creative movers and shakers I revered, along with a half dozen soon-not-to-be strangers.
We were all invited into a circle where the "Vagina China" creators shared their vision for the project: "When we started over a year ago, we were dreaming of making Presidential China for our first female president," recalled Joy with faraway eyes, "and then the project took on a completely new, and more provocative meaning."
What came next was The Vagina Monologue portion of the evening, with each woman offering up her story in a sort of real-talk/icebreaker/group-therapy session. One woman was a virgin and had never looked at her own vagina.
Another regaled us with her tale of dating with grey pubes—she was thrilled when the Brazilian wax came into vogue so she could literally shave off two decades.
One woman was mourning her pre-birth vulva and "wanted to see her vagina from outside her body," a sort of out-of-vagina experience. My birth doula (who has arguably seen more of my vagina than I have) was also there; working toward her midwifery masters degree, she was starting a gynecology residency two days later, so the evening served as a kind of induction ritual of her own.
As a group of women, our experiences ran the gamut, but we had all come together to commit our collective vulva to posterity. And commit we definitely did.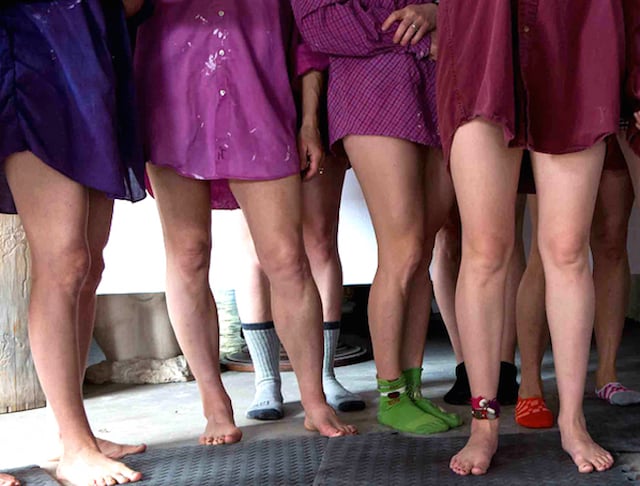 We unceremoniously took it all off, and put on XL magenta men's dress shirts in a feminist "Risky Business" fashion moment. In a circle, each woman knelt over their individual dropcloth, a buzz of naughty anticipation in the air.
We were each handed a small Tupperware, filled with what appeared to be yogurt but was actually dental alginate, a quick-setting, body-safe molding material. We were instructed to reach in and glop a small amount on our labia before dipping our entire vulva in the gelatinous material.
To my delight, this was far less awkward than I had imagined, with the large shirts draping just enough to provide a bit of personal privacy. "It's like an X-rated arts and crafts party!" one woman chirped. Four quick minutes later, I could feel the mold starting to pull away from my body and—voilà—our vaginas appeared on the outside of our bodies for all to see, as if by magic.
The molds aren't much to look at in that raw form, and it's hard to imagine how the negative shape you see will go on to become a beautiful piece of artwork, but it's still pretty impressive to behold two-dozen vaginas sitting side-by-side on a table. Later, in the Vagina China Studio in Boulder, Colorado, the molds will be converted to plaster casts, and ceramic clay will be pressed into the mold to create the final hand-painted plate.
With the rise of the #MeToo movement, society needs to be more understanding of women, their bodies, and boundaries. Being able to look at vulvas without cringing, with awe even, is a significant leap forward, and eventually we may be able to de-stigmatize vaginas and learn to appreciate them for the incredibly unique organs that they are.
Labioplasty (the reduction or removal of the labia) is currently one of the fastest-growing surgeries in America. "The Vagina China" hopes to normalize vulvas and share what real women look like.
And while my transgendered friends are quick to remind me that "real women" are not defined by genitals, breaking free of taboos around our most private parts is a step in the right direction for everyone. (Side note: anyone who identifies as a womyn is welcome at a Vagina China Casting Ceremony.)
When it was all said and done, I felt emboldened to have put it all out on the table with my sisters-in-arms; together we faced our own body shame, challenged cultural norms, and spent an evening celebrating the body part that gave birth to humanity. And did I mention there was chocolate?
To discover more or to support The Vagina China project, visit  or follow @vagina_china on Instagram.
Relephant read:
Author: Rachel Znerold
Image: Author's own
Editor: Sara Kärpänen
As for penises… 
Copy writer: Callie Rushton