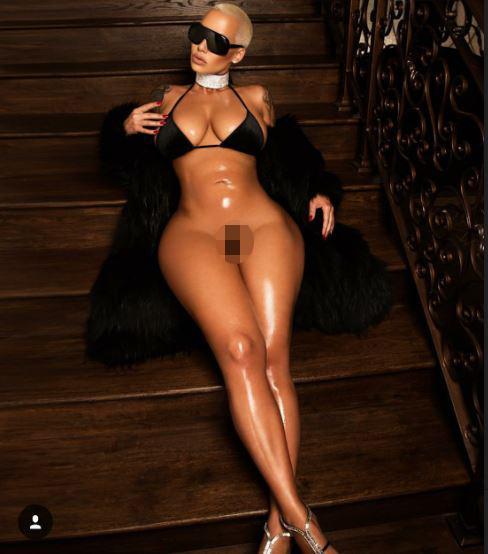 The relationship that women have with their own bodies is a very odd one in our society.
I am specifically referring to the fact that whether or not women should be clothed, and in what situations it is appropriate, is actually a controversial and passionate conversation in our society.
Some people say that women should be conservatively dressed at all times, because if they're going to "dress like a whore," then they deserve to be treated "like a whore."
Some people say that nudity is empowering, and that women should be allowed to wear what they want when they want.
And more recently, I've heard the argument that nudity is actually oppressive toward women—not because of that whole "whore" thing that I discussed earlier, but because we live in a patriarchal society. This argument states that women should not dress provocatively, and they should not present themselves in a sexual manner publicly, because that is what society expects from us. Society sees us as sexual objects, and thus we are fulfilling that role for them. We turn ourselves into sexual objects because that is what we are expected to be.
But, personally, I take issue with this third argument. I take issue with the first argument too, but that isn't my focus now. What I want to talk about is how nudity can be objectifying, but it can also be extremely liberating. It all depends on the context.
This third argument, in my opinion, is taking a very specific situation and using it to disregard nudity and open sexuality altogether. This argument focuses on the typical model on the cover of a magazine, dressed in as little clothing as possible, and tipping her head back, full lips parted, passivity in her eyes.
This argument focuses on women like Kim Kardashian and Britney Spears, women who are traditionally beautiful and who frequently pose provocatively, but they do so for a male gaze. This is the age-old argument against pornography: It's all about the man's pleasure, and never the woman's. She can be sexy, but she must also be pure, faithful, and silent. And, yes, this is an objectifying and oppressive situation. But it is just one side of the story.
Because as much as there are women who pose provocatively specifically for a male gaze, there are also women who can be openly sexual and be doing it for themselves, for their own pleasure. The pop singer P!nk, for example, who has vocally taken issue with the way that Kim Kardashian uses her own sexuality, has frequently sung songs about sex, posed provocatively for photographs, and appeared scantily clad in her music videos—and has in fact been either publicly nude or close to it.
And yet, the difference between these two celebrities is that one never gets the feeling that P!nk is not in control of her own sexuality and her own body. She is not dressed that way because some male advisor told her that it would be the best move for her career; she is dressed that way because she wants to be dressed that way (or so her public image would suggest). And that creates a world of difference. No longer is the woman in question a sexual object, there to be looked upon by a man. All of a sudden, she becomes an actual person, someone with a body and a sexuality all her own that she commands. She is in complete control.
And more than that, "nudity" and "sexuality" are not always the same thing. We always assume that, if a person is scantily clad or naked, that must mean that they are inherently doing so for someone's attention, right?
Well, not necessarily.
There are a lot of people in our society who are routinely told by society that their bodies are ugly. In fact, I'd venture to guess that the vast majority of people are told that their bodies are ugly. This message is given to overweight people, scarred people, people with stretch marks, disabled people, transgender people, people with extra skin, people who are older or wrinkled—the list goes on. And when people are told that their bodies are ugly, they are told that they should be covered. So the simple act of not doing that, of forcing people to look at your body when society has made it so easy for them to forget that it even exists, is a liberating one.
And to return to the issue of women and their bodies, women are told even more frequently than men are that their bodies are wrong, disgusting, and simultaneously, sexual objects. Women have been reprimanded for breastfeeding in public, because the act involves uncovering a breast, and people do not want to see that. Instead, the woman must segregate herself from society, feeding her baby in a dirty and busy bathroom.
Women are told that they must maintain their bodies in ways that men find sexually appealing, and so if a woman goes into public with uncovered and unshaven legs or armpits, they run the risk of being told that that is disgusting. But the thing about these two examples is that they are not disgusting; they are naturally occurring parts of a woman's body, but society has made it all too easy to forget that.
One good example of this sort of nudity that we've seen in the media recently would be Amber Rose's bottomless photograph that she added to Instagram, proudly showing off her pubic hair—something that women are often told that they should shave if they want to be considered sexy. If Amber Rose was playing into society's expectation that she be a sexual object, then she would have also played into society's expectation that she be completely hairless to make it easier for the average man to objectify her, but she didn't. She wanted people to see her pubic hair because she wanted people to remember that women have pubic hair and that that's okay. There should be no shame attached to it. It's just a part of her body.
So while nudity can be empowering in the scenario where it is used to foreground the woman's control over her own sexuality, it can also be empowering when it is used to deny the belief that something about the woman's body is disgusting or not right. And both of these types of empowerment are incredibly important.
We as a society tend to ignore female sexuality, to focus almost entirely on the man and his pleasure, and so it is important to see women who are willing to say, "Yes, I am a woman, and yes, I have my own desires." Women need to know that it is okay for them to explore their own sexuality. And furthermore, women need to know that their bodies are okay the way that they are.
When we do see nude or scantily clad bodies, too often they are all very similar—airbrushed, Photoshopped, perfected into what the typical man would think of as "sexy," but there are so many different kinds of bodies to have. Women with stretch marks need to know that they aren't alone. Women with extra body fat need to know that they aren't disgusting. And women with disabilities need to know that they are still beautiful. And one good way that we can prove this is by showing them examples. And these examples most certainly exist—they're just told that they need to keep themselves hidden beneath clothing.
And yes, there are situations where nudity can be used to be more oppressive than liberating. And yes, there are more ways to empower women than just nudity, and in some cases, some women would prefer modesty. These women are perfectly valid, but so are the women who are empowered by nudity or skimpy clothing. We as a society cannot ignore their experiences, and we cannot assume that every time that a woman dresses herself, she is doing so for the approval or disapproval of men.
~
~
~
Author: Ciara Hall
Image: The Sun
Editor: Travis May
Copy Editor: 1: Catherine Monkman
Social Editor: 2: Khara-Jade Warren