"Open your palms, this is not the army," my yoga teacher whispered, smiling encouragingly as she passed by.
I exhaled and opened my eyes long enough to smile back, suddenly aware that not only were my palms balled into fists as if I was about to punch someone, my shoulders were in knots, and my jaw was clenched tight. I was prepared for battle, not a month of yoga at an island retreat.
It was the first day of my month-long retreat at the Agama Yoga Center on the tiny Thai island of Koh Phangan. I was hiding in the back row of a group of about 40 students from all over the world and all walks of life. We all had converged at this yoga epicenter in the Gulf of Thailand and were spaced evenly throughout the open-air yoga hall on purple mats.
My teacher, a tall woman in white linen with a cascade of red curly hair and an Eastern European accent, finished her rounds on the floor and now stood on a platform in front of the class. The smoke that rose from the incense behind her intensified her message as she imparted 1,000-year-old yogic philosophy with an air of divine calmness that I could never achieve without some kind of narcotic.
"Try to quiet your mind," she said. "Be conscious of every breath. Watch every thought. Let it parade in front of you. Then let it go."
I knew it was all for my own good—like good posture, breathing, subduing my thoughts, and keeping still—all of which ostensibly seemed easy but in reality were counter-intuitive to living in San Francisco's frenetic urban environment, where day-to-day functioning was an endless barrage of text messages, e-mails, deadlines, and appointments. Factor in prohibitively expensive rent and you feel like you're running as fast as you can on a treadmill with the sole aim of not falling off.
But the real reason I was here was more complicated: a year prior, I was the victim of an attack on my life.
On one rainy evening in December, someone I knew was waiting for me in a closet of my two-bedroom city apartment, kitchen knife in hand. As I entered the room, he lunged and stabbed me in the chest. I screamed until I couldn't hear myself anymore. "This is it," I thought. "I'm going to die."
Then by some miracle, he couldn't go through with finishing it. He dropped the knife on the desk and ran out the door, leaving me with a hole in my upper torso the size of a quarter. I was sent to the emergency room, and my attacker was sent to prison for attempted murder. For the next year, I distracted myself with late nights, sex with strangers, and countless activities as an antidote to untreated PTSD, panic attacks, and serial nightmares from which I'd wake up screaming, my body drenched in sweat.
For a year, I struggled to balance two different therapists and multiple sessions a week, all with limited success. I exercised. I acquired hobbies. I was healing by the book—but something wasn't working. Feelings of emptiness and depression that consumed me during the day became absolutely suffocating at night. Then, on my birthday, my brother gave me five $100 bills for my birthday, and said it could only be used for a flight to the yoga school in Thailand. Five months later, I was on a plane bound for Bangkok.
What wasn't immediately clear to me when I arrived in Koh Phangan was that the lessons I would learn from this tiny island yoga school were exactly what I needed to deal with my recurring trauma and untreated PTSD—but not for reasons I suspected. Initially, I enrolled in the island yoga retreat for a change of scenery, some distraction, and the chance to meet fellow yoga enthusiast friends who lived in cool parts of the world.
I didn't know it at the time, but the lessons I was learning from the meditation and spiritual teachings—things like mindfulness, distress tolerance, and emotional regulation—were in fact congruent with the tenets dialectical behavioral therapy (DBT), a subset of cognitive therapy, designed to treat serious mental illnesses like borderline personality disorder, bipolar disorder, severe depression, and other post-trauma related conditions.
Unlike other forms of therapy that attempt to unpack early childhood experiences and get to the root of emotional trauma, these types of therapies focus on identifying and altering negative thoughts and thinking patterns, emphasizing self-healing, and making positive changes in behavior.
In many ways, ancient yogis and spiritual teachers like Tirumalai Krishnamacharya, the father of modern yoga, were early patriarchs of what has now become the premise of modern psychology and therapy. And it's no coincidence that age-old yoga principles were later adopted by renowned psychotherapists like Marsha M. Linehan and Aaron T. Beck. Eventually, I realized that a lot of what I needed to truly start the healing process was right in front of me.
One of the lessons shared in both yoga and modern therapy is mindfulness—perhaps the most important part of our yoga school training. When my thoughts meandered to the attack or other worries, my teachers told me to take note and carefully reel those thoughts back to the present. "The mind is like a mad monkey with its tail bitten by a scorpion," they reminded us.
The second was acceptance and living in the present. Perhaps this lesson was the hardest—I had to eventually accept that the trauma that forever changed my daily routine, outlook, and sense of well-being would forever be a part of my life. And wasting energy on regret and shame would only cause me to suffer.
Emotional regulation was the third, which I eventually learned by becoming aware of toxic thoughts that led me down dark paths. Through meditation, I learned to question negative thoughts in real time. They were the voices of my ego, and not my consciousness. They didn't define me. They were just negative thoughts with the sole purpose of tearing me down.
By the time I left the school two months later, I could more easily identify them and halt them in their tracks before they could do further damage in my mind. In short, I had to realize that I was the only one who had control over my thoughts and how they affected me.
None of these new ways of thinking were easy. And while I developed a strong foundation of new behaviors during my time at the yoga school, I still wrestle with the practical application of these teachings on a daily basis. The lessons that were shared in my remote yoga sanctuary were in every way a departure from everything I had ever known.
At times, I would soak up the message like a sinner on the brink of salvation. Other times, I appreciated them much in the same way that one appreciates modern art—I logically recognized their value at some abstract level but was embarrassed to admit that I didn't quite get it.
It's not surprising that the ancient yogis possessed the secret to overcoming trauma thousands of years before the existence of what we now know as modern therapy. It's also not shocking that the philosophies behind both disciplines are uncannily similar.
At the end of the day, yoga is about healing. By definition, it's about connecting to something greater. It's about finding balance. It's about returning to a fundamental state—one that pares away all that is unnecessary and focuses on the divine.
And that includes learning to breathe again.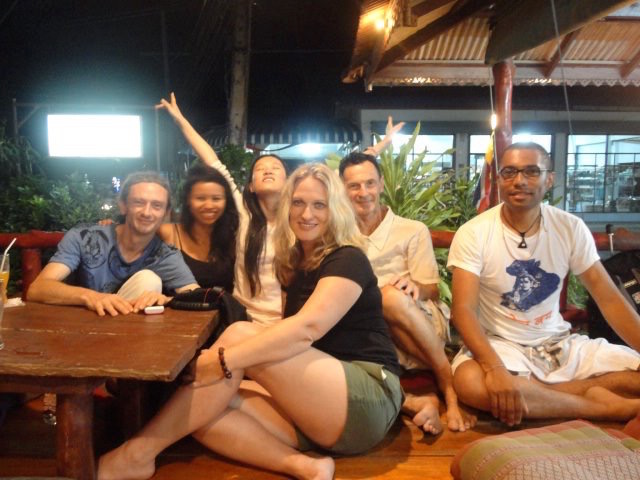 Relephant:
Author: Stefanie Hoffman 
Image: Youheum Son & Author's Own
Editor: Sara Kärpänen
Copy editor: Yoli Ramazzina