Halloween is around the corner and you're wondering what to serve.
Try this creamy, fall-themed soup, served in ornamental pumpkins, topped with a drizzle of balsamic reduction and candied pepitas. Then, end the night with baking some delicious and sticky candy apples—and maybe throw in some apple bobbing!
Candy Apples
Recipe courtesy of Da Capo Lifelong Press and Chef Mark Reinfeld of Vegan Fusion and the Doctor and the Chef.
Makes 4 candied apples
4 Pink Lady, Gala, or other apples
1 cup Silk creamer, or soy milk
½ cup organic brown sugar
1 teaspoon vanilla extract
1 tablespoon arrowroot
¼ cup water
2 tablespoons vegan butter
2 tablespoons pure maple syrup
½ teaspoon ground cinnamon
Pinch of sea salt
1 cup chopped toasted almonds or walnuts
1. It is best that the apples are at room temperature so that condensation doesn't prevent the caramel from sticking. Either slice the apples or insert your desired handler (Popsicle sticks, bamboo skewers, or even forks do the trick) into the bottoms.
2. Whisk the creamer, brown sugar, and vanilla in a medium-size pot over medium heat. Bring the mixture to a boil and simmer for five minutes. Whisk the arrowroot and water together and then whisk it into the sauce. Simmer for another three minutes, whisking occasionally. Add the vegan butter, maple syrup, cinnamon, and salt. Simmer for two more minutes and remove from the heat.
3. Wait a few minutes for the mixture to start thickening and then pour the sauce over either the sliced or whole apples. Sprinkle with the toasted nuts, if using, or roll the whole coated apple in them. Let the whole apples cool in the fridge; the sliced apples can be eaten immediately.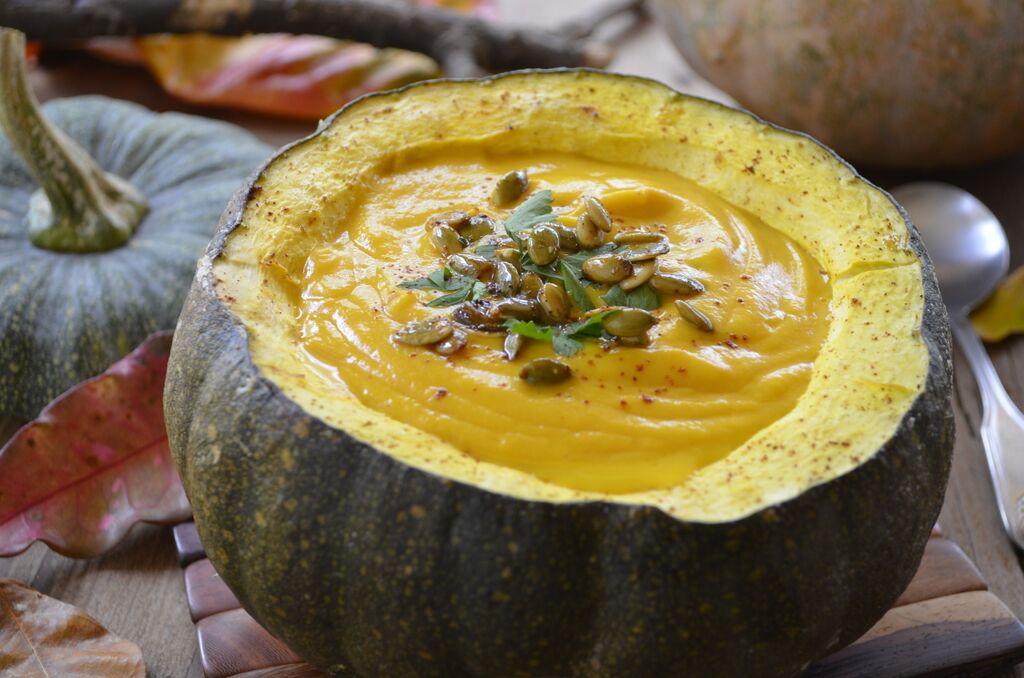 Curried Pumpkin Soup
Recipe Courtesy of Soup's On!
Serves 6 to 8
5 cups vegetable stock or water
1 1/4 cup diced yellow onion
3/4 cup diced celery
1/2 teaspoon seeded and diced hot chili pepper
4 large garlic cloves
4 cups pumpkin, 1/2 inch chopped pieces
1 1/2 teaspoons curry powder
1/2 teaspoon ground cumin
2 teaspoons sea salt, or to taste
1/4 teaspoon ground black pepper
1 1/2 cups soy creamer, coconut milk, soy milk, rice milk, or almond
milk
2 tablespoons finely chopped cilantro
1. Place the vegetable stock in a three-quart pot over high heat. Add all of the ingredients except the soy creamer and cilantro, and cook until the pumpkin is just soft, approximately 15 minutes, stirring occasionally.
2. Add the soy creamer, carefully transfer to a blender, and blend until creamy.
3. Return to the pot, add the cilantro and cook for five minutes over medium low heat, stirring occasionally.
Variations:
Replace the pumpkin with any squash such as butternut, acorn, or buttercup. Replace the curry powder with two teaspoons of chili powder, and 1/2 teaspoon of chipotle chili powder for a Mexican theme.