View this post on Instagram
You might remember Sandra Bland.
Young. Beautiful. A Prairie View A&M University graduate. Newly employed. Eager.
Her name is now commonly mentioned in discussions on criminal justice reform.
If you don't, let me remind you. Her death may have taken place in 2015, but it feels like another time, another era. Because on a normal day, just like today, Sandra stepped into a tidal wave of history whose ebb and flow remains with us still.
How?
She quite simply failed to signal a lane change while driving.
That innocuous move, that harmless decision—that put no nearby vehicle or person at risk—caught the eye of a state trooper. Hard to believe, but at the time, though rarely enforced, the act was an arrestable offense in Waller County, Texas.
For disputed reasons, the exchange between the two escalated. State Trooper Encinia threatened her with his taser: "I'm going to light you up." Sandra was arrested and booked for assaulting a police officer. Three days later, she was found dead in her cell, a suicide by hanging accordingly to official reports.
Her death, another in the ongoing litany of African-American deaths in fateful encounters with law enforcement, sparked outrage and protests.
"People are trapped in history and history is trapped in them." ~ James Baldwin
Waller County, in southern Texas, was once part of Mexico, and later part of the Confederacy. It owed its 19th century growth to railroad expansion and the influx of slave labor. The population of African-Americans, including free blacks, represented the majority until after the Civil War, when many migrated away.
What did the emerging white majority do? Well, they worked hard to suppress the African-American vote, especially the youth vote of the historically black college, Prairie View A&M.
Those same voter suppression activities continue to this day. As recently as October 2018, the NAACP Legal Defense & Education fund filed a lawsuit against Waller County for restricting early voting rights of black students at the same university. Texas police officers arrested a Democratic campaign worker demanding action on perceived voter suppression activities at the university.
But I digress. Sandra was booked and processed at Waller County Jail, a dated facility with staff untrained in the screening of those with potential medical or mental health issues.
Sandra's jailhouse screening form, filled out at the time of her processing, highlighted concerns regarding her current and past mental state. Was there a reason to place Sandra under heightened surveillance or suicide watch? Well, Sandra was taking medication for epilepsy. She had attempted suicide earlier that year after the loss of her baby.
Why didn't they know that nearly 15 percent of men and 30 percent of women booked into jails have a serious mental health condition? That once in jail, many individuals don't receive the treatment they need and end up getting worse, not better? What signs did they not see—or choose not to see—and why? 
Because it was in this mental state that Sandra was placed in a cell by herself, unable to raise the $500 required for her release (her family resides in Chicago). There are reports of her emotional distress provided by an inmate in an adjacent cell.
Bland was found dead in her jail cell three days later—shortly after 9 a.m. on the morning of July 13, 2015, supposedly having asphyxiated herself with a plastic trash bag. She'd been last seen after 7 a.m. Procedures state that checks on inmates are to take place every 60 minutes.
Sandra's death touched me in a personal way.
Maybe it was that big, beautiful smile. Maybe it was because she was a young woman just starting out in life, just spreading her more adult wings. Maybe because I, too, lost a baby and I know the kind of emotional distress that can cause. Maybe because all the signs were there to help Sandra.
Instead, she joined Trayvon, Michael, Eric, Tamir, Philando, Freddie, and countless others—disproportionately people of color—killed during police encounters.
According to an online report recently released by the Texas Justice Initiative, a University of Texas at Austin research institute, thousands of individuals in Texas have died in police custody or behind bars over the past 10 years. Nearly 2,000 of them, including Sandra, had not been convicted of a crime. An encounter with the police, for some, becomes a potential death sentence.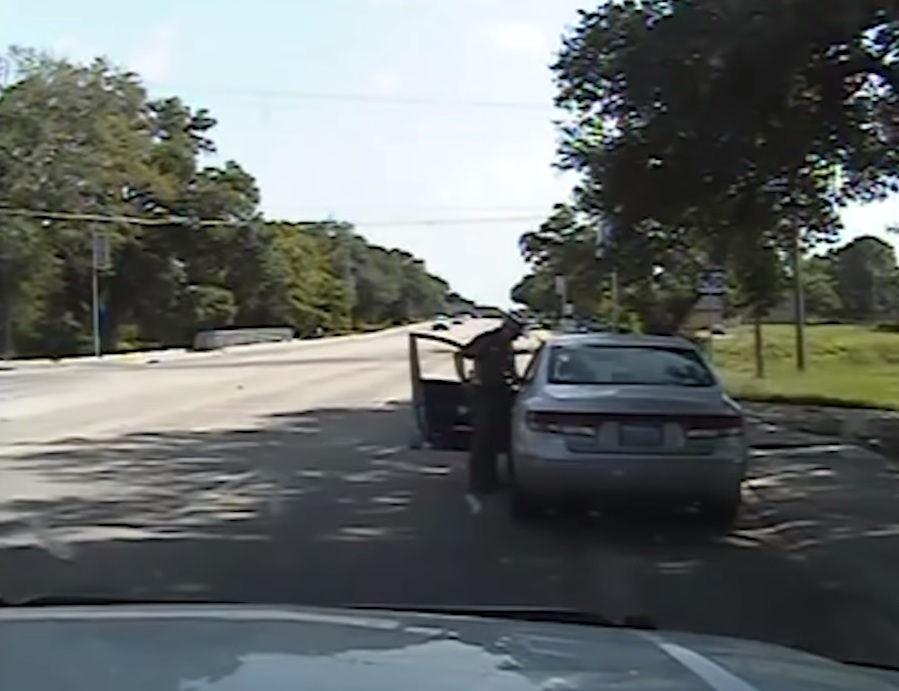 "Police have become our worst bullies." ~ Ice Cube, Billboard Interview, 2015
State Trooper Encinia left the police force. Bland's family prevailed in a wrongful death suit, although they were disappointed at its shortfalls and the lack of explanation as to why their daughter was arrested in the first place.
And these shortfalls matter, because being unaddressed doesn't really let most of us see what's out there—even though people of color know.
You see, here where I live in Los Angeles, the L.A. County Sheriff's Department, perennially plagued by scandal, now faces allegations of a secret neo-Nazi, white supremacist clique within its ranks. I previously had no knowledge of this. It didn't occur to me. I've never been stopped by the police.
But my African-American and Latino coworkers know. It's common knowledge in their communities. The New York Times recently published an article on law enforcement's failure to address the exploding threat of white nationalism. "Really, they are just seeing this now? Where have they been?" was the primary Instagram response to the story.
A probe is also currently underway to investigate the alleged racial profiling of Latinos on Highway 5 by L.A. County sheriff's deputies. The Los Angeles Times reported that two thirds of drivers pulled over on that freeway from 2012 to 2017 were Latino. Stories like this exist all over the country. Words like criminals, rapists, and illegals, have unleashed powerful reactionary forces.
How indeed do we reach across this chasm?
Sandra's death became a catalyst for reforms in many elements of the Texas criminal justice system, including bail reform, ending racial profiling, changing procedural standards at all steps in the booking process, and more research into the causes of in-jail deaths and suicides, which are disturbingly common.  
But it's more than that. It's also about transparency, accountability, mandatory body cameras, and a more integrated and diverse police force.
At the same time, it's really about breathing new life into the culture we live in, opening doors, sharing political power, and acknowledging the incredible mosaic that is this American life.
It was the massive mobilization and turnout of African-Americans that defeated Roy Moore in a Senate special election in Alabama, a solidly Republican state. The "Black Girl Magic" theme of 2016 resulted in the election of nine African-American women as judges in Jefferson County, Alabama.
We have also just elected one of the most diverse and most representative Members of Congress in our nation's history. Looking at a picture of members on each side of the aisle is a photograph of unrelenting demographic change. Wow!
Noted for their artistic achievements are Ava DuVernay, the first black woman to be nominated for a Best Picture Academy Award, Kehinde Wiley and Amy Sherald, the artists whose recent portraits of the Obamas now hang in the National Portrait Gallery, Compton-born Kendrick Lamar, winner of the 2018 Pulitzer Prize for music, Alejandro González Iñárritu together with other Mexican directors who have dominated Hollywood over the past several years, and Ta-Nehisi Coates, winner of the 2015 National Book Award.
We may just be witnessing a black renaissance in our arts and culture.
I hope we are.
I hope it continues to push the culture forward, change the canon, and carve out space for a more inclusive vision where we are less afraid of one another.
My daughter belongs to the millennial generation, the most culturally and linguistically diverse generation in this nation's history. They already embrace these changes and it's no big deal. May we all embrace these changes.
Because maybe, just maybe, one day, a young black girl on a routine traffic stop by a State Trooper can simply make it home for dinner on time.
~