View this post on Instagram
This is a post written together with Clearlight Infrared™—makers of Jacuzzi® infrared saunas. They're dedicated to offering only the best health and wellness products, and we're honored to work with them. ~ ed.
Infrared (IR) saunas have fast become one of the hottest health trends under the sun.
Hollywood's wellness-loving celebs, including Lady Gaga, Busy Phillips, and Gwyneth Paltrow have been going wild for infrared saunas and their "revolutionary health benefits"—even the Kardashians are said to be obsessed with IR!
At first, I was a little skeptical of all the hype.
As a Finnish person and a traditional wooden sauna lover (steam saunas originate from Northern Europe), I had mixed feelings about a room heated by invisible waves instead of wood and fire.
Encouraged by a friend, I eventually stepped into my gym's infrared sauna with curiosity after a sweaty workout session…
The experience was nothing like the 200-degree heat I was used to in a "normal" sauna—the temperature was pleasantly warm but not burning hot. After 20 minutes, my sore muscles felt deeply relaxed and soft. I felt totally rejuvenated! This experience left me intrigued to know more about the science behind IR's magic.
Why Infrared?
View this post on Instagram
"When my body goes into a spasm, one thing I find really helps is infrared sauna. Infrared sauna kits have changed my life." ~ Lady Gaga
While infrared rooms are known as "saunas," a more accurate description would be: infrared therapy cabin. Gaga is just one of many who use infrared to treat chronic conditions—in her case, fibromyalgia (a chronic pain condition that affects the nervous system). Infrared saunas are becoming a common alternative therapy to combat pain and relieve muscle tension.
In an infrared sauna, it is not the steam but the invisible rays that heat the body's tissues from the inside out. It is the same vital heat produced by the sun, minus the harmful ultraviolet waves. In fact, this heat is so safe that it is used in hospitals to keep newborns warm.
In these saunas, your body absorbs the infrared heat, increasing your core temperature and inducing a deep and relaxing sweat. The radiant heat penetrates deeply into joints, muscles, and tissues increasing oxygen flow and circulation. As a result, tight muscles soften and you feel deeply relaxed throughout the body.
And there is a whole array of proven health benefits other than just relaxation!
And because infrared saunas are pretty hassle-free to use compared to traditional saunas—they only take 15 minutes to warm up versus up to an hour for steam—using infrared sauna at lower temperatures means you can stay in longer and get even more health benefits.
Healing from the Inside Out—Infrared's Proven Health Benefits.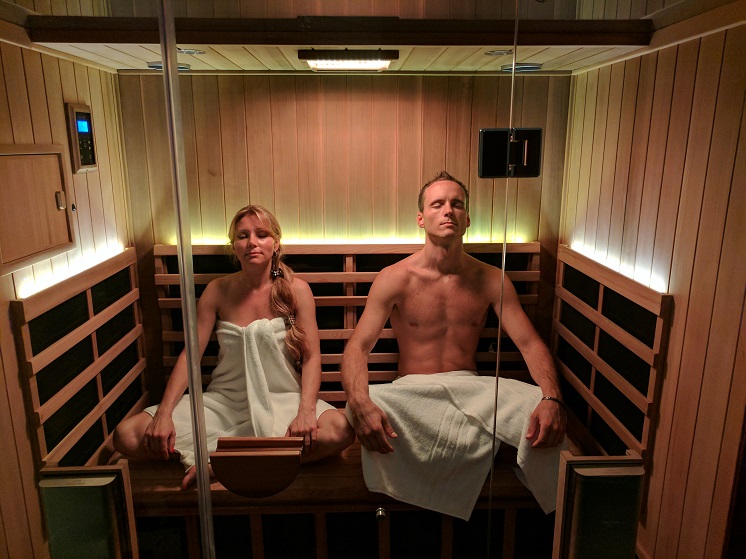 This is what all the hype is about—the famous D word. The skin is our largest organ, and sweat is one of the biggest elimination channels for toxins. It is no secret that sweat is a key factor when it comes to detoxing: saunas and sweat lodges have been used throughout history by different groups and cultures to purify the mind, soul, and body (think Roman times, Greek, and Native Americans).
Infrared saunas heat the body from the inside out, helping to eliminate chemicals and other toxins from the body. Infrared heat helps remove impurities from our cells—specifically the cells inside our fat where our body stores harmful toxins and waste such as cholesterol and heavy metals.
Expelling chemicals through the skin is great news for the liver, too, relieving it of processing large quantities of fat-soluble compounds.
"I have never felt so alive and I am young and never thought I was unhealthy. I haven't had any cold symptoms, headaches, or any minor problems since using my Jacuzzi® infrared sauna and ridding the toxins." ~ KH, Appleton, WI
Not only does infrared help with detoxification, but also with weight-loss, since many of the toxins we absorb are surrounded and trapped by fat. A sauna weight-loss study conducted by Binghamton University in New York revealed that an increase in core body temperature resulted in a decrease in body fat.
According to the study, people who used infrared sauna three times a week for 30 minutes per session dropped an average of four percent body fat over a four-month period. For a 175-pound man, that means seven pounds weight reduction, just from IR!
In addition to hindering weight-loss, a build-up of toxins can make the body feel fatigued, cause muscle aches, and lead to skin reactions like acne breakouts or rashes. When the toxins are released from the body, the fat will start to come off, too. That's simply how the system works.
>> Pain relief and muscle recovery
>> Reduction of hypertension/high blood pressure
>> Clearer skin
>> Alleviation of chronic fatigue syndrome
>> Better sleep and stress relief
>> Depression therapy
>> Strengthened immune system function
>> Improved cardiovascular health
>> Diabetes support
>> Reduced overall mortality
…and the list goes on.
What to Know Before Purchasing an Infrared Sauna.
Having your own sauna may sound like a luxury only the rich and famous can afford, but an infrared sauna is actually smaller, more affordable, and easier to install than a regular sauna, which almost every Finnish person has at home!
"I use my sauna every day the first thing each morning and can see how my body is detoxifying as a result. My aches and pains have decreased considerably and my skin has a beautiful glow. After each use I have an immense feeling of wellness and vigor that takes me through the day. Having my infrared sauna in my home is no less than having heaven on earth." ~ Fleuretta, Brooklyn, NY
It's no surprise that in Scandinavian countries people live longer than in the U.S. There's nothing like regular full-body sweat for a longer and healthier life. (That's been proven, too!)
The leading producer of quality infrared saunas, Clearlight Infrared™ is making this health boon even more accessible for the average person in the U.S., where a typically sedentary lifestyle makes sauna bathing even more vital.
Before purchasing your first sauna, one major aspect to look out for is that your sauna isn't built with any toxic materials, including certain kinds of glue or wooden materials that may cause allergic reactions.
Click here to read the Jacuzzi® Infrared Sauna buying guide.
Infrared sauna is an investment in your wellness.
That's why it is important to purchase your sauna from a trustworthy company. Jacuzzi® infrared saunas by Clearlight Infrared™ are not only beautifully designed but also adhere to the highest manufacturing standards.
All Clearlight Sauna® models are hand sanded and made out of high quality cedar or nordic spruce. Clearlight has over 22 years of experience in the infrared sauna industry and only use non-toxic materials in their saunas.
Infrared heat has been used for wellness for many years and is a tried and true option to increase your overall wellness.
From a traditional sauna lover to infrared obsessed, I can tell you this: having your own sauna at home is one of the best things in life. It is a life-long investment in your health that will pay off—big time.
So, let's get that sauna skin glow on and put our well-being first.
"Our Jacuzzi® infrared sauna arrived a few days ago. My 17 yr. old son and I put it together in about 30 minutes. It is just beautiful, like a piece of furniture. My whole family has used the sauna several times and it is wonderful. I will admit that I was initially a bit skeptical about having a good sweat at lower temperatures. Now I am totally converted. My wife never liked traditional saunas because they are such a hot and 'hostile' environment. She has used our sauna every day since it arrived and loves it." ~ JA, Doctor of Chiropractic, Las Vegas, NV
Discover a world of affordable luxury & holistic well-being: 1. Jacuzzi® infrared saunas
1/3
Learn More
*Always talk to your physician before using an infrared sauna. Sauna use is contraindicated for certain conditions. Click here to learn about infrared sauna contraindications.