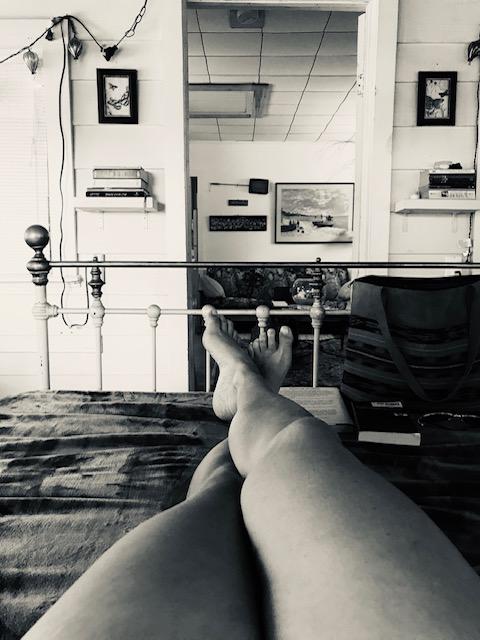 A cancellation.
Then, a spontaneous decision from a person who is decidedly not spontaneous: me.
A random lake.
Drifting clouds, but still plenty of sun.
The weekend matched my thoughts about life and certain, imminent changes.
A three-season 1940s bungalow filled with campy, kitschy, perfect things, like seashell-covered salt shakers and painted paddles, and ship models inside bottles, and old postcards—a series of sent sentiments, seen and savored by someone special, quite some time ago.
A bike.
A beer.
Okay, maybe another one.
A book about the moon.
A dreamy sleeping porch with twinkly lights and a wayward breeze.
Alone, but decidedly not at all afraid of my own company.
Curiosity pulls.
A farmers market under a small, slightly leaning pavilion in a dusty two-building town.
An assortment!
National Geographic travel stamp books!
Local honey!
A farm-fresh cucumber!
Into my bicycle basket they go!
Along with some wine.
Because, you know, wine.
An old-ass cemetery, as old as Captain Oliver Wales himself (complete with what is surely shaped like an old-ass trail marker tree), instantly lures me in from the road for a closer look.
It is exquisite.
Oh, but poor little Mary. In the grave on the hillside, dead at nine months old, in 1823.
An outdoor shower.
Some very loud birds.
An argument of sorts.
Or perhaps they are calling to each other lovingly?
I will never know, but I can choose to believe it's love, and so I do.
Sudden silence when the weathered wooden door creaks and slams behind me.
My wet towel on the rail.
Chris Cornell crooning.
Then, Cowboy Junkies.
Then, Van Morrison.
Then, Bob Seger.
I don't care what anyone says, "Night Moves" does not age.
Ever.
It reminds me of high school, and crushes, and floating on a similar lake in 1985.
Lord, I remember.
A harmless thunder shower brewing.
And the beach.
And writing.
And earnest attempts at watercolor painting.
And yoga.
And ice cream.
And a sunset.
Okay, maybe one more.
Sunset, that is.
Summer is my religion, and I am stronger than I feel.
~