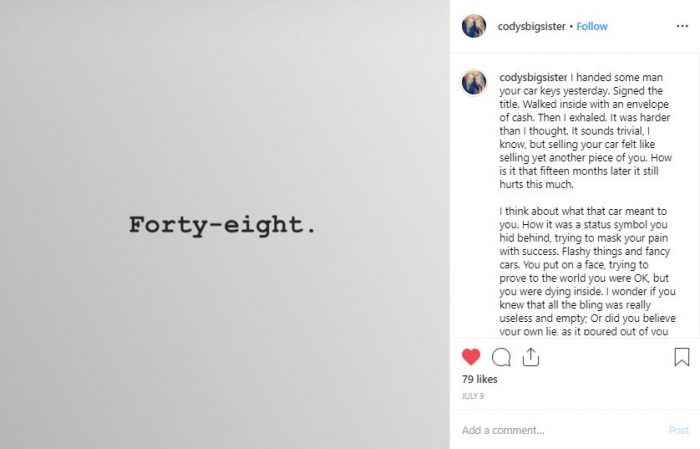 It's been just over a year and I'm struggling to breathe.
Grief is inescapable in this human experience, and yet it often feels like one of the single most isolating events a person can go through.
I've been here before, I'm no stranger to heartache in my mere 30 years. But every time it leaves me breathless, gut-wrenched, and heartbroken in an uncharacteristic solitude.
Have you, too, been here before?
As a clinical psychologist I am self-aware of my coping mechanisms, both healthy and less so. I understand that "these things take time" and sometimes the only thing to do is nothing at all. I know all of the common platitudes as well as the psychobabble speak, and still, I find myself gasping for air.
Cody was my little brother and it's not a hyperbole when I state he was one of my best friends—a soulmate of a sibling in many ways. Losing him took me to my knees. It's that split second when you get that one phone call that just buckles you. You've been there. When all you want to do is rewind time and unhear the tragic news. When you beg and plead with a God you're not sure you even believe in. Please, please, please, let this not be real. Please.
I'm a psychologist by trade, yogi by heart, and writer by soul. A passion I let fall to the wayside because, as you know, sometimes saying it out loud or writing it down just makes it too goddamn real.
But, as a year slowly and quickly marched by, I realized I couldn't numb or distract anymore. I need something, anything to help me move through it.
I created a project, dedicating 100 days to 100 contemplations, to come up with 100 writings, all for you Cody, all for you. When we believe that words are failing us, it is then that we should do the work to search deeper, reflect longer, and find the poetry within us to come out of isolation.
To connect to everyone and anyone who has ever lost someone. With my project, and my words, I have already found solace in the community that is grief.
And so it is.
~ @codysbigsister I invite you to follow along on my journey.