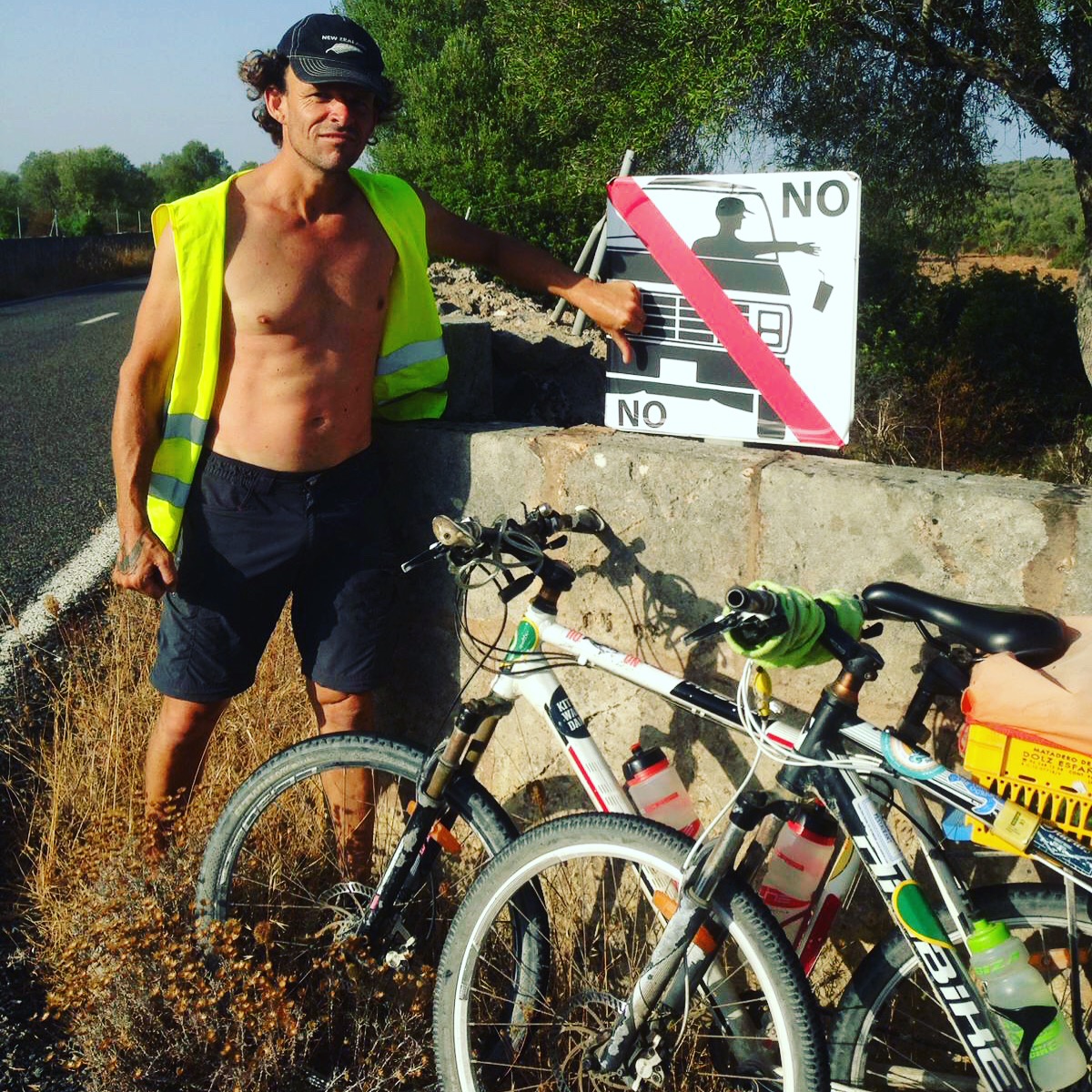 "The best remedy for those who are afraid, lonely or unhappy is to go outside, somewhere where they can be quite alone with the heavens, nature, and God." ~ Anne Frank
~
To start a new life in a country where they speak another language and where the sun shines every day of the year is cool, right?
But leaving it all behind, from family and friends to a professional career, can cause us to doubt and overthink everything.
"Am I doing the right thing? What if I'm just wasting my precious time?" Although I'm certain I don't want to go back to my legal profession, the clarity it provided, and the money I earned, doubt still rises up every now and then.
Having a mind that questions and judges every decision is tiring. And currently, while I'm in the midst of some new developments in my life, I'm beginning to feel overloaded again.
But—there's a constant supporter waiting for me that allows me to keep my sanity. For someone who is trying to live a sustainable lifestyle, this is my savior and supporter on stormy days.
I'm not talking about my loving partner, who is my rock, or family and friends from my other home, who have a special place in my heart.
No, it's the cold iron and hard rubber of a thing that keeps me moving and balanced: my bicycle.
When my spirits are low, I take my bicycle and ride through the rocky and winding roads. I breathe in the fresh air, watch the lizards crossing my path, and observe the goats taking refuge under fig trees. These scorching days, I'm almost breathless when I'm climbing the hills—my skin drips with sweat and my heart pumps in my chest until I feel exhausted when I return home.
But during these rides, I am present.
The negative voices calm down, answers to my questions can wait, and, when the noise in my mind softens, I can accept that life is changing again without being afraid.
The leaves of the olive trees move lightly in the warm breeze. The heat of the relentless sun feels heavy and burns my skin. The cracking earth is so dry, it's screaming for water. So am I; the welcoming water from the bottle is warm and I finish it in one go.
I'm pedaling my way in a repetitive rhythm, absorbing the green valley and listening to a deafening choir of cicadas. Cycling through this rustic landscape always kills my low spirits and makes place for gratefulness. And that's exactly what I need for myself. Once the negative and moody feelings shift into feelings of gratefulness, I know I'm on the right track again. The contemplations that bring me down melt away, and I make way to receive fruitful thoughts.
Cycling is my antidote to bad days, which always seem to go hand in hand with overthinking and doubting the choices I have made for myself.
It's easier to be passive than active on such days, but sitting down in front of the television for hours, watching stupid shows, and numbing our minds with chocolate, chips, and Coca Cola doesn't make us feel any better. Although it might comfort us for a little while, later we feel even worse.
When we exercise and go into nature, our brains generate endorphins and serotonin that raise our levels of well-being and happiness. It's a chemical process that keeps us balanced. Miraculous, isn't it? Incorporating these remedies in our lives improves our thoughts and therefore our well-being. We feel less lost when we are in control again by choosing to be active.
What is your antidote to bad days?
Maybe it's writing, drawing, or painting—the creation of something through expression. When we trust our feelings to ink, paint, and paper, we liberate our minds and may experience feelings of relief and clarity. We feel alive again.
Or it's finding support from friends by sharing our doubts and insecurities, which gives us a sense of being connected and less alone.
Or maybe it's going to the gym and working on a strong body that helps us release negative emotions and increase the serotonin levels in our brains.
The most proven remedy for lifting our spirits, reducing stress and anxiety, is going into nature and exercise.
Walk through the forest and take a forest bath, or cycle through the landscapes and surround ourselves with the colors of nature. It's free, it doesn't cost a cent, it's timeless, and it's always available.
Being among trees and seas does beautiful things to the human mind. Nature is a healer. She tells us to slow down and demonstrates patience. And patience with ourselves is exactly what we need on such days when we feel so dangerously worthless.
Having a bicycle and riding it through the green hills has saved me over and over again since I have moved to the Balearic Islands where I, a fervent city lover, fell in love again with the natural world. I admire her beauty even more, now that I have experienced her strong medicine for the body, mind, and soul.
Riding a bicycle in the abundant nature during scorching summer days may exhaust your body, but it lifts your spirit until your soul flies high. Never underestimate what a bike can do for you. It's a powerful trick and a lesson learned.