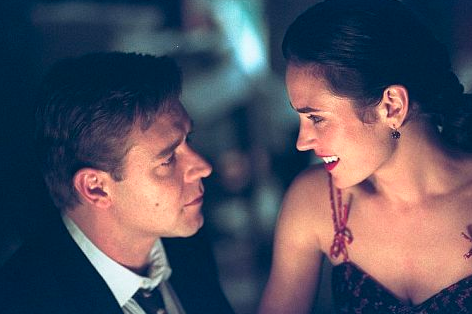 My last romantic encounter was a total nightmare.
I was utterly swept up in all of those heart-pounding, euphoric feelings that a person gets when they find their desire unexpectedly reciprocated by a lover that initially seemed unattainable.
When that came crashing down around me, I couldn't help but feel almost hollow and bloodless—a shell of the person who was skipping around in a state of infatuation only weeks earlier.
When the pain subsided enough to a point where I was able to make clear-headed decisions, I vowed that I would leave that part of my life alone for a bit. I have always been guilty of allowing these types of dalliances to run roughshod over every other aspect of my life; but with my first published book coming out in the spring, it almost seemed like the universe was giving me one last shot to get serious and make a real go of it.
This was my chance to take all of that energy that I pour into what amounts to virtual strangers who I meet on Facebook and put it into actually being of benefit to others. With this change in mindset, I was able to turn crushing heartbreak into something empowering.
Yesterday, when I took my two little girls to our local children's museum, I found myself engaged in conversation with a woman who was also sitting on the sidelines, keeping an eye on her children. This is the sort of situation that, for most people, would be somewhat innocuous. I, however, learned early on that I am not—nor will I ever be—most people. I seem to have an automatic setting that turns almost every interaction that I have with the opposite sex into flirtation. Why this is could be a whole blog on its own—but suffice it to say, it is one of my character flaws.
Worse than even the fact that I have to fight this built-in agenda, is the fact that I always spend so much energy trying to figure out the other person's relationship status and how they are reacting to my subtle advances—and no time at all trying to ascertain if we have anything to offer each other at all. While this is not a terribly nice thing to do to this unsuspecting museum-goer, it's even more damaging to myself. It's why I have such a long string of six-week disasters under my belt.
I've heard it mentioned in certain circles that a sapiosexual is a person who exclusively dates people of above-average intelligence, but it is my belief that there is an important distinction that must be added to that definition. I think sapiosexuals feel more comfortable with other intellectuals but find themselves in less than adequate dating situations out of practicality or convenience. At least this has been my experience.
As the conversation continued to progress between the woman in the museum and myself, it became apparent to me that a dinner date could very well have been the end result; however, something inside of me must have shifted in a fundamental way since that last heartbreak. It wasn't easy to do as I looked deeply into her soulful and almost turquoise eyes, but I decided to let go. I expressed that I was pleased to have met her and gathered my children to head back home.
As gregarious and attractive as she was, we were not intellectually compatible, and I don't think that I am willing to settle for that anymore.
As a matter of fact, if you've never heard of Noam Chomsky, if you've never teared up after reading Neruda, if you watch Fox News, I cannot possibly see what we could offer each other.
I do not state this in an uppity or conceited way, because I feel like I am being as kind to the other person as I am being to myself. I'm 49 and my momentary companion in the museum seemed a few years younger, but either way, we were both at an age where wasting time was not a luxury we should be engaging in.
I promised myself that I would no longer settle for anything less than what is right for me.
Every wildly successful article I have ever read on Elephant Journal—or anywhere else for that matter—always shares the same key element. It is that X factor of growth, that thing that happens to us every so often where we question what we have been force-fed by television, movies, and society at large from our first days of consciousness. When we finally have the guts to say, "this does not work for me."
I have read of people who have abandoned stressful careers, toxic relationships, and bad habits. It is the kind of courage that gives you a lump in your throat and stays in your head for days. Perhaps my decision to finally be true to myself pales in comparison to many of these stories, but for me, this feels big. I finally feel comfortable enough to be alone until I find someone who can improve upon that—instead of just change it.
Sapiosexual is not simply some trendy buzzword—it is what I am. It is who I am.
~