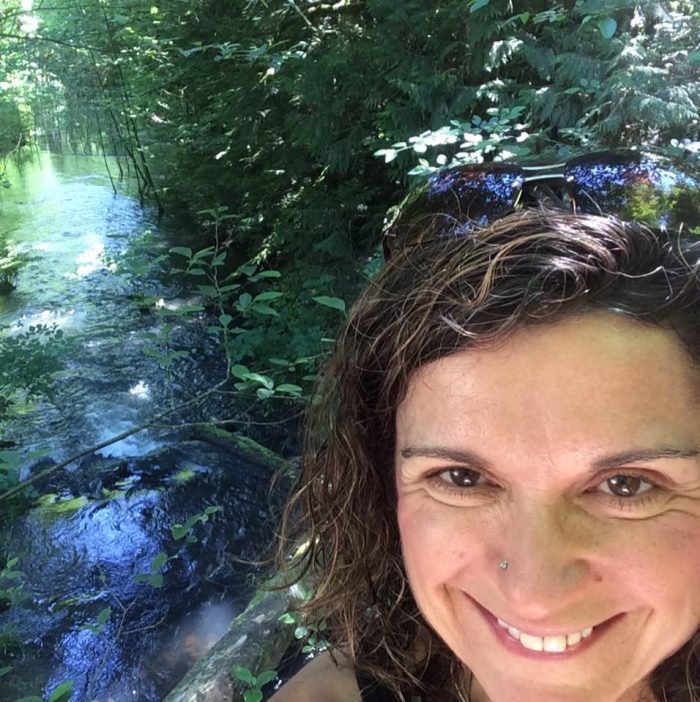 I think I am not alone when I say that I once believed old age would magically skip me.
How crazy, right? I thought, me? Grow old? How utterly ridiculous.
I found my first grey hair in my early 40s. I was washing my hands in a ferry bathroom when, under the sickly fluorescent lights, I noticed a strand of silver reflected in the water-splattered mirror. "What the hell?" I whispered and, without hesitation, yanked that sucker out with such precision that one would have thought I was trying to prevent a fatal disease from spreading. Looking back, I wish I had kept it as Exhibit A: The Beginning.
My first hot flash came-a-knockin' in yoga class. There I was, in a perfect downward facing dog minding my own business, when an invisible force switched on an internal furnace so powerful, a sheen of sweat covered my entire body in an instant. I breathed away the panic and the heat passed as magically as it came, the sweat reabsorbed back into wherever it came from.
I didn't have another hot flash for three years and started to believe that what I had experienced that day in yoga class was a strange anomaly. Maybe a fever of sorts.
I lived in denial, until that sweltering summer morning when my period came with a vengeance. I had no clue this was to be my last. It's not as if the final of the two million or so eggs I was bestowed at birth sent up a goodbye note saying, Hey, it's been a slice, but it's lonely down here with me being the last egg and all so, c'est la vie. Nice knowing you. Thanks for housing me for the past 40 years.
Over the next several months, I waited for another period to come. I remembered a friend sharing with me how she had wished for just one more period. How much she had taken the monthly reminders of her fertility for granted and had wanted one last opportunity to be fully present to the magic of her female body. I finally understood her deep tug of grief.
I waited for 12 months for the blood to return. It didn't.
I remember the morning I sat at the kitchen table with my boyfriend—eight years my junior—having finally gathered the courage to tell him that he is in relationship with a woman in men-o-pause. It seemed like such a dirty word to me—something to hide from the world (including myself). I could not look him in the eye. I wanted to fall through the floor. As the hot tears streaked down my face, I realized I was feeling shame.
Brené Brown says: "Shame is the most powerful, master emotion. It's the fear that we're not good enough."
Am I alone in this? I thought. Or do other women feel shame and fear around aging? How did I get here? How did I buy into this belief that I am no longer of value once I start showing signs of growing old?
Over the next several months, I sat with my feelings of shame, sadness, fear, denial, and anger. And I cried out the programming that wanted me to believe that younger is better, that if I allowed aging to take its natural course, I would miss out, fall behind, lose my power, become less than, and slowly disappear.
There are few positive images of the power that women can take into their time of waning. What we see growing up is that aging is something to wage war against. Antiaging options are thrust at us from every direction. We are instructed to fight aging. Promised that if we use this product or that, we could look 10 years younger in a month. Before and after photos tug at our wallets. We check our faces in the mirror every morning, hoping the promises are true, that this product will be the one that delivers. We watch YouTube makeup tutorials for women of a certain age. We do face yoga. We spend endless hours fighting nature, arguing with reality, and having a beef with the Universe.
But growing old is not a defect. It is not something in need of fixing, nipping, tucking, injecting, sucking, or filling. Aging is a verb. It is active. It is meant to flow. It is part of an alchemy that completes our human existence. If we fight it, we stop experiencing life as it is meant to be experienced.
When my stepsister, Laureen, turned 55, she took herself out for breakfast at a chain restaurant that gave discounts on meals to those over 55. When the server showed up with the bill, she proudly announced, "Today, I am a senior. Please apply the senior discount to my bill."
The dumbfounded server stared at her in disbelief. "May I see some I.D.?" she asked.
Laureen recognized that aging is not that serious. She celebrated aging in the face of a society that told her she needs to be fixed. She realized that aging is neither good nor bad—it just is. When we try to halt the process of aging, we say no to new experiences and yes to rereading life chapters that have already been lived. Laureen didn't mind what was happening with her external appearance. She practiced equanimity with aging. She loved herself for no reason. She didn't wish for things to be different than what they were. She practiced humor and acceptance.
Our obsession with remaining young masks our fear of the unknown. Once we step aside and allow time to have her way with our body, we open ourselves up to change.
"When we change how we look at things, the things we look at change," wrote Dr. Wayne Dyer.
So I invite you to practice bravery. Stand proud in your full womanly power, embrace aging as if your life depended on it. Recognize it as simply the next step in our human development.
Yes, there continue to be days when I grieve my youth, grieve my young body with its narrow waist, perky breasts, and boundless energy. On those days, I let myself cry. I make space for grief while holding true to who I am today. I allow this organic process of letting go while trusting that what is yet to come will reveal itself in its own time.
I am 53. It is the oldest I have been and the youngest I'll ever be—two sides of the same coin. I say f*ck no to aging "gracefully." I enter this part of my life with as much ardor, zeal, and energy as I have entered every phase of my existence. I dive into my wisdom years with wide-eyed curiosity, mindfulness, compassion, and gratefulness. I dare you to do the same. Let's rewrite the programming around women and aging.
~