This article is written in partnership with InsideTracker—they're dedicated to increasing vitality, improving performance, and extending the lives of their users, and we're honored to work with them. ~ ed.
So much of what plagues us right now is a lack of control.
We are powerless (mostly) over the state of the world and the actions governments are (or aren't) taking. If loved ones fall sick, we have no choice but to wait and hope and pray and video chat them afar while they get better. Many of us have had to accept that we could get exposed to the Coronavirus in the coming months—or, perhaps, that we already have been. We can't control the shuttering of businesses and the loss of income, health care, and stability that is happening around the world.
If you're doing as we're all supposed to, you're at home. Ninety-nine percent of the time. Maybe completely alone. Maybe with a family or a partner or a couple roommates.
This isolation and lack of control and threat of disease has led many of us to hurtle into the knowing that our health is what we have. Our health is what we can hold onto. Our health is everything.
Usually, we talk about "health" and "wellness" as these ambiguous, amorphous ideas that are preached about to us from Insta-famous fitness gurus, from the titles of nutrition books, or from ads for weight loss or exercise programs. We adopt them as goals and decide we aren't successful as humans if we aren't pursuing them.
A pandemic is an unignorable reminder that the state of our body is foundational—not aspirational. It can't be treated like a hobby, as if we're picking up a foreign language or learning how to bake. It is fundamental. It keeps us functioning. It keeps us and our families and our loved ones safe. It keeps us alive.
Yet most of us feel bombarded with information about disease, virality, rates of infection, immunity, resulting in overwhelm and overload. It's so hard to know whom to trust, what to do, or how to help ourselves in this time.
That's where InsideTracker comes in.
A Company Working to Empower People on Their Health & Wellness Journeys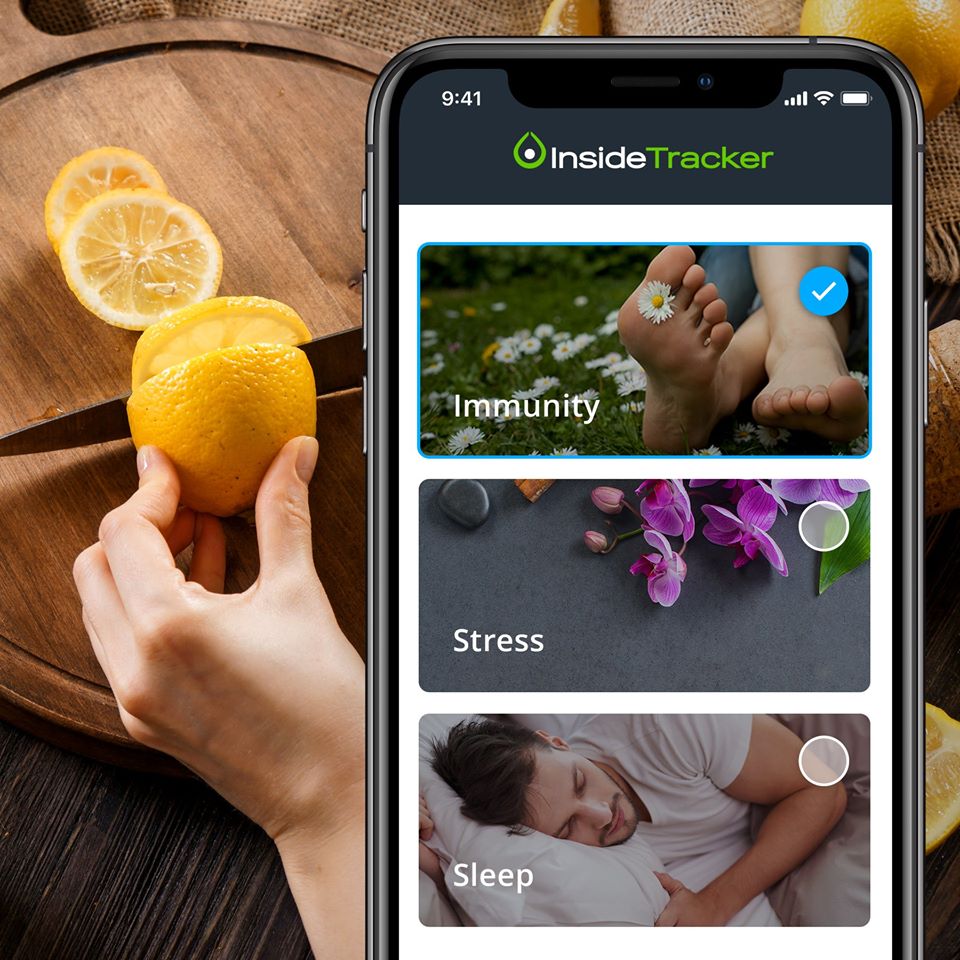 InsideTracker is a company that has found a way to provide in-depth, personalized, science-backed wellness information and plans. They analyze your blood, DNA, and lifestyle to help you better take care of your body and bring it up to optimal health.
Founded in 2009 by experts in aging, genetics, and biometric data, from Harvard, MIT, and Tufts, science is the backbone of InsideTracker. They're a team of passionate, creative people who are using extreme personalization to make the world a healthier place.
InsideTracker is a group of folks who care deeply about enabling individuals to take control of their health and come to understand aspects of wellness that we don't get exposure to otherwise.
How InsideTracker Works
Step 1. Who Are You On the Inside: Have your blood drawn at a lab, at home, or upload your existing data. You can also add to your blood test results from InsideTracker's own home DNA kit to add an increased level of insights, personalization, and customization.
Step 2. Tell Us About Yourself: Fill out your detailed personal profile about your lifestyle, nutrition habits, and preferences.
Step 3. Analysis & Recommendations: InsideTracker's patented engine analyzes and evaluates your data to generate science-backed recommendations specific to your body's needs.
Step 4. Create an Action Plan: Select your goal and customize your recommendations that are most compatible with your lifestyle.
Step 5. Track Your Progress: Retest every three months and see what's working, what's not, or adjust your goals and develop a new Action Plan.
During these sensitive times, InsideTracker offers two plans that provide the ability to take control and proactively manage your health and wellness with hassle-free tests from the comfort of your home, that don't require you to go to a lab.
The DIY Plan allows you to upload any existing blood tests. They then analyze your biomarkers (which can include—but certainly not limited to—glucose, sodium, testosterone, iron, white blood cell count, and cholesterol). Once they've analyzed your results, they'll provide you with an easy-to-follow action plan personalized to your needs.
The Home Kit is similar, but instead of existing blood tests, InsideTracker sends you a kit that allows you to take a few drops of blood yourself (it's easy, I promise!). Then you just mail the sample in and receive your plan. This also includes a nutrition database with over 7,500 food items, advice on hundreds of supplements, and lifestyle and exercise suggestions.
For those who have used InsideTracker, it's been a huge shift in understanding where their body is at—and in adjusting according to what they're lacking:
"Periodic testing with InsideTracker allows me to make the necessary adjustments as my body reacts to aging, training, and work/life stress."
~ a regular InsideTracker user
Immunity Amidst a Pandemic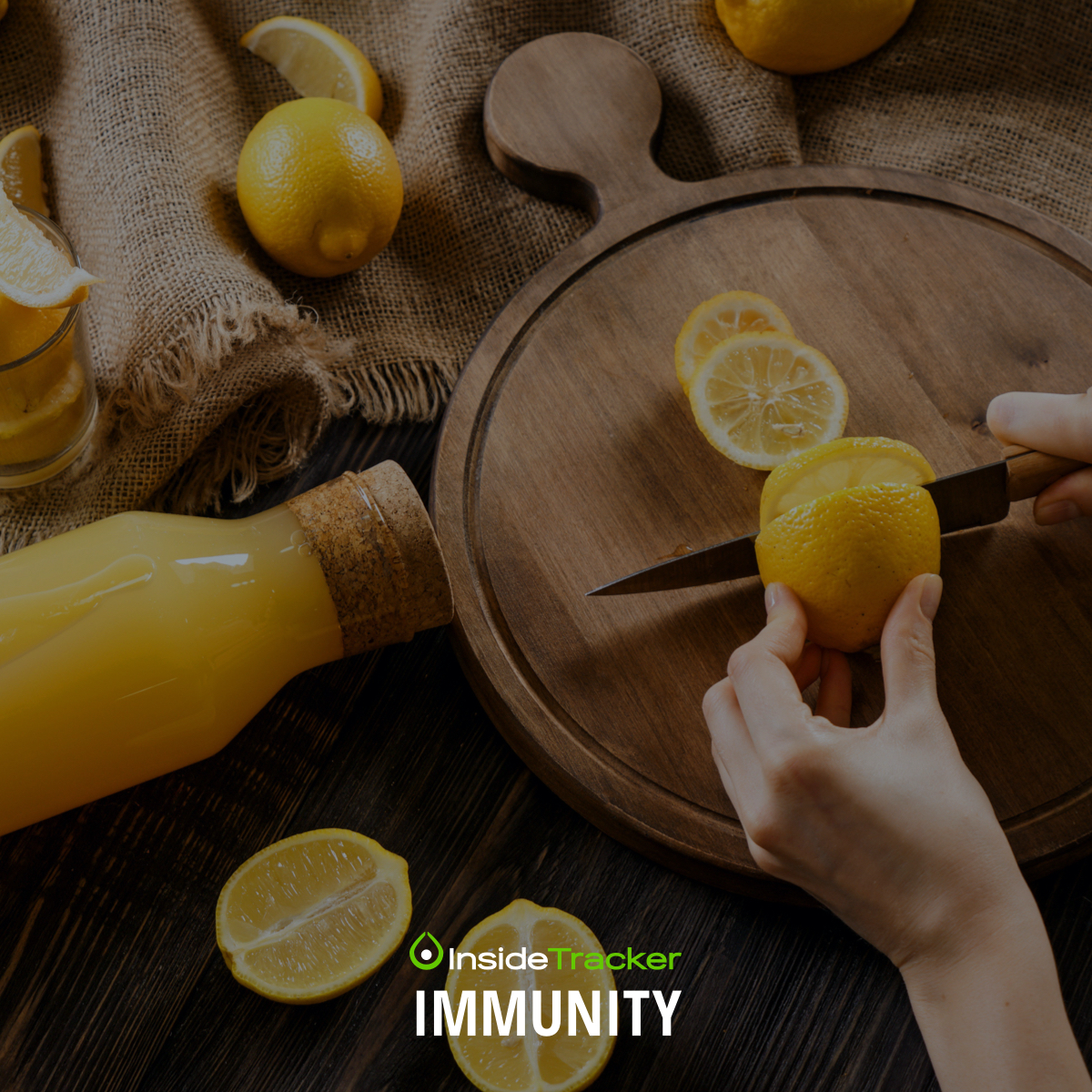 The tricky thing about the chaos and fear of a pandemic is that it increases our stress—the last thing we need when it comes to our immune system. 
Many of us are finding that it's near-impossible to keep stress levels down. Many of us are also struggling with insomnia or getting enough hours of sleep—even with all this extra time at home.
Anxiety, insomnia, stress, depression, worry, instability, and loneliness are all factors that have the potential to negatively impact our immune systems. But most people don't understand how this happens—or whether their own bodies are indeed suffering from all the chaos. Most of us are also existing in a lack of knowledge about how else we're contributing to our immunity—whether for good or bad.
How does exercise influence immunity? Do certain kinds of exercise improve it—or make it worse? How does diet play a role? Are there certain foods we should be avoiding? Certain foods we should be seeking out?
InsideTracker offers the opportunity to have a better understanding of all of this—and more. 
"The body's immunity system is a dynamic and complex one.  The factors affecting healthy immunity, sleep and stress are highly intertwined, with the capability of strengthening or weakening the other.  Like a team that is only as good as its weakest player, it's critical for consumers to think holistically about the interdependence of these elements and take the actionable steps that are right for their unique bodies." ~ Rony Sellam, CEO of InsideTracker
The New Immunity Biomarker Test
In the wake of the spread of COVID-19, InsideTracker has launched an Immunity Biomarker Test:
"Take Control. Be Proactive. Stay Resilient.
While we can't help you wash your hands or practice social distancing, one thing InsideTracker can do is help you stay healthy with the knowledge, insights, and action to take control over the conditions of today."
They designed the New InsideTracker Immunity Plan with a robust set of biomarkers that are scientifically correlated with supporting those core pillars of good health: immunity, stress, and sleep. 
Most of us, in reality, have little understanding of how these factors interact to keep us healthy and disease-free. This is why it's so important to get guidance and individually tailored information when it comes to our immunity.
For this new blood panel, InsideTracker's team of expert scientists analyzed and combined 10 key blood biomarkers—including vitamin D, glucose, hsCRP, and HbA1c—that are scientifically correlated with the core pillars of good health and healthy aging (immunity, stress, and sleep). Additionally, the biomarkers selected were those that can be easily modulated by simple nutritional and lifestyle interventions, which individuals have the personal agency to change.
Navigate Your Stress, Health, and Immunity During Tough Times
It's understandable to feel at a loss as to how to handle these trying times. We're all feeling it. We're all in that sticky, stuck place of knowing that there is so little we can control.
We can help ourselves through this mess by controlling what we can control. By focusing on what's important. 
What's important is our bodies. What's important is our blood. What's important is our health, our immunity, and our ability to stay well as a pandemic sweeps across the globe.
So, do what you can do. Take control over what you have control over. Stay well.