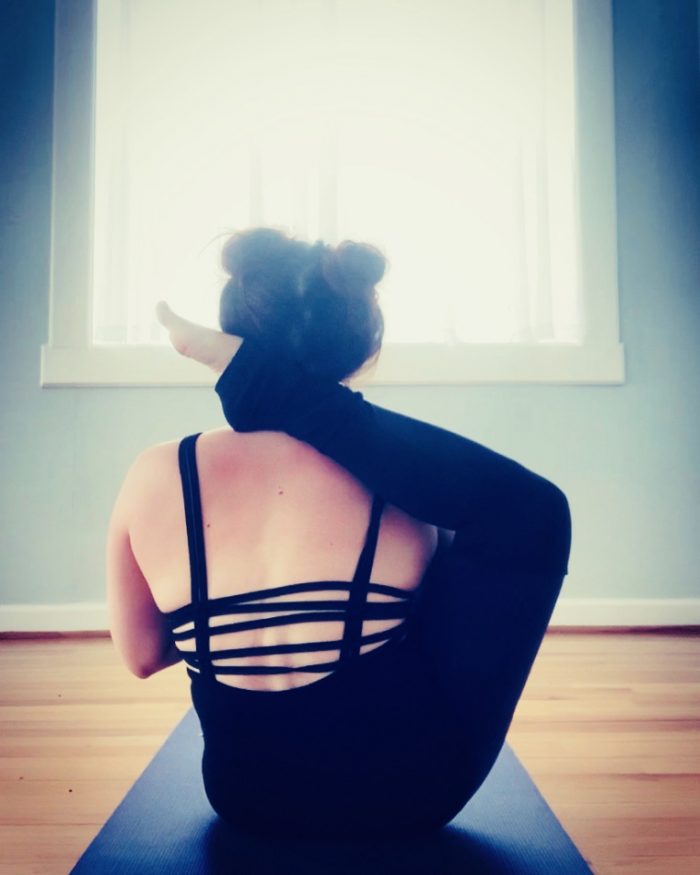 Check out Elephant's Continually-updating Coronavirus Diary. ~ Waylon
~
"Ekam..inhale…dve…please mute your barking dog."
The journey into online Ashtanga yoga instruction has been a creative process rife with uncouth, organic moments.
Curious pets intervene, poorly timed bathroom breaks transpire, and internet connections swing in and out. In the midst of a process that my yoga community and the global Ashtanga community is still adjusting to, insights I've learned in other contexts with fuzzy boundaries are stretching their legs and reminding me that I've been here before. I've navigated the gray area before; I've survived this murky collision of the personal and professional realms.
As an Ashtanga yoga teacher and practitioner, I see this dance taking place all the time in my community.
Ashtanga yoga is a dynamic system of yoga that is practiced in the Mysore style, which means practitioners move through a series of postures at their own pace, silently, with attention drawn to three points of focus: breath, bandhas (locks in the body), and drishti (looking place). The teacher holds space in the Mysore room, keeping the energy focused and calm and offering physical adjustments and poses when necessary, to deepen the practitioner's movement of consciousness into subtler realms.
There is a special intimacy and trust that exists in Mysore communities. We learn each other's bodily kinks, nervous tics, emotional triggers, and somatic preferences. Engaging in nonverbal practices opens a domain of connected knowing within the community as much as it opens a realm of intuitive wisdom within the practitioner herself, as she comes to intuitively understand her physical body's external mechanics and emotional body's internal rhythms. The teacher facilitates this development of awareness through physical adjustments and subtle directions.
To teach Ashtanga effectively, close physical proximity is necessary—or so I thought, prior to the COVID-19 pandemic. Without the availability of the traditional tools I rely upon as a teacher, I'm forced to rely on a tool that is even more essential: the teacher-student relationship.
COVID-19 exposed the reality that practicing Ashtanga and teaching Ashtanga is not about the ideal studio setting, consistent physical adjustments, or perfect yoga clothes; there is only the practice of yoga and the practice of relationship. With awkward camera angles, spotty internet services, and the absence of physical touch, my community is coming to terms with this stripped-down, simplified reality, even if it hasn't been verbalized until now. All we have is the practice, and all we have is each other.
Teaching Mysore during these times has made my community stronger in the following ways:
Stronger connection. The mandate of social isolation has made us grateful for connection to each other, even if it exists only in the virtual realm.
More secure attachment and trust. Virtual practice demands a kind of self-disclosure and vulnerability that practicing in a studio setting doesn't, as we all have a small window into each other's relationships, day-to-day activities, and home comforts.
Greater willingness. Without a dedicated physical space, we no longer have illusions of other motivational factors for showing up to practice. Now, we show up, only to show up.
I couldn't imagine a harsher shock to my yoga community than the recent COVID-19 pandemic. I also couldn't imagine that we would discover a gift of equal magnitude: connection to ourselves and each other can withstand COVID-19.