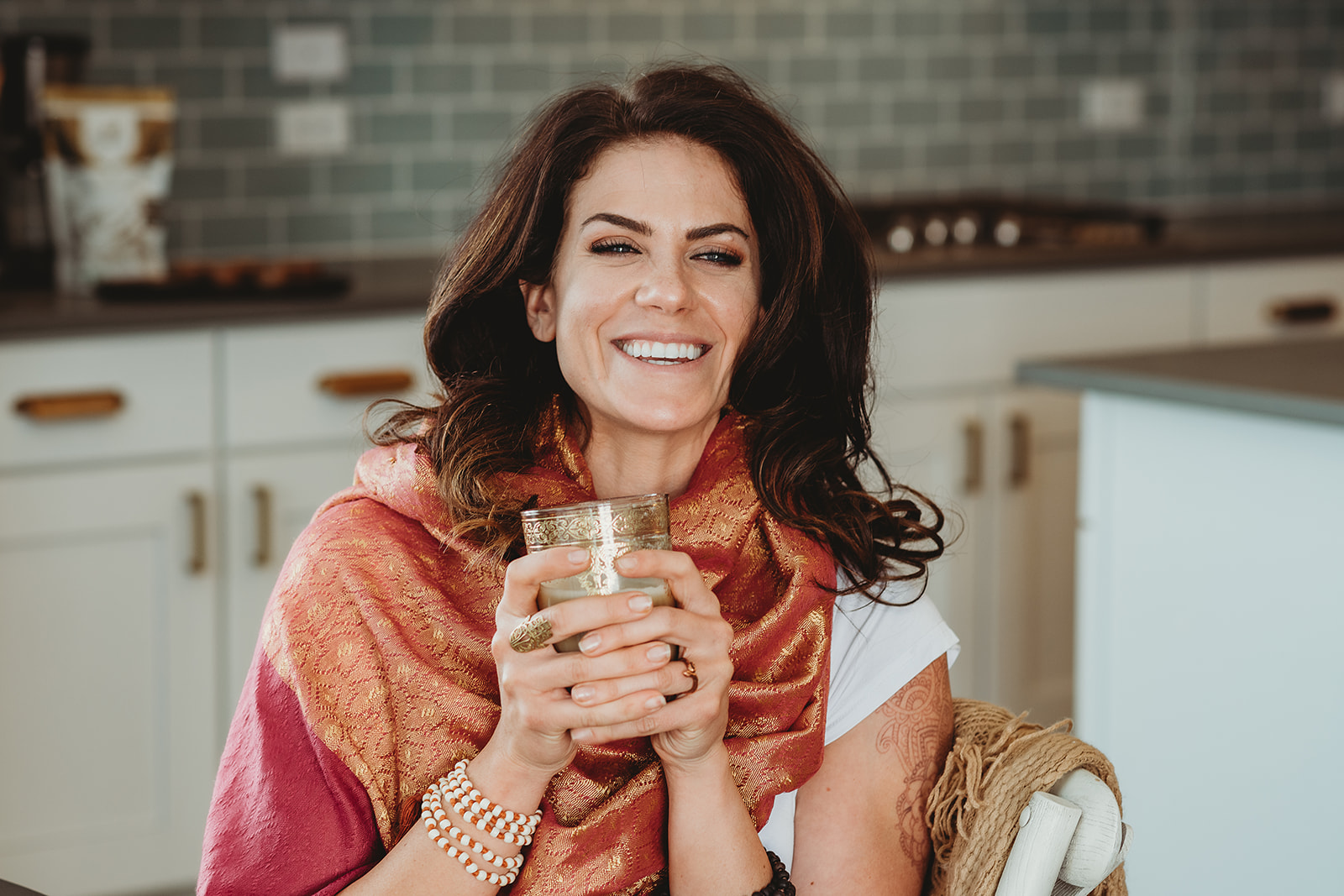 This article is written in partnership with Ayurvedic Protein—they're dedicated to providing ancient healing in a modern, delicious way, and we're honored to work with them. ~ ed.
~
It's not often that I find a food product that changes the way I think about diet.
There are certain things that we just accept about our diets (or ignore, or compromise on, or sacrifice). 
Many of us consume copious amounts of meat and dairy, without pausing to think about the impact that has on our bodies and the world. We spend money on "healthful" foods, without really investigating the contents or nutritional benefits. Or we accept that many "normal" food products or supplements were designed without the needs of women in mind.
So, we go through life suffering from health conditions or an unsuitable diet because we feel there's no other option.
I recently met a woman who did that for a long time—until she didn't.

Lizzy Sinatra is a sweet, humbly intelligent, passionate woman on a heartfelt mission to bring better holistic health to women.
For years, Lizzy suffered from the hormonal impacts of birth control, and of Polycystic Ovary Syndrome (PCOS). This ravaged her body and mind, so she turned to her doctor—who told her to just get back on birth control. But she had no interest in turning to the very thing that had caused many of her issues in the first place.
Lizzy had long been curious about Eastern and Ayurvedic medicine, but found that it was too inaccessible in the States. She'd suffered so much and for so long that she was at her wit's end with Western medicine and wanted to try another approach.
So, she went to India.
Traveling to India twice previously for two yoga teacher trainings, she had learned about Ayurveda, and the third time she traveled to India, she decided to stay an extra month to check into a 21-day panchakarma (intense detoxification process) at an Ayurvedic hospital. During this time, she switched over to a plant-based, all-natural, Ayurvedic diet—and within days her anxiety, depression, and physical challenges were on the mend. She was hooked, converted, and ready to bring this newfound diet into her lifestyle back in the States.
But there was a problem.
Once she got back to the States, Lizzy attempted to make the switch over to a diet similar to the one she'd had in India. She wanted an easy way to get the same benefits of Ayurvedic eating, and to make sure she was getting proper protein levels now that she was vegan. 
She soon realized that the protein powders she used at home to supplement her diet were full of, well, crap. She was horrified that this food she consumed every single day was packed full of artificial ingredients that were bad for her gut, mind, and well-being.
So, she decided to start making her own. She played around with different mixtures of plant-based protein, adding Ayurvedic spices she had learned about in India and various healthful, yummy ingredients that would make the protein powder crave-able. She slowly created a recipe, and started keeping the homemade mixture around all the time.
Then, she had her "a-ha" moment:
What if everyone had access to a healthful, plant-based, Ayurvedic, delicious protein powder that doesn't contain any of the harmful ingredients?
And Ayurvedic Protein was born.
Ayurvedic Protein is the protein powder that emerged from Lizzy's long journey to find a diet that actually suits her body's needs. But now, we all get to enjoy it and benefit from its healing effects.
"Ayurvedic herbs have been used for thousands of years to balance the body. And now we bring them to you." ~ Dr. Aswathy Krishna, Ayurvedic Physician and co-creator of Ayurvedic Protein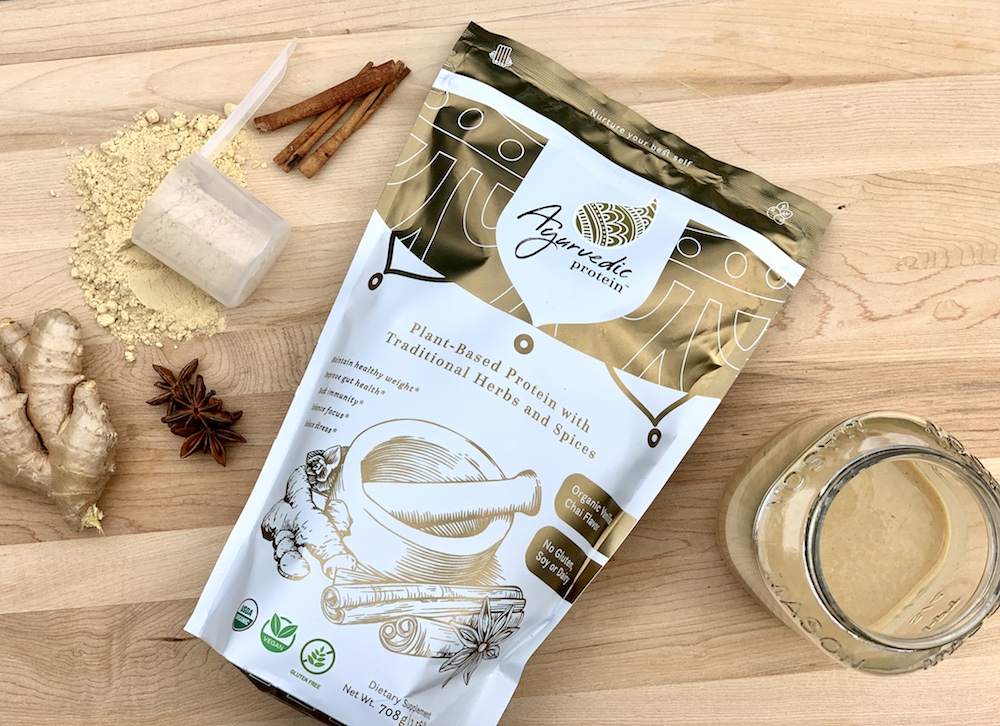 What's in Ayurvedic Protein?
Ayurvedic Protein is a blend of three plant-based proteins: pea, pumpkin, and rice. This blend provides a complete amino acid profile, which means it provides enough of each of the nine essential amino acids.
It also contains digestive enzymes, which enhance absorption and metabolization of nutrients.
In creating the recipe for Ayurvedic Protein, Lizzy consulted with her Ayurvedic physician—Dr. Aswathy—and together they decided on three main Ayurvedic herbs to include: Amalaki, Ashwagandha, and Bacopa monnieri. They picked and dosed these Ayurvedic herbs for a synergistic effect:
>> Amalaki, or Indian gooseberry, is known in Ayurveda to have rejuvenating and therapeutic benefits. It boosts immunity and is rich in vitamin C and antioxidants (Amalaki has at least 10 times the amount of vitamin C as an orange does!)
>> Ashwagandha is one of the most important herbs of Ayurveda, and is now widely used around the world. It is known to reduce stress and anxiety and elevate mood, and is also thought to lower blood pressure and reduce inflammation.
>> Bacopa monnieri has been used in Ayurvedic medicine for centuries. It improves focus and concentration and strengthens memory, and has been commonly used for ADHD, anxiety, and Alzheimer's.
In addition to these three main herbs, Lizzy and Dr. Aswathy added turmeric root, cinnamon, and ginger root to the protein powder, which have powerful antioxidant, anti-inflammatory, anti-viral, and slowed-aging properties. And, in line with Ayurvedic wisdom, they made sure that the powder is balancing for all doshas.
Every scoop of Ayurvedic Protein harnesses the power of Ayurvedic herbs and spices to support immunity, reduce stress, and keep illness at bay, while fueling your day with antioxidant, adaptogen, and anti-inflammatory goodness.
In making Ayurvedic Protein, Lizzy partnered with a highly reputable herb grower and manufacturer, because they have their own organic farms in the herbs' native lands, conduct rigorous testing on their herbs (including heavy metals), revolve their company around preserving endangered species of herbs, engage in sustainably sourced herbs and soil, and offer fair trade/pay to their workers.
And, if that wasn't enough, Ayurvedic Protein is also USDA-certified organic, vegan, gluten-free, soy-free, fair trade, and sustainably sourced. The individual ingredients undergo testing—and the final product does too. It is manufactured in a GMP-certified, FDA-regulated facility that specializes in organic health products. 
Lizzy is committed to walking her talk and providing a product that's good not just for our bodies, but also for the planet and the global community.
On the Ayurvedic Protein website, Lizzy beautifully sums up the company's ethos and ethics:
"We believe in the power of plants and herbs.
We believe that superfoods are actually delicious.
We believe that the right nutrients can help you feel better.
We believe that we can learn a lot from ancient medicine.
And we believe that everyone has the right to a full, healthy life."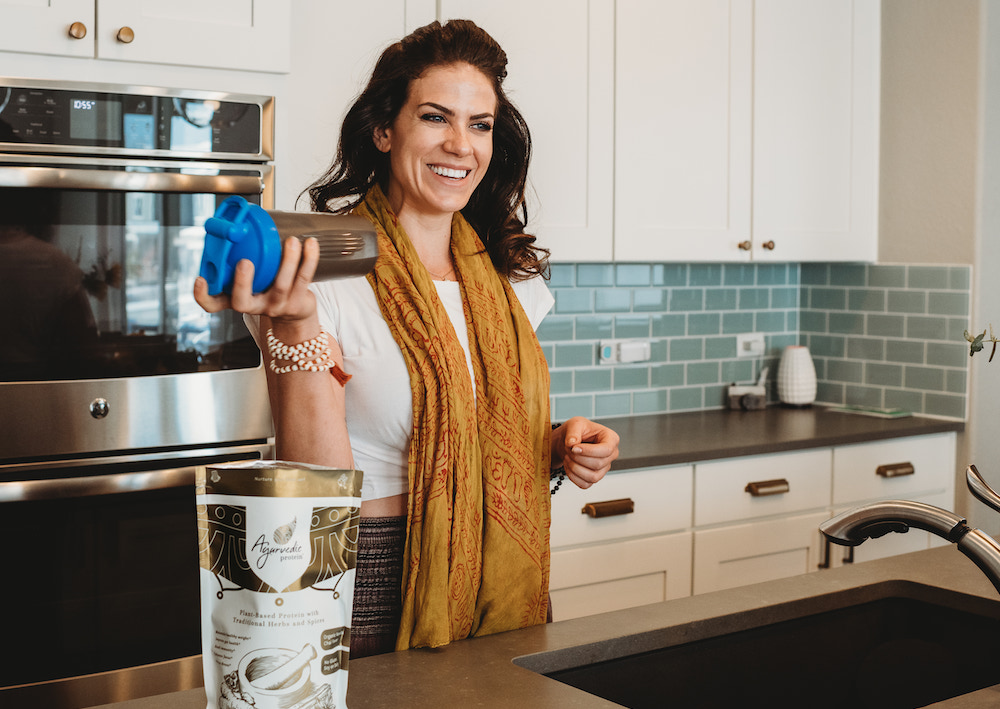 "Ancient healing in a modern, delicious way." ~ Lizzy Sinatra, co-creator of Ayurvedic Protein
To get the most benefit from this awesome Ayurvedic supplement, it's best to have Ayurvedic Protein every day. One to two scoops is recommended (and there's no caffeine, so you can enjoy it any time of day!). And, while the most commonly prepared use of protein powder is in a shake (with milk or water), there are actually tons of tasty ways to include Ayurvedic Protein in your diet.~
9 Easy, Delicious, Healing Ayurvedic Recipes
1. 3-Ingredient Protein Pancakes
1/9
INGREDIENTS: 1/4 cup gluten-free pancake mix, 1 scoop Ayurvedic Protein powder, 1/4-1/2 cup milk, optional toppings (honey, maple syrup, fresh berries, nuts, seeds) INSTRUCTIONS: mix dry ingredients in a bowl, add milk, heat a lightly oiled griddle or frying pan over medium heat, pour/scoop batter onto pan to form pancakes, brown on both sides, add optional toppings
Get the Full Recipe
~
*A portion of proceeds from each Ayurvedic Protein bag purchased goes toward providing free product for homeless and low-income populations. They are currently donating to: Community Foodshare.