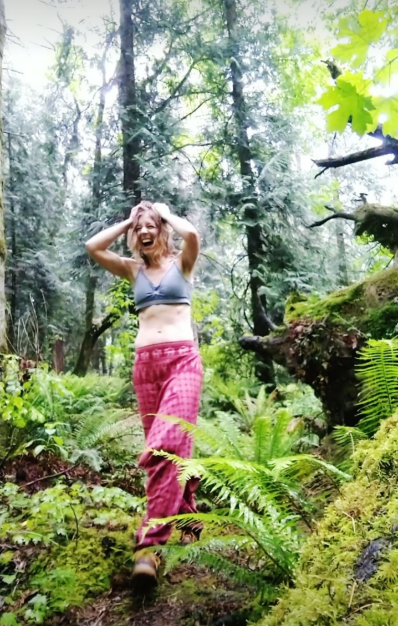 "What if there's no chemistry between you when you finally meet?"
I've gotten a ton of "what if" questions, raised eyebrows, "Wow, that's fast" statements, trepidation, and fear from others. 
"But you've never met in person! How do you know he's really who you believe he is?"
"But, you're still married."
"What's the rush?"
"Yikes."
"You'd better have a contingency plan."
"What if this doesn't work out?"
I understand where these are coming from, I really do. And depending on the person, what is projected onto me could really send me into a spiral of self-doubt or anxiety—if I let it. 
I currently find myself planning a cross-country move in the midst of travel restrictions and at the risk of COVID infection, with a man I've not yet met—in person—but I've decided is worth the leap regardless. 
I'm well aware of the craziness and risk of making a leap such as this. I'm aware that there will be much to learn about each other, that there is always the potential my heart could be broken. I'm aware we will have adjustments to make and this is not a fairy tale and I will still have healing to do along the way, as he will, too. 
I'm also aware of the depths of each other we've already plumbed in a relatively brief period of time. I'm aware of how I wake up, naturally, each day between two-thirty and five-fifteen in the morning out of sheer excitement to talk with him before he starts work—and then, every hour or two throughout the day. 
I'm aware of the way my face and eyes are literally glowing from the joy I'm experiencing that is like none I've ever known. I'm aware of how I grow to love him more with each passing day—the more I learn about him and the more he shows up for me with his whole heart—and we never run out of things to talk about. 
I'm aware of my heart beating in my chest with an expansion that is uncontainable. 
What I always come back to is the inner voice of my 39-year-old self, reminding me that none of this is fast to her. That she is far wiser than I've ever dared give her credit for. 
I've been waiting all my adult life for a chance to love and be loved like this.
I've put in the hard work of grief, self-discovery, forgiveness, and letting go. I'm not a woman leaping toward a rebound. This feels like being in love for the first time, though from a place of seasoned hardship and heartbreak in relationships. 
I'm not the same woman who got married at 31. I'm not even the same one who believes that, once you're married, you stay married no matter the cost to yourself. And much to my surprise and discomfort, I'm not the same woman who believes a legal document gets to dictate whether or not I'm married in the deepest sense of the word. I have been legally married for eight years—and not married, in the ways that matter most for eight years. 
This is not the scandal it appears to be. 
But I'm learning to let go of my control over how this story is perceived by others. What matters is what I know is true about this story. What matters is how I live it. 
I came across these words yesterday, on the website for Glennon Doyle's book, Untamed:
"When women lose themselves, the world loses its way.
We do not need any more selfless women.
What we need right now is more women who are full of themselves.
A woman who is full of only herself no longer internalizes the world's memos and expectations.
A woman who is full of herself knows and trusts herself enough to say and do what must be done, and lets the rest burn.
This is how you find yourself."
"Trusts herself to do and say what must be done, and lets the rest burn."
I started off this journey of walking away from my marriage from a place of watching it catch fire and letting it burn instead of putting out the flames as I always have.
I'm ready to be this woman, this fire starter, this one who rises from the flames with an unshakable sense of my own power. I'm ready to claim my agency in becoming the woman I always have been, before the world dictated who I was supposed to be. 
So, a crazy flying leap across the country with my new love, during a pandemic, with a pending divorce and no contingency plan—only a radical faith in the worthiness of this risk—actually seems the most fitting expression of this emerging self-hood as the woman I am becoming. 
I am appraising this, in an unprecedented shift, not through the eyes of "What if this fails?" but "What if this is my great love story?" I'll never know if I play it safe. 
My leaping into the unknown is an affirmation of my untamed wildness and the resurrection of my belief that an epic love story is actually within my reach, if I am willing to trust myself enough to go after it. It is my way of testing the theory that, if we wholeheartedly believe that life holds good things for us, good things will in fact pour in.
And so far, this has proven true in ways that blow my mind. As far as I'm concerned, this is enough to go on. 
A month and a half ago, I texted these words to the man I had just admitted my deepening feelings to, and he'd reciprocated: "I keep telling myself, even if I were single, I wouldn't up and move to New York. But it doesn't help much." 
I wasn't single, even though I had essentially existed eight years in a marriage where I felt as if I were. I self-described as "I'm an unavailable single woman committed to a marriage without any of the benefits," or something like that. At least single people could go out on dates and get laid, with the hope of there being that special person still out there, yet to be discovered. 
I wasn't getting any of that. 
But still, I was married—legally. I was principled. I had been faithful to my husband through eight years. And now this new guy was an unexpected upheaval in my life, one I was failing miserably at pushing away or ignoring, who was reviving my dead dreams of love. 
He lived on the opposite coast from me. Even at this stage of infancy between us, the idea of there ever being an "us" was an impossibility. Not to mention, we were in the throes of a pandemic. 
In the classic twist of irony, as the "famous last words" trope goes, I am now planning my big leap to New York with this man I have grown to love so deeply in what seems, mostly to others, an irrationally brief period of time. 
Time has felt irrelevant. We have drawn out the hours of each day as two people savoring an eight-course meal with nowhere to be but right here, at this table. 
"I realized the only thing holding me back from being with you right now," I admitted to him at the start of this week, "is my sense of propriety. And my fear of what others may think about me. And this, in the end, is no longer how I want to make my decisions. So, I'm ready to come now, if you want me to."
Oh, did he want me to.
We both peered over the edge of the cliff and decided to leap—toward each other. 
~