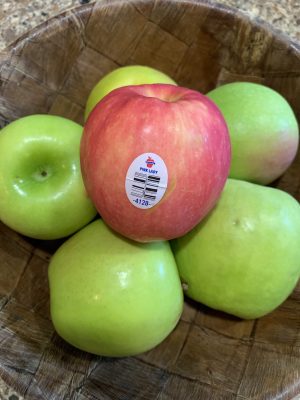 My son has always loved apples. 
When he was a little boy, he liked me to slice his apples and serve them in his "Thomas the Tank" bowl. 
As he grew more independent, he liked to eat his apples unsliced, biting off mouthfuls at a time of juicy red apple. When he grew taller and could reach the faucet to wash the apples himself, he would leave the apples' price code stickers on the edge of the sink. 
This tiny thing always annoyed me. 
I was the mother of two young children, and I worked hard to keep the house clean. This was not easy—they left toys, clothes, books, and all sorts of little kid paraphernalia all over the place. It was like a wake of detritus left behind them. The stickers from the apples were just one more tiny frustration, and they really irritated me. 
I couldn't understand why it was so hard to remember to put the stickers in the garbage. Why did he have to leave them on the edge of the sink? 
Try as I might, I could never break him of this habit. We had many small skirmishes about these apple stickers over the years. It became one of those small, seemingly irrelevant things that became family lore like so many other trivial, everyday things. 
I always knew I wanted to be a mother. For me, motherhood was a calling. I dreamed of rocking a baby in my arms. Even when I was pregnant, I couldn't imagine my perfect, sweet baby growing up and becoming a child or an adolescent. But time has a way of making this an inevitability. 
No matter how dearly a mother wants to hold onto her babies, they grow up, make their own friends, and have their own experiences. Before long, my son graduated high school and started to make plans for his new, independent life. 
This is the natural order of things. We raise our kids, teach them to take care of themselves, make friends, and work hard so that they can eventually build themselves a happy, successful life. I knew this. 
When my son went away to college, in another state over six hours away, his absence was even harder than I anticipated. I was melancholy walking by his empty room every day, seeing his undisturbed bed. One of the things that changed, almost undetected, was that no one was leaving apple stickers on the edge of the kitchen sink. It was something that I hadn't noticed at all—they simply were not there. 
My life was busy. I had my work, my new husband, and my daughter at home, but I missed my son. This is the hardest part of parenting. It's not the sleepless nights, nursing them when they are sick, helping them with homework and science projects, or even the worrying when they start to drive. 
The hardest part of parenting is letting go—letting them go off to college and build a life for themselves. This is what we are supposed to do—it's what they are supposed to do. But I have to tell you, it's so hard to do. I long for the days of him being four-years-old and running through the living room, wearing his Buzz Lightyear wings, yelling "To infinity and beyond!" 
I long for the 12-year-old recounting the winning game his baseball team played and the 16-year-old building his science project in the dining room. 
Letting go is a strategic act of good parenting and is the foundation of a lasting relationship. Teens, who feel their parents holding on too tightly, trying to control them or unduly influence their choices, will rebel and are more likely to separate their lives from their parents as adults. 
Managing this new phase of parenting is all about the balance you create. It is somewhere between giving your child space and giving your child the guidance they need to navigate the complicated and scary adult world. 
This is the kind of mother I was to my adolescent children. I encouraged them to use their intelligence and reason to make their own choices, fully cognizant of the potential consequences, and solve their own problems, with me there as back up if they needed me. What I taught them was to take care of themselves, to be flexible, resilient, and smart and that I would always be around for advice, help, and support. 
The hallmark of effective parenting is to render yourself obsolete—sort of. While my children are away at college, they still call home with questions about how to handle arguments with friends, dating situations, and internship applications. They email me papers for my editing expertise and call to tell me they miss me.  
A few weeks ago, I took an apple from the refrigerator. As I peeled the sticker off to wash the fruit, I purposely placed it on the edge of the sink in homage to how much I miss my son while he is away at graduate school. 
I stood there like a fool, tearing up over what the apple sticker represented. Time has flown by. He is no longer a little boy. My son is a full-fledged grown-up, a graduate student now. And most of the time, he is off conquering the world, making me proud. My daughter, who was home with me during the COVID-19 quarantine, saw me crying and knew precisely why. That night she left me an apple sticker on the edge of the sink to soothe my sentimental feelings.
For the last few days, my son has been home with us. Today, when I was washing a glass in the sink, I found his gift to me—a tiny apple sticker on the edge of the kitchen sink. I stood there and wept silent tears.