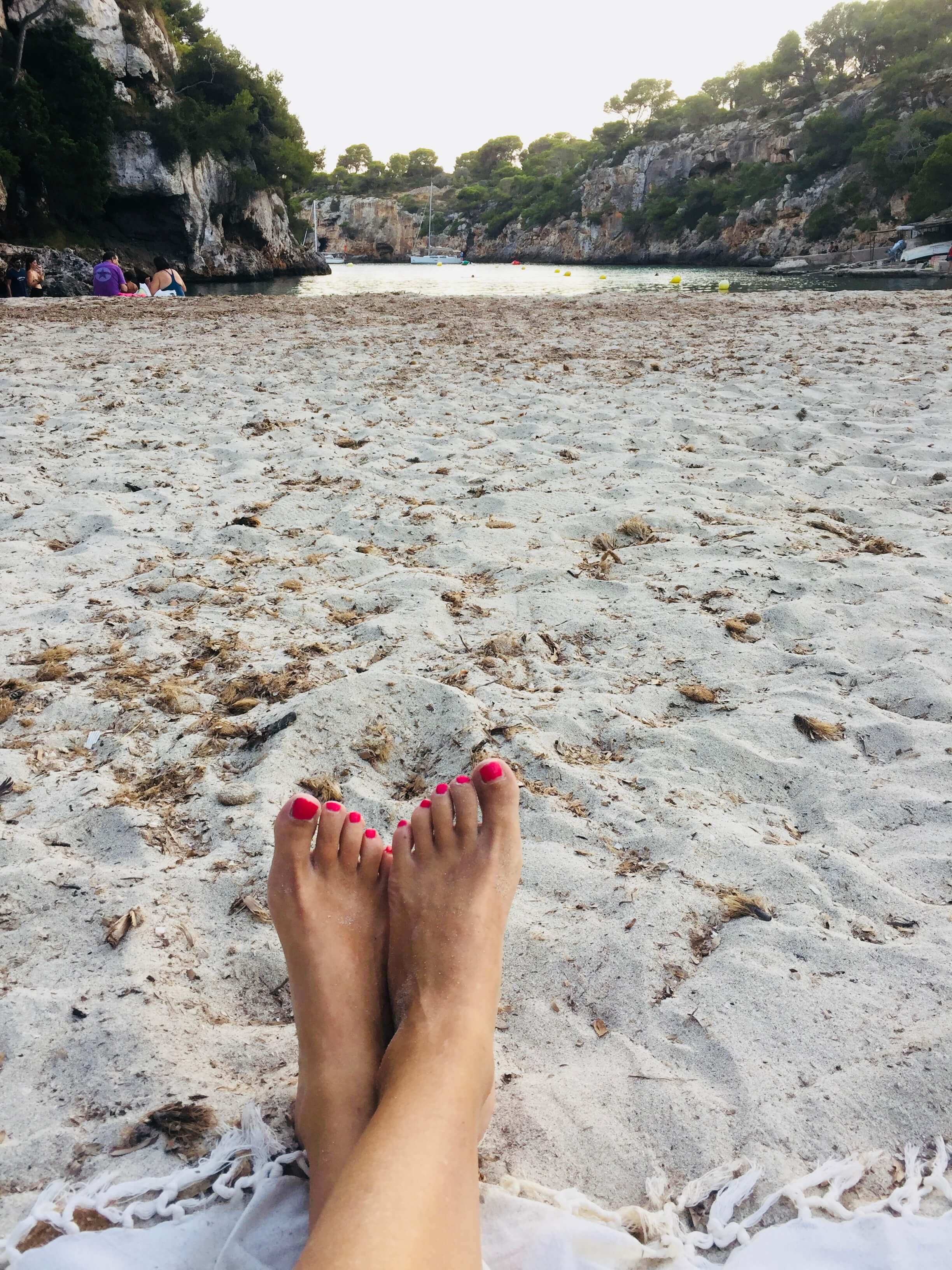 "'Doesn't it seem to you,' asked Madame Bovary, 'that the mind moves more freely in the presence of that boundless expanse, that the sight of it elevates the soul and gives rise to thoughts of the infinite and the ideal?'" ~ Gustave Flaubert, from the book Madame Bovary.
~
Yesterday, I visited the sea—a dreamy, small cove, enclosed by high rocks without a far view on the Mediterranean.
This somewhat hidden beach feels like a well-kept secret, but the amount of people and the signs tell me it's far from that.
Yet, as soon as I descend the long stairs, surrounded by rocks and trees, some happy changes are happening in my overthinking head.  
A few people were wearing masks to protect themselves from the COVID-19 that's still flying around.
They have forgotten the sea is about freedom.
When we are near the sea, we breathe in the fresh air. We taste our salty lips. We stick our toes in the sand, and we expose our tired and pale skin to the summer sun.
There's no need to mull it over. The sea is about leaving our worries behind. The sea is about being playful, just like the seagulls soaring above the beach, effortless and cheeky, always on the hunt for a lost little snack. Heaviness doesn't exist near the sea; only a breezy air full of possibilities and dreams live here.
The sea teaches us that nothing lasts forever, not even this lazy Sunday afternoon in this magical cove that I don't want to end, but will fade away as soon as the sun disappears behind the rocks.
The good thing is, I can come back to this. I live on an island, so the sea will always be there. Coming back resets my mind.
Not long ago, I woke up each morning with sea sounds and chatty seagulls. I enjoyed every minute of it, and over the years, I have experienced the sea as both whimsical and steady.
In summer, she was bubbly, refreshing, and vibrant. In winter, when all people were gone, she was mystical and moody at times. She could rage ferociously with waves reaching to the end of the beach, almost impossible to walk without having wet shoes and ankles. I loved to be her witness on such moments, safely from my window, or, if I dared to come closer, with wet feet in the sand, watching the pulling and pushing force of the water. 
The storms above the sea were spectacular; I saw them coming in, looming on the horizon, when they were still miles away, already announcing themselves. The dark and heavy clouds and rain approaching from above sea until raindrops were finally tapping on my window. The foaming waves…oh, I loved this wildness in winter even more than the summer sweetness it breathed on hot days when tourists came to spend their holidays here and lounge-y tunes from the beach bars filled the salty air.
Maybe being near the sea is more appreciated when she's farther away. It's an effort to reach her now, no longer a few steps down the stairs in that little coastal village, not any longer a look from my window.
Yesterday, I noticed her magical powers even more clearly than ever before when I cycled 70 km there and back: the sense of freedom and determination for tomorrow's plans. This place where we are ourselves as there's not much to hide from, revealing skin to love and not to be ashamed of. Or even to fear. 
So, take your mask off when it's time to go to the beach. There's no need for it. Don't let it fool you.
Near the sea, we should be free; it's that simple. Keep your distance between towels you don't know, appreciate each other's space—it's nothing new. Cherish the sheer beauty of the sea this summer, when you might visit her in your own country or abroad.
Be free. Don't be afraid.
We are not supposed to live in fear.