This article is written in partnership with bioClarity. They're dedicated to clean, green, ethical skincare—that actually works. We could not be prouder to work with them. ~ ed.
~
Acne is a b*tch.
Yes, I know there are bigger problems in the world.
But the fact that we have iPhones and trips to space and life-saving surgeries yet have to deal with the seemingly unsolvable mystery of breakouts and acne is baffling—and so damn frustrating. No matter what I do or which products I try, I've never been able to predictably and reliably manage my skin's fluctuations. And I know I'm not alone.
On top of that is the fact that, when we do try to solve our skin woes, we're often faced with an aisle of products that have been tested on animals and are entirely environmentally clueless.
Seriously? I have to harm the environment and contribute to animal abuse in order to just have clear skin?
Well, actually, no—because there's another option.
I felt frustrated with this ethical skincare dilemma, but have found a company that makes pursuing acne-free skin guilt-free. BioClarity is a skincare company that is dedicated to solving all of these problems. They've created a line of skincare products that are not only cleansing, clarifying, and acne-busting, but they're also genuinely eco/green, vegan, and cruelty-free. Their products contain plant-based ingredients and antioxidants that help with aging, collagen health, texture and tone, moisturizing, lines and wrinkles, blemishes, and redness.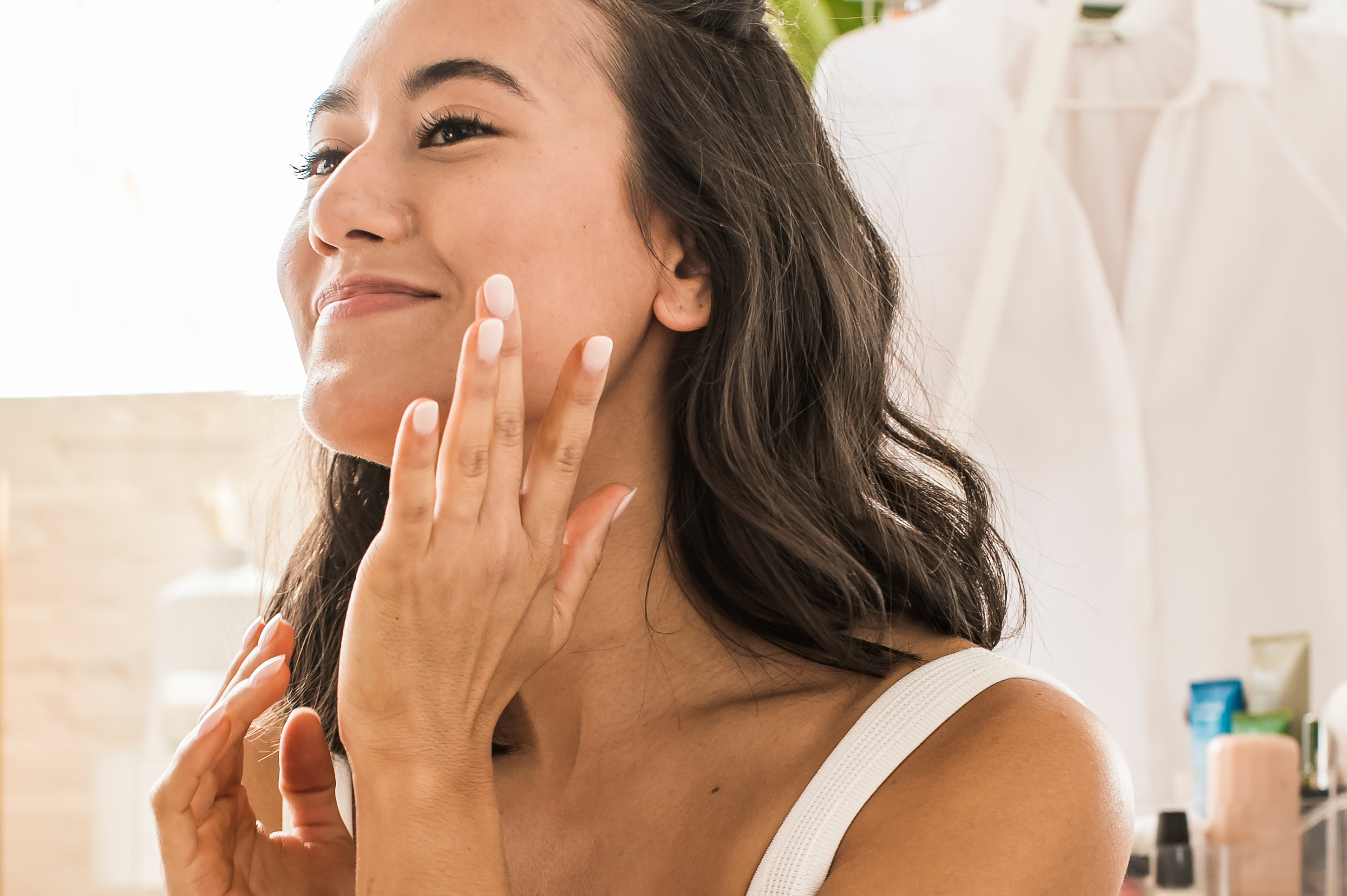 One of my colleagues, Kerry, decided she wanted to try bioClarity out to find out if it could actually help the most stubborn of skin struggles.
Kerry is super skincare-conscious—but she's still struggled with acne for years and has, maddeningly, found that many products just don't do the trick. So she was understandably skeptical—and pleasantly surprised.
But, well, I'll just let her tell you herself:
Kerry's Experience with bioClarity
At 27 years old, I was experiencing the worst acne of my life.
There is something especially upsetting about the phrase "adult acne." Like, didn't we already do this? Aren't I supposed to be in the clear?
But no, in the space of a week, the coronavirus pandemic had gone from distant concern to all-pervading panic. As I packed up my car, howling cat and all, to go stay with my parents a thousand miles away for god knows how long, I was intent on avoiding any mirrors. My skin, normally pretty nice although very dry and extremely fair, was a sea of half a dozen angry and red cystic zits visible from a block away.
It didn't take a genius to figure out why: the world felt like it was coming to an end, and my survival mode stress levels had surpassed all reckoning. I was sleeping like crap too, and constant thoughts of the two days on the road I had ahead of me, and then the months of lockdown life we all faced ahead of that, clung onto my every breath.
I'd never had bad acne as a teenager. I definitely had a moderate amount of pimples, but once I hit 17 or so, I'd spend the next decade dealing with one big one per month, which showed up about three days before my period, hung out for a week, then left a faded mark I'd spend the next three weeks covering up until another cropped up nearby. Always around my nose or chin, but still, not too bad in the grand scheme of things.
But now, even my own mother was saying lovely things like, "I've never seen your skin look so bad!" (Thanks, Mom!) And once I got back to "normal life" (aka decided I'd had enough of bunking with my 'rents), the now hot weather and constant mask wearing didn't ease my symptoms one bit. Every week or so, I'd feel a new pimple coming on.
Then, I tried bioClarity.
What drew me to bioClarity was its approach to anti-acne skincare that was still clean, green, cruelty-free, vegan, and—amazingly—hydrating. (Remember the dry skin part from above? Yeah. Fun combo!)
Their hero ingredient, Floralux (exclusive to bioClarity), is derived from chlorophyll, copper, and antioxidants, and while it mostly works to combat bad bacteria and oxidative stress, which causes acne, it also has anti-aging properties, promotes collagen production, and helps even texture and skin tone. Perfect for both the "adult" and the "acne" part of my favorite phrase.
Kerry, before bioClarity: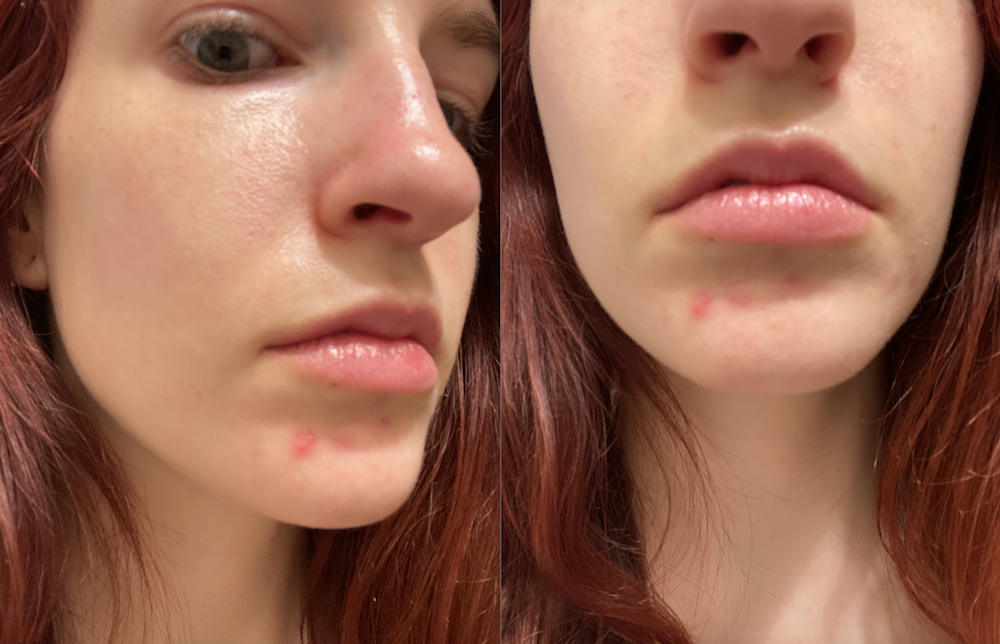 When originally speaking with one of bioClarity's reps, Tracy, about trying the full routine, she did warn me that my skin might go through what's called a "purge," where you'll have some heavy breakouts for a couple weeks followed by clear, healthy, glowing skin. This is actually pretty normal when switching to any new skincare routine, and something I was both familiar with as a concept and prepared for. And I did have a purge that lasted about three weeks—child's play compared to the three months of acne I'd now been dealing with.
At first, my favorite products were the hydrating serum, cleanser, and salicylic acid treatment gel. The hydrating serum (called "Drink It Up") gave me a nice glow without feeling too heavy or at all oily, and the cleanser did a thorough job of cleaning my skin without ever making it feel too dry or tight. Which was especially nice following several months of constantly trying to balance cleaning and scrubbing my skin, without overdrying it and causing further breakouts. Your skin will amp up oil production any time it's dry, which can lead to more acne.
Finally, the salicylic acid gel they call "Treat," which I used sparingly, as that can definitely cause some dryness and peeling, but was really nice for when I did feel a spot popping up and wanted to stop it in its tracks.
But eventually, it became clear that the hero product, while not as sexy as a cool hydrating serum, maybe, was Restore, the lightweight gel that's the foundation of bioClarity's entire line. I came to love putting it on my freshly cleansed skin every morning—it's super soothing, slightly brightening, and definitely the reason my breakouts had started to clear up and stay clear.
On top of that, a couple drops of the hydrating serum—a little goes a long way—a light moisturizer, and their amazing new sunscreen, which soaks right into your skin and does not pill under makeup in the slightest. I also used their cleanser religiously and added their clay masque into my routine once a week, which really helped to deep clean and create a blank canvas every Sunday night for the week ahead. Soon, I didn't need the treatment gel at all.
It's a shame now that I'm stuck in my house all day when I'm feeling like I've suddenly got the best skin of my life. I'm even completely comfortable not wearing makeup on my Zoom calls now, and although my skin still isn't perfect of course, the tone and glow are noticeably improved. I'm still dealing with some dark spots from old zits healing, but there's slight improvement by the day there as well.
Kerry, after just three weeks of using bioClarity: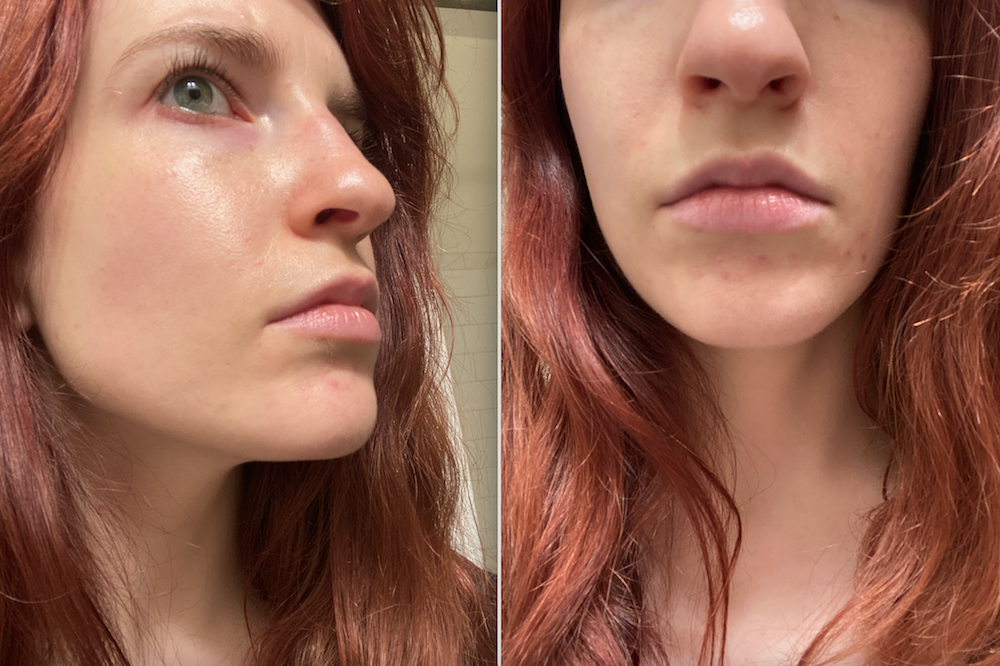 Overall, I was pleasantly surprised by how much I loved this lineup. I am super picky about my skincare, thinking, as I did pre-COVID, that I had my routine on lock. But bioClarity made me a Floralux convert, and I really loved how thorough they are about personalizing the experience based on your skin type.
If you're super oily, there's a routine for that. Combination? Same deal. And if you're unsure, their skin quiz will help you get a comprehensive grasp on your skin type and what products will work best, based on your top skin concerns (fine lines, dullness, clogged pores, etc.), how often you typically break out, your age, where you live, and so on.
TLDR?
It works, and it's clean. 'Nuff said.
~
6 Ways to Get your Best Skin—Ever.
1. Clear Skin Routine
1/6
Our simple 3-step Clear Skin Routine is dermatologist-tested and clinically proven to clear breakouts. We combined powerful yet gentle acne-fighting ingredients with our own unique plant-based complexes to help reduce irritation and redness associated with acne and breakouts. Improve your overall skin health and achieve a clearer complexion without harsh chemicals or toxins.
Learn More