This article is written in partnership with Beducated—they're dedicated to increasing sexual happiness with mindfulness, communication, and hands-on techniques. We're honored to work with them. ~ ed.
~
I've often felt that my vagina isn't entirely my own.
Almost like it doesn't belong to my body in the same way that my hands or thighs or shoulders do.
Through porn, the commodification of sex, and objectification of the female body, we've come to see the body as an object, a plaything, a toy. Through the rules, laws, and societal expectations placed on it throughout the centuries, it's become clear to us that our sexual organs belong more to a collection of white men sitting in an office somewhere than they do to us—the vagina-owners.
In addition, as we're growing up—and as we continue through adulthood—our vaginas are hidden away, not often talked about, and certainly not the center of discussions around wellness. No one has ever told me to "stay hydrated, exercise, and practice vaginal self-care."
So, instead of an empowered, fully-ours part of our bodies, our vaginas become a pleasure button we can press when we feel the urge, a ticket to love and intimacy, a friend we can turn to when we're bored or lonely or horny.
They're a hassle of smells and gooey leakage and blood. They're the butt of jokes. They're repressed through the oppression of female sexuality or traumatized from rushed sexual encounters or, worse, devastating sexual assault.
To change this disembodied, disconnected, disassociated dynamic of our vaginas, we have to do something that at first sounds pretty wooey and silly: we have to care for them.
Yep. In order to change our effed up relationships with our vaginas, we have to make them a part of our self-care and learn how to treat them as equal members of our functioning, healthy, happy body.
So, what do we do when a part of our body is stiff or has a buildup of emotional tension or feels disconnected?
And that, ladies (and maybe gents?), brings us to the practice of Yoni Massage.
Now, I'm going to start by saying that the word "yoni" makes me giggle. I don't particularly like it as the name of my sexual organ and much prefer the word "vagina" (or "pussy" or "vajayjay" or "c*nt," for that matter). But, when it comes to this kind of massage, "yoni" has become the widespread term used. It's a Sanskrit word that has been translated as "womb" or "vagina" or "sacred space." It also works well for our purposes because it seems to include both the vulva (the "outer" parts) and the vagina (the "inner" part). So, we'll go with yoni, despite the giggling.
Maybe because of my aversion to the word "yoni," I had never tried yoni massage before. But I recently got to test out Beducated's online Yoni Massage Course.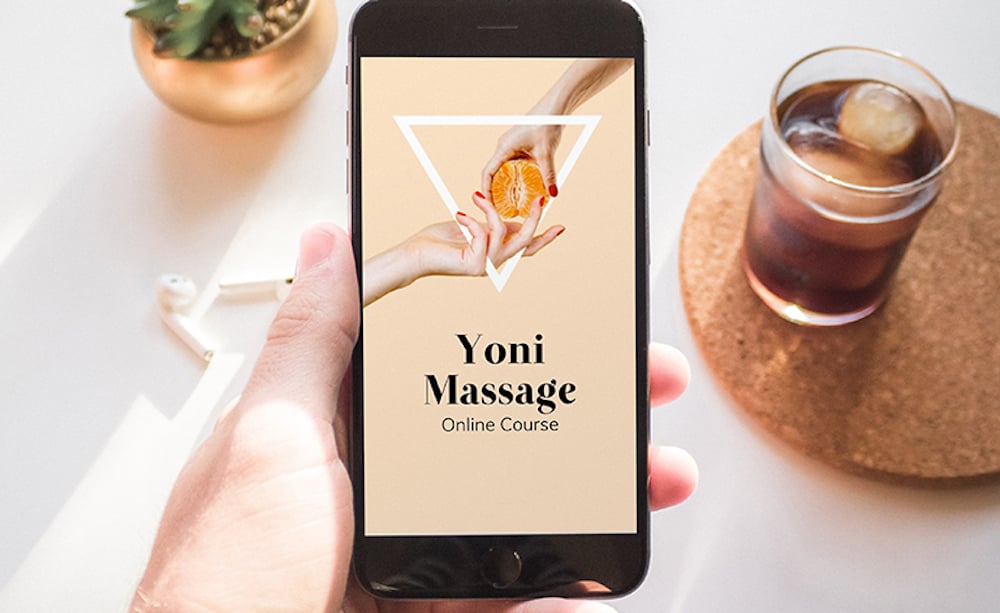 My Solo Adventures with Yoni Massage
First things first, you should know that I am—well, "Single as a Pringle," as they say. In other words, I am all by my lonesome in these weird, socially distanced times, and don't have anyone I'm gettin' frisky with—let alone requesting a yoni massage from.
But, thankfully, Beducated has an option for those like me whose only bed companion is their dog. Their Yoni Self-Massage (Solo) Course provides everything you could want to know about performing this practice on yourself.
First, I learned the basics of yoni massage and what all is needed to prepare for and perform a yoni massage. Mariah—the sweet, insightful, genuine instructor—walks through the anatomy of the yoni and some valuable information about the pelvic floor. Next, there's the warm-up and guide for how to incorporate the breath and use it to enhance the massage.
From there, the course moved on to the techniques for the yoni self-massage itself.
To put it bluntly, yoni massage is a bit like masturbation on steroids—sensual, spiritual, sexual, sensational steroids. Though orgasm can certainly happen as a result, that is definitely not the point of the massage. It's more about, well, connecting with your vagina and giving it some of that much-needed love that we tend to deprive it of.
Yoni massage is a wonderful way to release any tension, and to reveal and work through the emotions and traumas that we hold in that part of the body. Most of us know that we carry feelings, stress, and psychological burdens around in our muscles—but we typically forget (or don't even realize) that this can happen with the muscles in our pelvis as well.
Now, this may sound like it ends up being therapy or a doctor's appointment more than masturbation. But it can be surprisingly pleasurable, sexual, sensual, and tingle-inducing. It has the potential to result in a wonderful meeting of mind, body, and heart and can also offer a much richer experience than a one-orgasm-and-done vibrator sesh.
Overall, I was pleasantly surprised at how much I enjoyed anything containing the word "yoni." I think yoni massage is a brilliant, valuable tool that can be used as its own practice or to enrich our other sexual practices. It gave me a different way to think about masturbation, sexual self-pleasure, my "yoni," and the connection between my vagina and the rest of my being.
But, since I don't have anyone around to give me the experience of yoni-massage-for-two, my lovely (and brave) coworker Khara convinced her hubby to give the course a go with her.
Here's how it went—in her own words.
Khara and her Hubby's Experience with Yoni Massage
My husband learned how to give me a yoni massage, and it was…interesting.
When I told my dear, tired husband that his new mission was to learn to give me a yoni massage, he was more than just up for it—he was unexpectedly way ahead of me.
Not only does he continue to bend gender roles as head chef, CEO of grocery shopping, primary caregiver (of both children and pets), yet still manly fixer of all things practical and technical, he is now a certified yoni guru.
Well, I mean, he was doing pretty well to begin with and he didn't actually get a certificate, but thanks to Beducated's Yoni Massage Course, he officially (in my book, anyway) took his 21st century man skills to Master Level.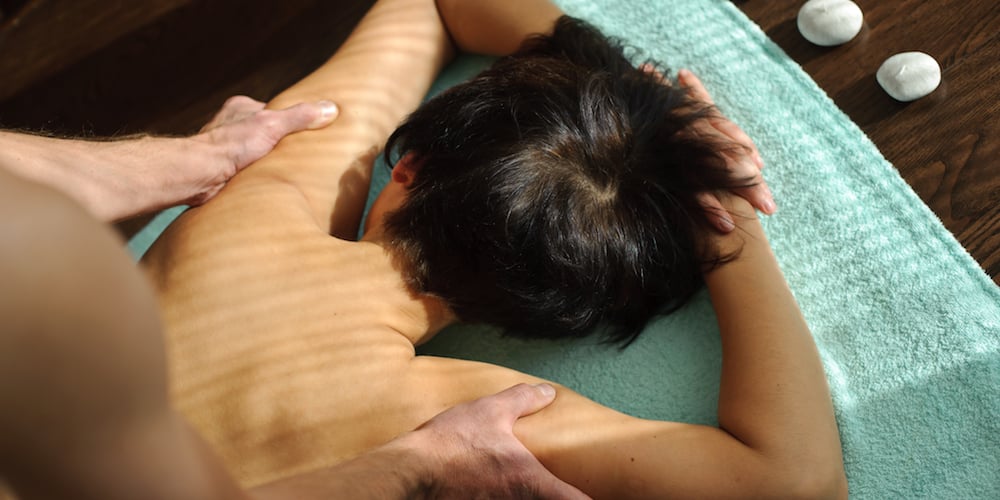 I say he was way ahead of me because, months before I was asked to review Beducated's Yoni Massage course, he had already purchased it—with some romantic evening in the distant, candlelit future in mind, no doubt.
Then COVID-19 happened and we were confined at home with two little boys who both "struggle to sit still," according to their school reports. So, Tantric massage slipped pretty far down the to-do list.
What we needed was a deadline.
We proceeded to watch some of the videos together (and then, as the deadline approached, he watched them on his own). It made for a nice change from "Good Girls." We snuggled up on the couch with some dark chocolate and red wine and listened as Mariah—the charming German sexpert behind Beducated's amazing line-up of online courses for curious, adventurous folks who want to upskill in the sexy-time department—talked us through the (literal) ins and outs of yoni massage.
I was surprised at just how much time was dedicated to warming up and relaxing the whole body. I know we're not the only long-time-married parents of young children who mostly have a "quick, pants-off, go, pants-back-on, bedtime now" kind of sex life.
We weren't always this way, and I think we generally do pretty well in the sexy department. But this was new, and I was learning things about my vagina I had never heard of before. Things like:
1. I'm storing stress, tension, even trauma down there. 
2. As a woman, or vulva-owner, pleasure works in a spiral, from the outside in. Whereas for men, or penis-owners, it's the opposite: inside, out. In other words, you can start from the penis (or lingam, in Sanskrit) and work your way out, but the yoni needs to be warmed up from the outside in.
3. Because of the tension I'm inadvertently holding between my legs, my yoni needs to be de-armoured before I can fully relax into the pleasure and even deeply powerful somatic release a yoni massage can provide.
If you're going to have someone massage your yoni, it's important to feel able to let go completely. Strange things can happen—squirting, crying, full body spasms—and you need to be able to let it all out.
So, needless to say, this is probably not a first, or even second or seventeenth date thing. But it's a darn good skill to keep up your sleeve for when the time is right, vulva-lovers!
Speaking of dates, we learned that the first thing to do is set one. Commit to a time and clear your schedules. You're going to need at least two hours for the full experience.
Mariah gives loads of sweet and helpful tips about setting the mood and warming each other up beforehand, too. It's important to be prepared and have what you need on hand. We discovered that Spotify has some actual playlists for yoni massage, too. Music always helps.
So, there we were, children asleep (finally), dishes washed, lunches for the next day made, mood set with firelight and candlelight and music and tea and more dark chocolate and snuggly towels and sarongs and yoni massage technique cheat sheets…
It's important to distinguish that this isn't sexy-time—or at least you shouldn't expect it to be. This is a kind of devotional service, an act of love and even worship, given with no expectations. (Though, full disclosure, it did lead to sexy-time for us, which was a nice bonus.)
My favorite part, honestly, was the body massage. I felt more relaxed and open than I had in a long time by the time it got to the actual yoni.
Then came the Yoni De-Armouring, the Pussy Shiatsu, the G-Spot and Cervical Stimulation. There were definitely some sensations I'd never experienced before, and my lovely and ever-curious-and-open husband did say he also enjoyed discovering new parts of me in a new way.
His only note was that it's a good idea to avoid doing a heavy shoulder workout and a yoni massage within 48 hours of one another. Rookie mistake. There is a lot more shoulder action to this yoni massage thing than we both expected.
It felt intimate and connected and sweet, but for me—at least on the first try—there wasn't any crazy moment of sexual enlightenment. And that's fine. It's also pretty much exactly what Mariah says: don't expect anything, but welcome everything.
All in all, it was an evening well spent, and it's left us intrigued to try it again and dive into more of the Beducated menu. I think next up is lingam massage, since he's more than earned the return favor.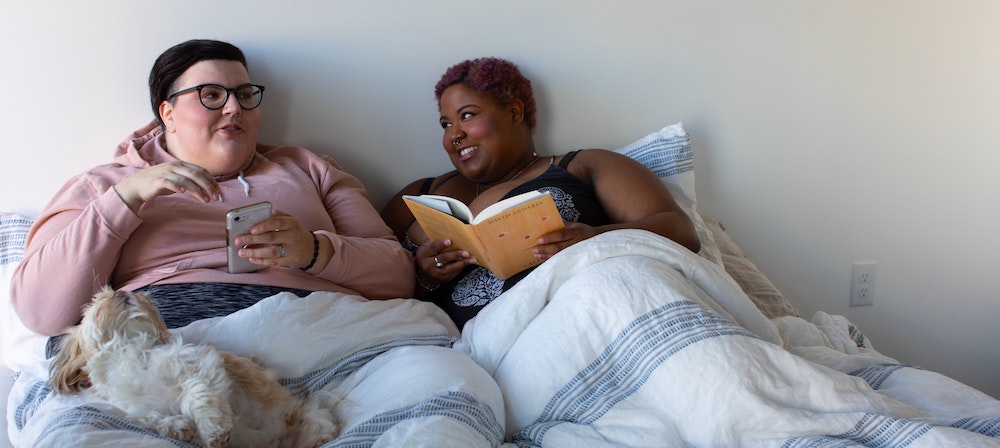 Everyone With a Yoni Should Try Yoni Massage
Yoni massage is a different way to approach vaginal touch and self-care. It gives us tools to care for this often neglected part of the body. It can help us work through complicated emotions, traumas, and psychological hurdles. And it also just feels really f*cking good.
So, whether your only COVID companion is your dog; or you're in a steamy, sexy-time-all-the-time relationship; or you're squeezing quickies into that brief slot between the kiddos' bedtime and your own, yoni massage is an awesome, healing, feel-good practice to add to our sex lives.
~
Sex Education for Grown-Ups.
1. Online Sex Ed Courses
1/4
Stream video classes and sexpert advice directly to your bedroom, with expert-backed methods, easy-to-follow instructions, and tastefully presented nudity. Bring more *WOW* between the sheets. Discover premium online courses and level-up your love life.
Use code ELEPHANT for 70% off!