This article is written in partnership with Yoloha. They're committed to supporting, inspiring, and connecting yogis who embody movement, sustainability, and community connection. We're honored to work with them. ~ ed.
~
"We are here to awaken from our illusion of separateness." ~ Thích Nhất Hạnh

I'm the latest yogi to the party.
Before the world was flipped on its head, and before I started balancing on mine—I was a Zumba instructor. I came to Zumba for the dancing, and I stayed for the vibrance, the energy, and the community. Even two and a half years into being an instructor, though, the all-eyes-on-me anxiety I felt during each class never fully dissipated.
The eager faces of the women (and some reluctant men) in my classes made that part a bit easier. Even still, I was actually a little relieved when the gym was closed. It meant I would get a break from the pressure of leading a class—no mistakes, no room for tripping—unless I smoothed it over with a witty joke…or so I thought.
The void at home when this two-and-a-half-year-old appendage of my identity was cut off was immediate, and pronounced. I struggled through getting people to join Zoom classes, and aside from a few (thanks mom), it just wasn't successful. My dancing fix was feeling broken. I was missing the pieces of being an instructor that truly inspired me.
"There's other things you can do," my husband was sensing my deflated, dancing bubble. "Why don't you try yoga?"
I always hesitated to put my mat in the ring at a standard yoga class because I had this impression that it was composed of yogi scholars who knew exactly what to do, at all times. I was intimidated, and felt like once the instructor noticed my struggle to keep up, I would be told to just stick to Child's Pose.
But in the year of life's short, buy the thing, I took the plunge and got my own yoga mat. This time, it was nothing like the styrofoam one I grabbed on my way out of Target that never sees the light of day in my trunk—it was a Yoloha yoga cork mat, and that barrier that had built up between me and home workouts started to look more like a majestic mountain scape.
I never knew artwork could find a place on my floor, but it did with the Mountain Magic Aura mat. With an intricate design emulating the Appalachian mountains, even just sitting on it is an immersive experience—one that I've been craving since my departure from Zumba.
There's more to the mat than just the beauty and mastery of the design that meets the eye, though. Yoloha creator, Chris Willey, set out to not only change the aesthetically pleasing face of yoga mats, but what's inside of them, too.
An Immersive Practice at Home.
1. Mountain Magic Cork Yoga Set.
1/8
Get the deepest stretch, without the slip, and feel inspired by mountain majesty while you find your center.
Shop Now
What's in your mat, matters.
With role models in his life like his grandmother, who was the vice president of the Sierra Club and sold her natural plant-based salves at the local farmer's market, and uncles who were members of the Chesapeake Bay Foundation; Chris learned early on that we are inextricably connected to the earth around us.
Their fostered connection to the planet transmuted into Chris's deep passion for preservation in the environment. As a surfer aware of the harmful ways boards were manufactured, he sought out to source materials that were eco, durable, and safe to macgyver on his own.
That's when Chris met cork.
Cork was the sustainable discovery that changed the course of his life. It outlasted and outperformed any other natural material and, best of all—it provided a non-slip surface even when wet, eliminating the need for oil-based wax or synthetic foams for traction.
After working around the clock crafting these boards, an epiphany struck that the same material would be translated seamlessly into the creation of yoga mats…and Yoloha was born.
No trees are harmed in the making of Yoloha mats. Instead, the outermost layer of the Cork Trees, native to the Mediterranean area, is stripped once every nine years. Not only does this happen in a forest with one of the world's highest levels of biodiversity, it provides 100,000 fair wage jobs.
So when we're sweaty and slippery in a hot yoga session, we won't only stay put, but we'll feel grounded knowing that the material in our mats has come from a kinder-to-the-earth place.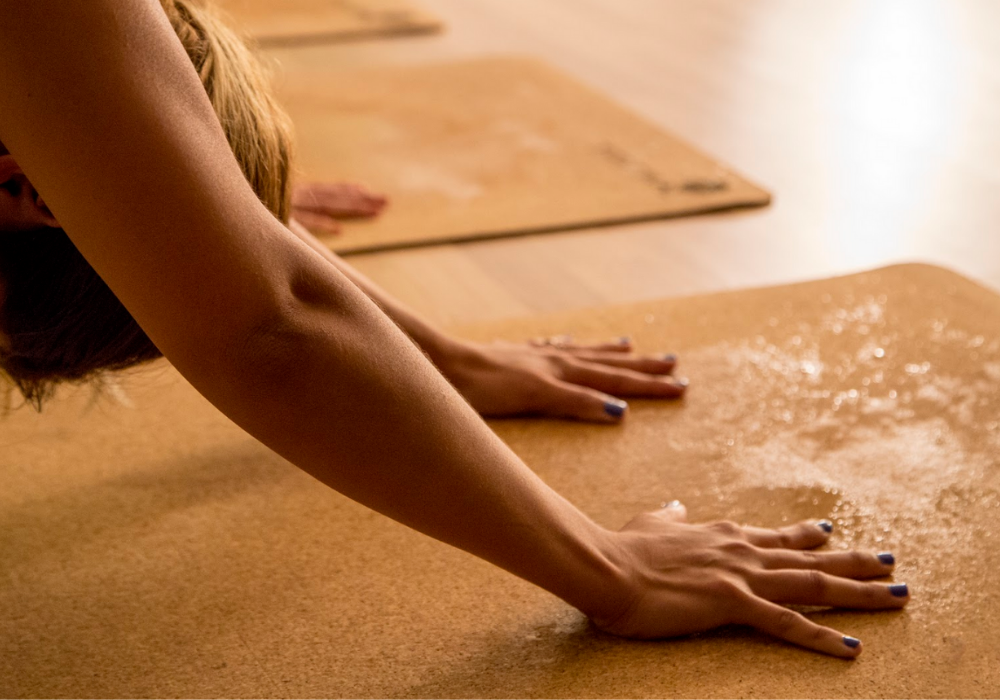 When you nurture nature, it's evident in your yoga performance. I've never felt a deeper stretch than when I practiced with my Yoloha mat. The cushion was kind to my feeling-older-than-I-am knees, and the wheel? Ohhhh, the wheel. After contorting my body for eight plus hours a day in a bar stool from HomeGoods…I needed it. The pair works incredibly well to stretch out the knots my body wraps itself in daily, and what's in the mat really speaks for itself:
>> It's 100% vegan
>> It's non-slip for dry or wet. Seriously…try to slip, you won't.
>> There's an ideal balance of comfort and support, and you might catch your pup lying on it from time to time, like I just did.
>> It's lightweight and portable, yet grounding.
>> It never slides or bunches up on you, it always stays put.
>> It's antimicrobial, naturally eliminating bacteria.
>> It dries in minutes.
>> There's no PVC's in sight, latex, plasticizers or rubber smells.
As one of the most environmentally friendly harvesting methods in the world behind Yoloha's suite of joint-supporting tools, it's an added bonus that they're painted with the brushes of local artists.
It's important to Chris and the Yoloha family to give us a reason to feel centered in our yoga practice outside of just the physical durability and eco responsibility. Our goal is to attain a feeling of elevation, above all the noise, and in touch with our core.
That's much easier to accomplish when we can feast our eyes on designs materialized by hand-crafted artistry. Local artists can submit their unique designs in Yoloha's Artist Contest to have their art featured on Yoloha's mats while being compensated for their craft. Each submission showcases the elements that make us feel most alive: nature, the stars, the universe, and our ancestors.
There isn't just a spectrum of visual diversity to their mats—Yoloha offers five different mat styles to support you in your unique practice. There's a grip, texture, and support variation for every type of yoga practice. Not sure which one is best for you? Try your top two choices out with their Try Before you Buy Program.
Yoloha cultivates Community.
One of the prominent mats you'll find at Yoloha at the moment is their Ancestars mat, featuring a design by Noraa James, an Old Dominion University graduate and creator based in Athens, Georgia. Inspired by an imagining of his ancestors as connected constellations among the cosmos, this limited edition design will provide up to 40 Black women and girls therapy sessions through donations to the Loveland Therapy Fund, which provides financial assistance to Black women and girls seeking therapy—one of the hardest hit communities in the pandemic.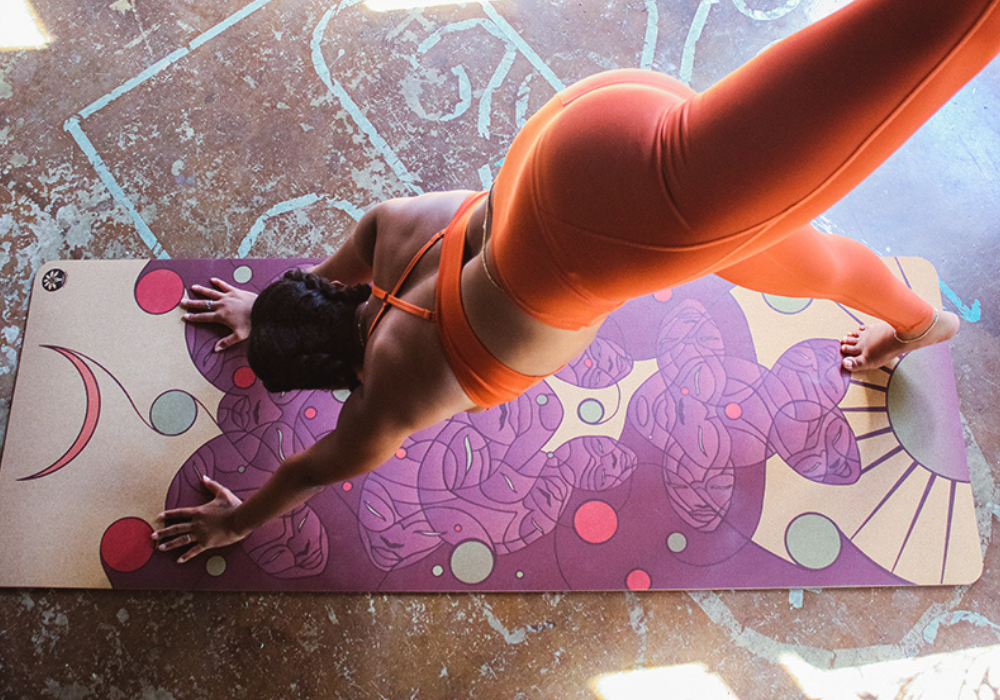 Chris and the Yoloha family are on a mission to walk the talk, and wrap support and warmth around all corners of their boundless community—especially their own yoga instructors. They offer online yoga classes for free to connect Yoloha Yogis with their yoga practice in the most accessible way. Donations are encouraged, and there's an opportunity for mutual support during a time that has disenfranchised us all.
If there's one thing I've realized in the past year, it's that we can't fall back on the notion of separateness. We can't be complacent in thinking "we'll have a break from the pressure" of interacting in person, no matter how much anxiety tells me otherwise. I have felt completely lost without community connection in the last year, and I've felt like finding a new one would be well beyond my reach.
The folks at Yoloha stretch their arms out to people they may never see in person, and they're the kind of people I want to bring closer to me. They allow us the space and freedom to invite sustainably-made art into our homes, get in touch with our bodies, support creators, preserve the environment, and establish a virtual community.
The vibrance, the energy, and the community I've found in Yoloha hasn't just filled a void—it's inspired me to stretch out my arms, too.