This article is written in partnership with Nature's Logic. They're committed to mindfully feeding our pets nutritious whole foods while replenishing the environment with the resources it took to make them. We're honored to work with them. ~ ed.
~
One day you're young and carefree, and the next you're riding shotgun in your husband's jeep gripping McDonald's fries in one hand and securing a tiny, furry sweet-potato-shaped pup on your lap with the other.
We met our little Havanese puppy, Winnie, on a scorching September Saturday in Saugerties, NY, and she peed on my husband Jeff's lap within seconds of our meeting. The furever-bond was sealed.
We talked for a year about getting a puppy, which I campaigned for with PowerPoint presentations as a child myself, but I was apprehensive about it in my twenties. The tipping point that finally got me to agree to a barking bundle of joy was my transition to working from home. "Yeah, we can do it. I'll train her in between meetings," I said…if only I knew how flighty my words were.
We bought her a sherpa bed and used our own human-sized glass bowls for her food and water. My husband, Jeff, bought her a squeaky toy that was twice her size. All one pound of her couldn't even get it to budge with all her might. In other words…we had no freaking clue what we were doing—so we turned to Google.
The internet as a new puppy owner is…a lot. New Pandemic Pup Parents—I feel you. The influx of information gave us analysis paralysis and we were lost when it came to the A's and B's of puppy parenting. Although I beamed with pride when her tiny, curly tail touched the floor to do "sit" and the pee puddles greeting me at the door began to dissipate, there was still a lot I didn't know how to manage.
Winnie started getting ear infections pretty consistently throughout our first year with her. We took her to the vet, multiple vets, to see what the issue could be. Is it just the way her ear is shaped? Did she sniff something toxic? Is it from being around other dogs?
My panicked-puppy-parent face skewed in and out of each appointment with perplexity, until one vet pointed to what I thought was an unlikely suspect…her food. We were told she was most likely allergic to chicken and beef, and we suddenly had a pescatarian puppy on our hands.
The list of ingredients on each food brand and variety I scoured scrolled longer than a CVS receipt. My local pet shop owner was eons more helpful than the big-name stores as she ushered me and Winnie through the aisles, and she educated us on what was what—but even she commented on there being much more in our pups' food than what's on the labels.
We shouldn't need to work this hard to know what we're feeding to our fur-children, and there's actually a brand that was started with a mission to make things a lot less complicated. Nature's Logic creates pet products that are in harmony with the principles of nature, and they have a whole line of clean food, treats, and nutritional supplements that help bring us all back to basics.
Labeled with…Logic
Similar to the awakening we've had as a society in wondering what's really in our Wonder Bread, Nature's Logic started taking stock of the mysteries in pet food products and rolled out a mindful recipe to help us take better care of the furry ones who rely on us.
As humans, we walk through the Whole Foods and farmer's markets of the world and scour them for sustainably sourced products, if we're fortunate enough to have the means to do so. We obsess over our Whole 30 or Paleo diets to try to get back to the basics of nutrition. We're trying to compensate for all the sugar-laden Cap'n' Crunch we consumed in the 90s. Or…maybe that's just my own story.
With inspiration from dietitian and author Mascha Davis, MPH, RDN, and her approach that synergy is the key to healthy nutrition, we have more resources now than ever to acknowledge where our food intake has gone wrong. Mascha's approach to our diet is course correcting by eating our vitamins in nutrient-dense, whole foods instead of just relying on our One-a-Day gummies.
Why don't we do the same for our pets?
Clean Food for your Pet that's better for the Planet.
1. Free bag of food? Yes please.
1/3
You can get your own bag of clean food made with clean energy for free today.
Feed your pet here.
Nature's Logic has been on a mission to answer that question, by railing against the synthetic vitamin packs that most manufacturers plop into pet food. Our bodies and our pets' bodies absorb and utilize key nutrients that come from whole foods better than they do with added synthetic vitamins.
Nature's Logic addresses the allergy and food sensitivity topic directly by offering different protein formulas for rotation to make it easy to vary diet and avoid developing sensitivities to any specific protein.
You'll never find any chemically synthesized vitamins, minerals, or amino acids in their treats, food, or supplements. You'll also find a high animal protein content, which is chock full of the important amino acid, Taurine.
I cringe when I recall the times I used to sit next to Winnie while she sulked at her bowl and refused to touch her food…for days. But she hasn't had that issue with Nature's Logic, since their kibble is packed with probiotics and enzymes to naturally support digestion.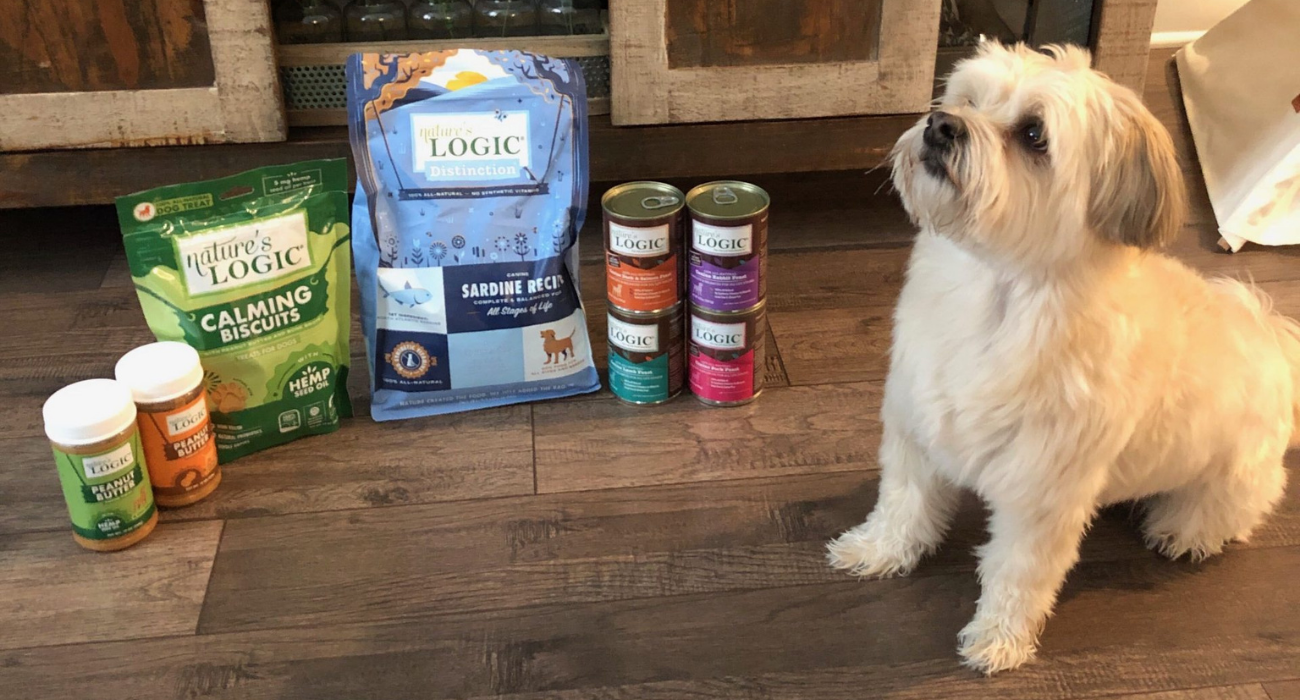 Let's get in harmony with Nature, shall we?
What our pets would eat in nature and their overall health are inextricably connected, and it's not easy for us pet parents in suburbia, city skyscrapers, and otherwise to feed their inner wolverines and tigers with the plastic bags we pluck off the shelves.
Nature's Logic puts so much love into the whole food, 100% natural diets for our pets so they can get as close as possible to reconnecting with their wild roots. They take it to the next level with their steadfast commitment to replenishing what they take from the environment—because that is as much a piece of the puzzle as the ingredients are.
Every time I bought a bag of insert-large-pet-food-brand here, guilt crept in when I heard the crinkle of the plastic underneath my grasp, knowing that it couldn't be recycled. Since pet food products need to be maintained in secure packaging for freshness, it's a challenge at the moment to store them in bags with wholly sustainable materials. As a result, the carbon footprint for pet food creation is bigger than a Yeti's.
While the packaging industry is working overtime to develop eco-friendly, affordable, sustainable pet food bag options, Nature's Logic is taking steps to reduce their impact on the environment immediately:
>> A wide array of their products are packaged with Certified Plastic Neutral packaging.
>> They've recently introduced treats packaged in 40% Post Consumer Recycled bags.
>> Their food and bags are made with 100% renewable electricity.
>> They create 1 kWh of new production renewable energy, and a greener future with every pound you feed to your pet.
>> Their kibble bags now use 20% less plastic, with goals of more reduction in the future.
>> They're heavily involved with eco conscious organizations like Tree-Plenish—they plant trees in local communities based on approximations of school paper usage.
As a Top 20 Sustainable Business by the Pet Sustainability Coalition, they're taking the BS out, and putting renewable energy back in. They're pros at reestablishing the undeniable connection between ourselves, our pets, and our planet—like the mindful pet owners we all have the potential to be.
They're also a founding sponsor of IndiePet, the organization promoting their "think global, shop local" philosophy. Not only is this another eco-saving avenue, it's about aligning with pet shop owners who have the same knowledge and passion for animals that Nature's Logic does.
To walk the talk, they're handing out an exclusive offer to get yourself a free bag of their food with this promotion, only if you bring it to your local pet store. Your local friends and the environment will thank you.
It's about time we all simplify: how we think about the planet, our pets, and what we're pumping into both of them. We're making decisions for our pets that impact their quality of life, and decisions for the planet that impact the duration of its life. The more trusted sources we have, the better. If I had known more about what I was giving to Winnie, she might've dodged some serious discomfort. Pet mom guilt galore.
So whether you're Dr. Dolittle, a lifetime pet parent, or starting fresh with a pandemic pup—mindful pet parenting can come a little easier when we get back to basics.
I may not be quite as young and carefree as the day I met Winnie—but a passionate, planet-protecting pup parent is who I'd prefer to be, anyway.