~
A faint glimmer of pink glows on the horizon, sitting between the weight of the heavy, dark purple clouds above, the springing buoyancy of the aquamarine turquoise below. Serpentine rain trails meander along, cresting beyond the point mere miles away. The wind is soft and warm. The waves lap effortlessly on the shore, hardly breaking to white. Dune grass flutters vibrantly, without tension.
My mother stood on the shore, watching what could have been her 10,000th sunset over the horizon of the great Lake Michigan.
Her grandmother had landed here, near Ludington, after immigrating from the Swedish island of Åland, in the early years of the 20th century. Her father grew up here, and he and her mother later raised her, her brother, and her sister less than an hour south, along the shores of the lake.
Their childhood home there was a near stone's throw away from the beach. A short trek through the trees and over the dunes brought her, time and time again, to the place that would be her lifetime sanctuary.
The early years brought gatherings of friends and an escape from the challenges foisted upon any teenage girl. Later, she would discover the perfect campground with her husband, reminiscent of her childhood home, set in the national forest near Ludington, a brief hike over the dunes to the crushed velvet sand lining the pristine blue of the lake.
She would chase her kids to the beach for a swim and play during the day times, then drag them in the evenings in an effort to impart on them an appreciation for one of nature's most splendid delights, watching the sun disappear over the horizon through wispy beach grass and voluptuous clouds as the electric blue of the day gradually gave way to the boisterous yellows, simmering oranges, muscular reds, delicate pinks, cozy purples, and midnight blues of the coming night.
She gazes south down the shore at the sandy point. "I wonder if I could see Big Sable from here with my camera at full zoom."
When her sister's friend and photography buddy mentioned the landmark six years ago, she knew immediately it was a calling. She would volunteer as a caretaker for the Big Sable Lighthouse a few weeks every year.
She's passionately, stubbornly dedicated in that way; when she knows she wants to do something, it's just going to happen, and that is that. Her sister says it is this passionate drive that, as much as one can be defined by a single character trait, defines her. Or perhaps more appropriately, it is her best quality.
At the age of 64, that passion became zeal, as she began her tenure as a lighthouse keeper.
Big Sable, first built in 1867, was nearly 150 years old when she first volunteered. It is appropriate that its imposing 112-foot tower is, like her, decorated in black and white.
It too was set in its ways, committed to its tradition. Not until 1949 was it converted from the original oil wick to modern electric lighting. It was the last of the Great Lakes lighthouses to install electricity and plumbing. Perhaps when something seems perfect, change feels unnecessary. Yet some progress and innovation is crucial from time to time.
Like the move to an electric lamp, my mother's not unwilling to see things in a new light, but she does find comfort in the foundations that have sustained her throughout her life. She appreciates the value of time-honored traditions, such as holding on to the lost art of handwritten letters. Dedication to tradition and a strong foundation built Big Sable's character of strength and integrity, the traits her brother says he most admires about her.
It is no wonder she felt drawn to this place she now holds so dear.
She revels in its allure. She's always had an appreciation for the splendor of God's creation and the depth of artistic creation.
She gardens with a knack for eye-popping, vibrant color. She photographs landscapes and the natural world, keenly capturing the captivating design and artful complexity of Mother Nature. She adores the creativity on display at local art fairs. She delights in a passionate appreciation for music—and her adoration is contagious.
It is this penchant for beauty, wonder, and creation that feeds her love of Big Sable's aesthetic appeal. Camera and iPhone in tow, she's out most mornings to capture its majesty against the crescendoing glow of the sunrise or the pillowy nuance of the rolling clouds.
She's got an eye peeled for "Mr. Eagle," hoping to capture the elusive hero of the sky with her lens. She finds fascinating exhibitions of Big Sable's grandeur reflected in shallow, glass-topped reflective pools marooned among the rolling dunes by the crashing of the waves. And she revels in postcarding the lighthouse's silhouette against the backdrop of those sunsets she learned to love growing up on the lake's shore.
Her most fervent love for Big Sable, though, comes not solely because of its aesthetic appeal. Rather, it is the tradition that it represents, and her ability to share the maritime history of the Great Lakes with visitors and tourists.
Her own grandfather was a fisherman in Ludington, captaining his own boat and making his living selling his catch to the community. As it does for coastal communities around the world, the lake offered a vocation, a lifestyle, and a lifeblood. It is a tradition forgotten by many, unknown by most, but one she recognizes should be shared in order to preserve the memory and the lessons of those who came before and laid the foundation for the prosperity enjoyed by the greater community today.
But it is not her outside observation of Big Sable, but rather her internalization of the role she plays as a caretaker, as well as the character and the purpose of the structure itself, that reflects the steadfast nature of her true character.
Born partially of the rough and stormy seas of her childhood family dynamic, the beach, lake, and lighthouse insist as an apt metaphor for seeking refuge from the tempest, but more selflessly, using her experience to become a light for others, to help them navigate in the dark, calibrate their paths, and give them security when the situation feels frightening, unsure, or unsafe, knowing there is someone out there at the helm, even anonymously, offering her service and light to reassure that everything will be okay.
This is the preeminent lesson her mother left her and reinforced by the Golden Rule of her beliefs: care for and serve others with all your heart and all your soul.
It is truly this mentality of service that has driven and continues to drive her today, to be the person she is.
Earlier in her life, she opted to be a teacher and a coach, offering her guidance and encouragement to countless young girls at a time when women's sports were sparsely and insufficiently appreciated.
When it came time to have kids of her own, her passion shifted entirely to them, making every decision in her life, whether financial, spiritual, or personal, out of love for her two boys.  When they got older and began playing sports themselves, she never missed a game or match, even driving eight or more hours round trip to see almost every soccer game they played in college over a span of seven years.
Although love and dedication to one's children come naturally for most, it is indisputable that hers was extraordinary. And although, as they grew up and started their own lives far from home, she could have reveled in some time for herself. Instead, she chose to focus her abundance of love and compassion on the selfless endeavor of helping those in need of a light in the dark, those whose ships faced some treacherous waters and needed stabilization, and even those whose ships were already sinking.
She returned to school at age 54 to get a special education teaching certification, then continued by teaching students with learning disabilities and special needs, finding her personal gratification through helping her students find their own light.
She invested her time volunteering to visit Hospice patients and watering flowers at a cancer center, bringing beauty and life to those whose rudders or engines had fallen beyond repair, just needing a glimmer of light to feel at peace.
When her own brother was diagnosed with cancer, she packed up and traveled nearly 800 miles to stay with him, pray with him, and do everything in her vast power to provide comfort, ease the treatment process, and help him maintain his course in his harshest storm.
And most recently, and most regularly, she found one of the most profound and consistent joys of her life volunteering with Gracious Grounds, a community and home for young learning-disabled adults, where she spends copious amounts of time meeting with folks who so genuinely appreciate a helpful friend, teaching them life skills to give them more autonomy to steer their own ships, and offering her time and service to protect them from unwitting harms.
In all things, she finds her fullest joy through seeing the joy and stability she can provide for others, particularly the underprivileged, the emotionally challenged, the disadvantaged, the sick, the lonely, the hurting.
She chooses to physically position herself in, and abstractly embody, that lighthouse.
She leaves her comforts behind and rises to an isolated space of self-sacrifice.
She gives. And she gives. And she gives.
She climbs the tower that others will not, and selflessly gives her time and efforts so that others in need—of a ray of hope, a beacon home, a path through their darkness, or of a reminder that they deserve and can experience peace in their lives—can see the light.
A mother-child relationship seems inevitably fraught with disagreement, misunderstanding, rebellion, generational trauma, generational differences, and conflict—many are left with feelings of confusion and disappointment. The relationship never quite heals until it is too late. A history of frustration can prevent us from feeling the fullness of the love available, or a simple inability to see eye-to-eye left feelings of something less than the ideal.
I do not want these possibilities to define my relationship with my mother.
I choose to see her light, as long as it glows.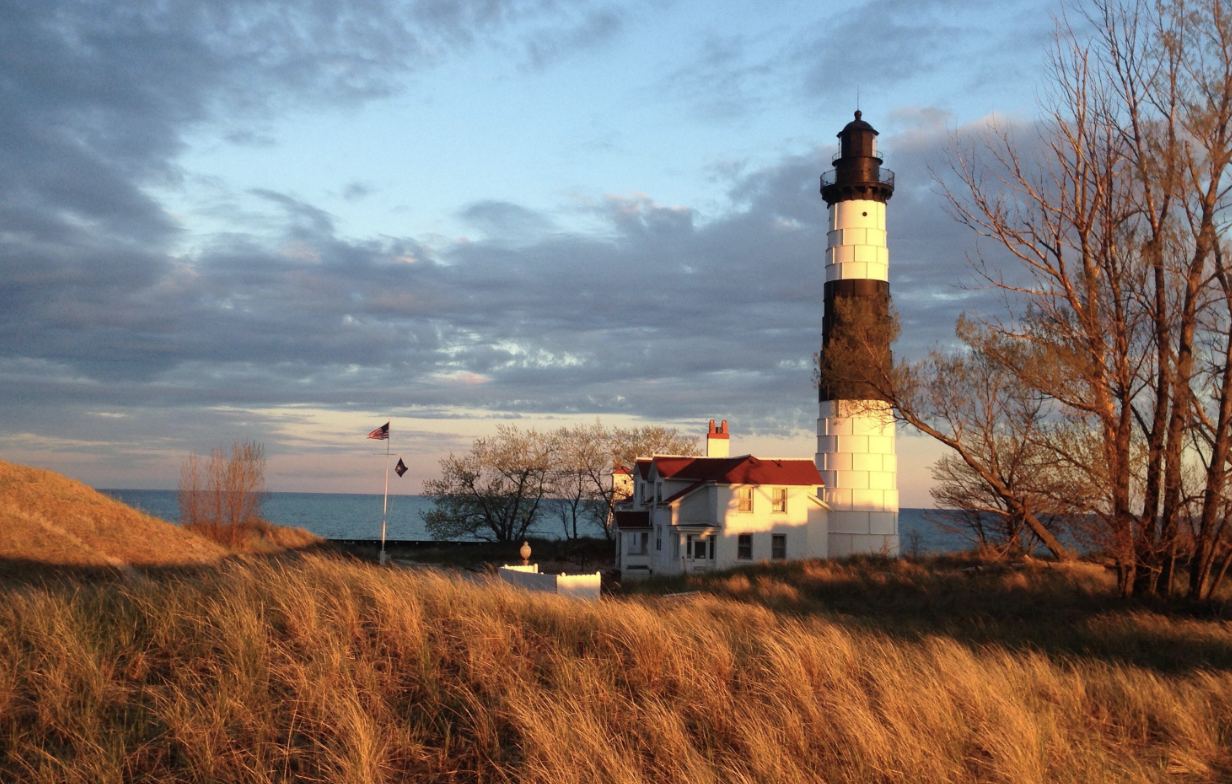 ~