The universe has a unique way of guiding me.
I am not suggesting that every weird experience is trying to point the way. But for me, bizarre encounters with animals or nature are often guidance in disguise. It helps me overcome repetitive glitches and put things in perspective.
During bear season in Colorado, strong, hungry beings destroy our fruit trees, compost bins, and chicken coops. We love our now lopsided trees with missing branches, and the spilled compost bins remind me to turn the compost. One thing I could live without is our backyard chickens clucking in the middle of the night.
Always the lightest sleeper, I race down the stairs yelling, "Chickens!" before I'm even fully awake. I'm relieved to hear my husband respond and gather our eight-year-old from her makeshift bed on the floor. They exit onto a deck overlooking the chicken yard.
The motion light is on, and delicate white feathers are scattered everywhere. A few chickens are protesting, while a bear tries to decide if I am a threat. She is distracted from the chickens momentarily.
"Get out of here!" My stern voice does not work on bears, or anyone else, come to think of it. Simultaneously, I'm cooing at the chicken next to her, "Come here, sweet girl." I confuse both animals.
Mama bear has torn the egg box off the side of our coop, and it's dangling from split boards, preventing me from opening the gate to grab the confused hen. This is likely for the best. I'm not sure how bears react to someone taking their meal, and our hungry bear population is not afraid of humans.
My husband unravels a hose to spray her away from the coop, which has worked in years past. She effortlessly shimmies up a tall cottonwood in our yard to watch us. My daughter and I use a flashlight to search the yard for missing hens, while mama bear continues to alternate between a prolonged, high-pitched tone and a longer, low-pitched tone. We track down, hug, and return the missing hens to their home. While chicken searching, our automatic sprinklers turn on and hose us down. We do not welcome the midnight shower.
My husband gathers tools to patch the hole in the coop. We keep checking on the bear with the flashlight, and ultimately lock eyes with a stunning creature.
This is the moment meant to calm me. Mama bear is just hungry and doing her best. She is me. We send her love, along with a message to help herself to the fruit trees but let the hens be.
Finally, we reattach the electric fence and realize it isn't working. The outlet must have tripped, and it's clear that she never got the message about the hens being off-limits in the first place.
In a sleep deprived haze the next morning, we learn of a growing vacancy rate at our investment properties. Mistakes that others have made within our real estate company have led to some major, unexpected financial losses. This is a difficult time for small investors like ourselves, since pandemic-related losses have already wiped out profits. I am angry and ever more anxious. Negative thoughts snowball.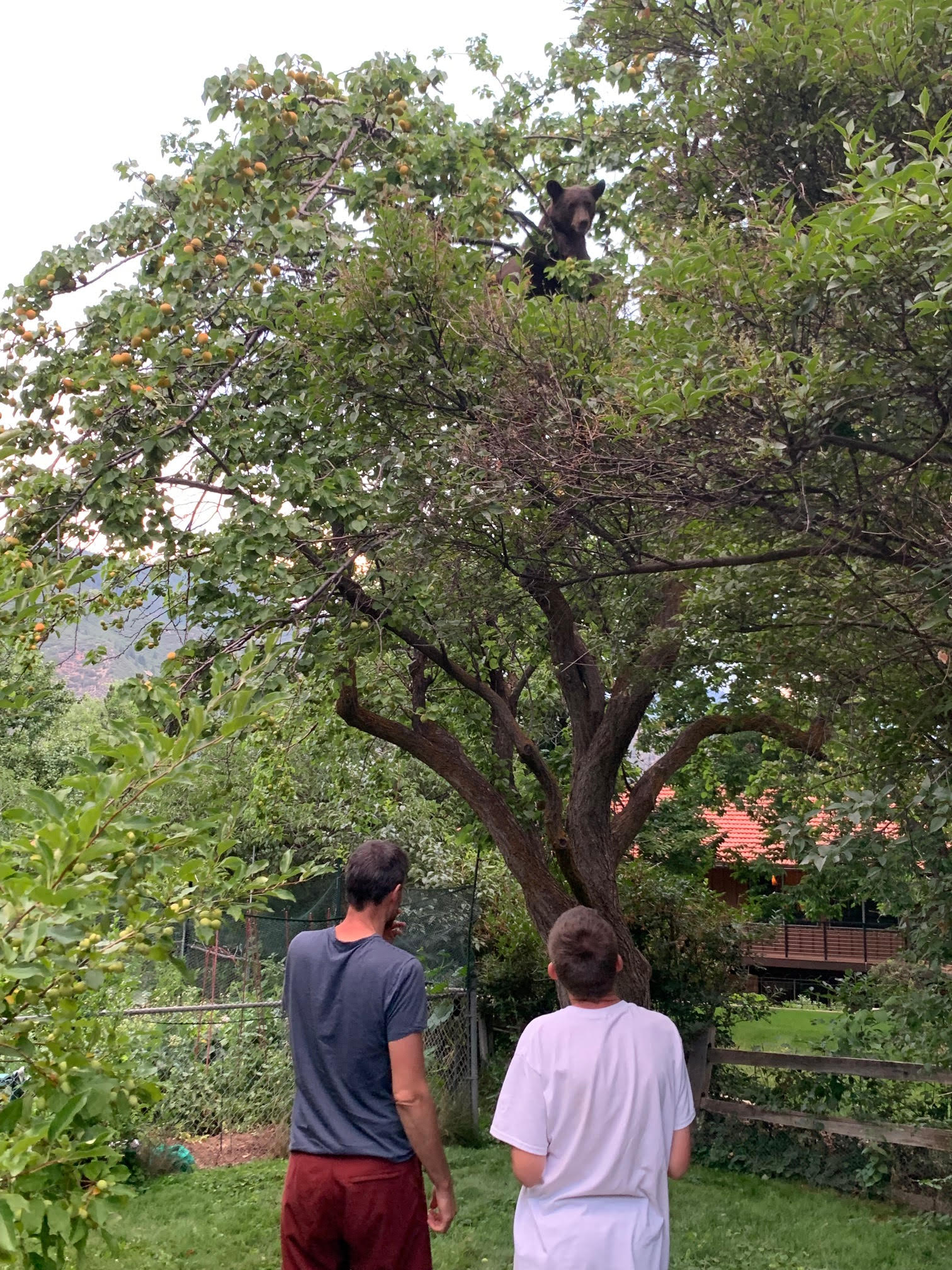 Then, understanding eventually creeps in: our experience in real estate parallels our experience with the bear breaking into the coop.
1. First of all, I problem-solve bears without taking time for fear, anger, stress, or compulsive contemplation of everything the bear has done wrong. My body is not locked a spastic contraction because the bear has "wronged" me. I can take action within my company like this as well, based on factual information.
2. I can genuinely connect with others and see that we are all doing our best, just as I did with the bear. When things go wrong, we are only pretending to be enemies. As leaders, if we must take punitive action, can it be a response to the facts and not swaddled in negative feelings?
3. When dealing with bears, the sprinklers are going to come on and soak my pajamas. This is not to make me feel victimized or reignite negative emotions. The sprinklers are just doing what they're programmed to do. We sure did get soaked in this recent real estate experience, when more catastrophic balls were dropped during a transition to new management.
4. I thought the electric fence was on to prevent our bear intruder, but it was not. And clearly, my husband and I heard what we wanted to hear from our employees, and missed the red flags (electric shocks).