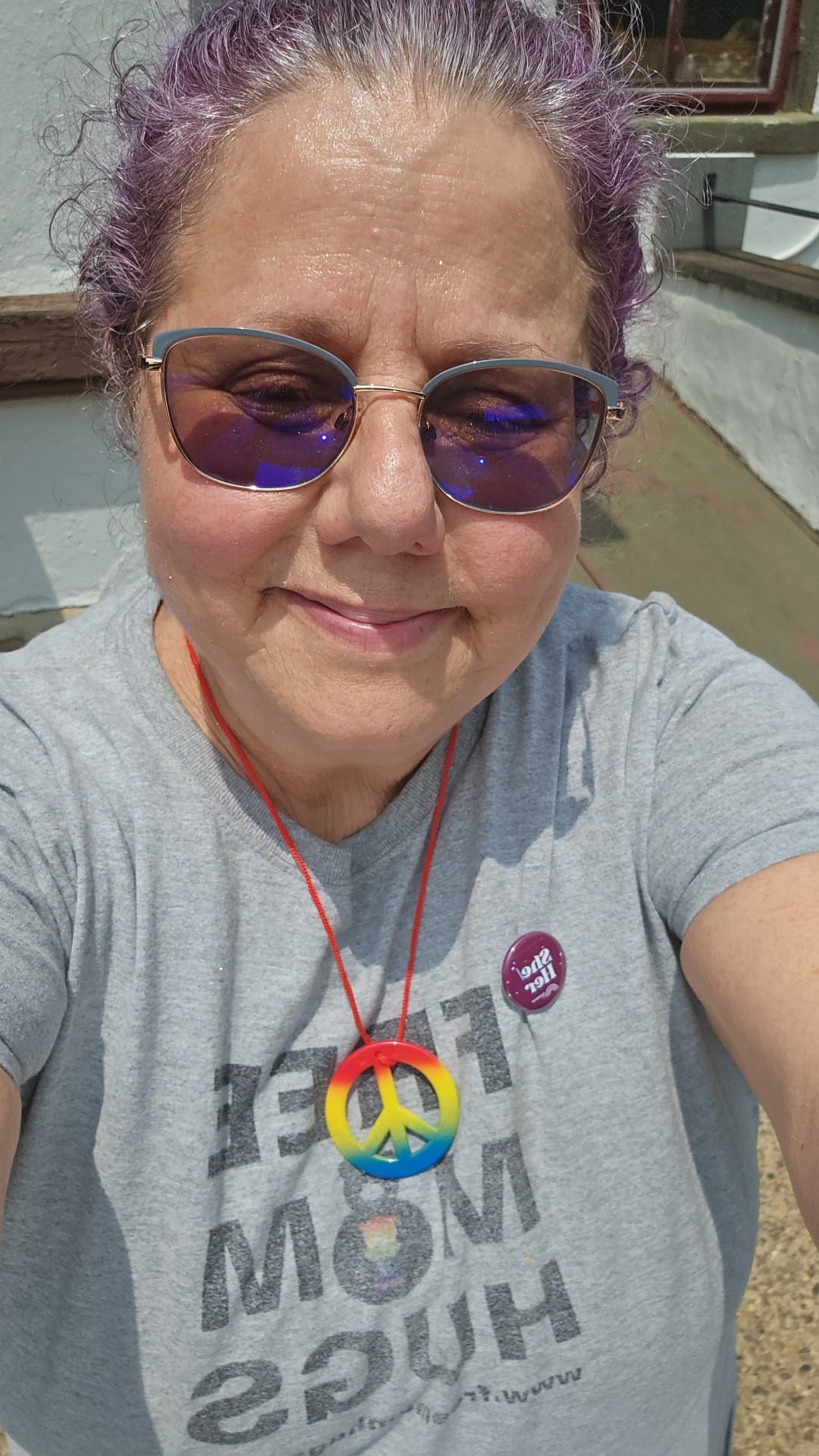 "No one should ever be afraid to walk down the street holding hands with the person they love." ~ Barack Obama
On the first of July, I gathered in my community with people celebrating Pride.
Although the calendar indicated that the official Pride month had ended, rain prevented us from holding the event last Saturday. We couldn't have asked for better weather. Cloud cover in the morning that gave way to brilliant sunshine, with a light breeze cooling us off. Blessedly, the smoke wafting over from Canadian wildfires had dissipated when, a day earlier, it lay like a heavy blanket, making it difficult for this at risk person (COPD and cardiac condition) to breathe.
Normally, I attend Pride in Doylestown, PA, which I call the little town with a big heart as a freelance free hugger. I don my FREE MOM HUGS T-shirt, this time over a rainbow hued sundress, and stroll through town, arms open, offering hugs. That I did, likely hugging 100 people, but my primary focus was volunteering at the table for a group I am part of called ROYGBIV <3 flag, which was created to counter school board Policy 321 in the Central Bucks School District. The policy claims to be for the benefit of the students, but restricts what teachers can display in the classroom, such as Pride flags that remind LGBTQ+ students that they are in safe space. The group was founded by Carol Cooke and Lori Wallace Kesilman, two local moms who knew they had to take a stand in the face of injustice.
When I had the opportunity to interview them earlier this year, Kesilman shared, "We wanted to be sure the students and teachers in Central Bucks felt supported as they deal with the implementation of Policy 321. Our main goal is to have 321 businesses display the positive, colorful flyer to show support, along with a Progress Pride flag. Generous community members purchased Progress flags which are available to local businesses at no cost."
Cooke added, "There is currently a nationwide, politically driven, backlash against LGBTQ+ rights in the USA. This hatred is toward a minority group, already at increased risk of mental health issues and suicide due to being stigmatized and mistreated. The fact that it has spread to our school administration, who currently stand accused of discrimination toward LGBTQ+ kids, is disturbing to me. As a Doylestown resident for 12 years, I know that the majority of our community have love and support for all kids. It was a shock to discover such harmful policies, supported by an extreme minority, being put in place in our school community."
As soon as I heard about the group, I knew I had to be part of the action, so I visited local merchants and asked them to display our flyer and/or hang the Pride flag in their business. The response was overwhelmingly positive. Only one business, which I frequent reluctantly told me that although he supports our cause and intention, some of his clientele don't so he didn't feel comfortable taking the flyer or flag.
I brought the flags to the counseling office where I am employed, placed a flag on my wall and gave two others to co-workers who I know are allies in the community. When clients enter they know that my office is safe space and I am an ally too.
Our table drew activity, in part because children could walk under the tent and design rainbow hued beaded bracelets and then we would tell their accompanying grown-ups about the group's purpose and intention. Amy Bromberg, another FREE MOM HUGS person, supervised the creative kiddos. Smiles and knowing nods showed their alignment with our mission. We agreed that Pride is not political. It is about people's rights to live and love as they choose. Cooke's husband Andrew and daughter Alyssa lent their presence as well. A family affair, indeed.
We were joined by Kate Nazemi, co-founder of Advocates for Inclusive Education, whose mission is to focus on dignity and belonging for all kids, unhindered by restrictive educational policies. Kate and her co-founder Kitty Semisch have declared, "We envision a world where all the community's children come together in vibrant, challenging, supportive classrooms with expert teachers who lead the way to true education: where kids learn to approach the world with wonder, curiosity, and courage, to ask questions and read great books and create a democratic, equitable, flourishing society."
Like everyone I know, I was upset about the SCOTUS Conservative justices determining that a Christian web designer could refuse to design a website for a hypothetical same sex couple because it was in opposition to her religious beliefs. From what I read, there was no actual couple who attempted to hire this woman.
It had me wondering, if I, as an interfaith minister could refuse to marry a couple whose values have them supporting TFG, the Big Lie and who may have gone to DC on January 6th and stormed the Capitol because their alleged beliefs and actions fly in the face of my values? Apparently, I could. When I was discussing this with friends under the tent yesterday, one of them said it was unlikely that I would face that circumstance because anyone who would hire me is likely to Google my name and see what I stand for.
My friend Julie Druzak was there with her daughter Dahlia, painting dazzling designs on people's faces, hands, and arms.
Throughout the day, I found myself gazing at the all-ages, shapes, sizes, cultures, skin hues, and gender expressions celebrating the freedom to be. It occurred to me that this day was both celebration and protest—an "in yo' face" to the bigots. Good job, Team Pride and to our beloved community.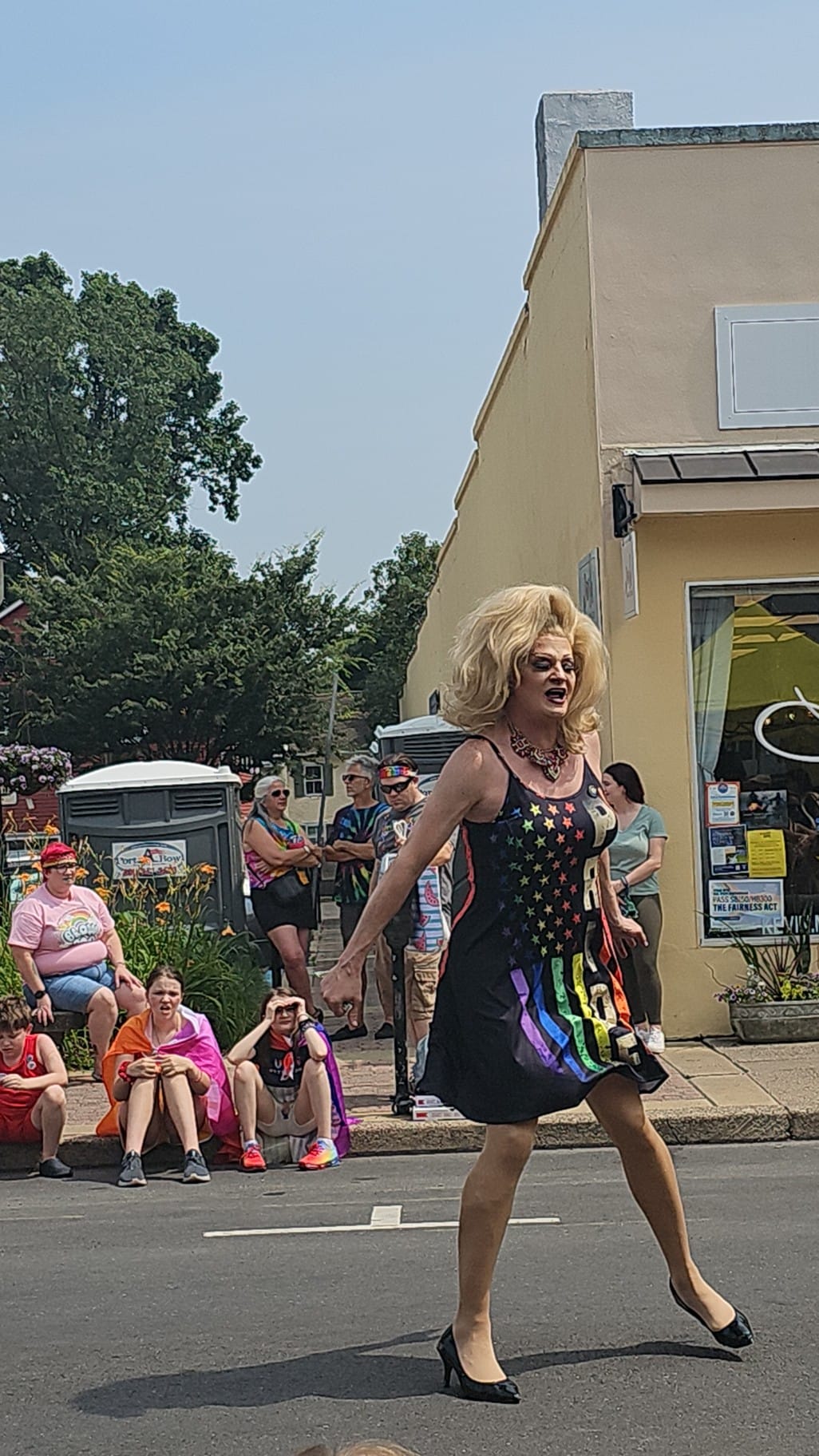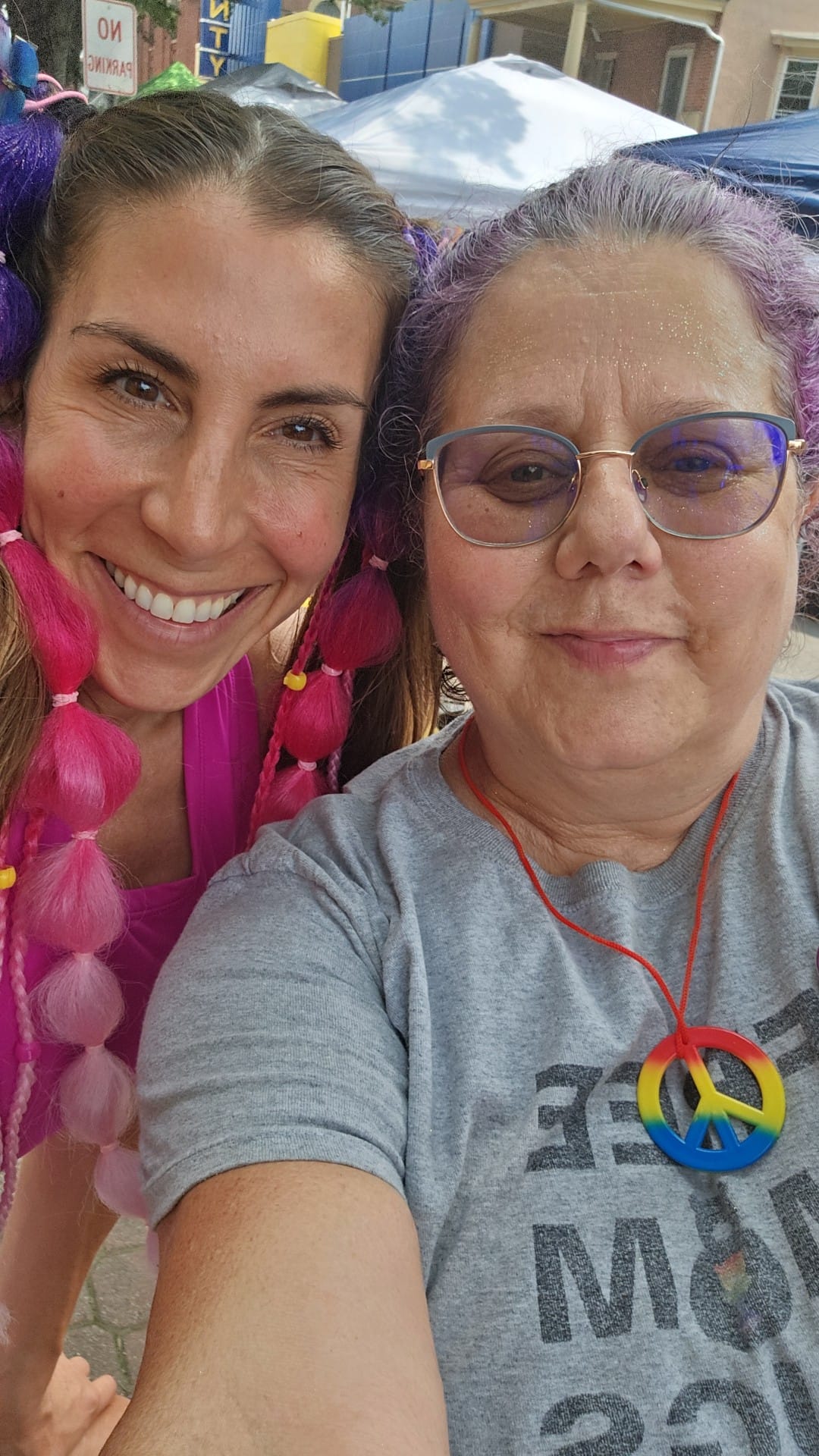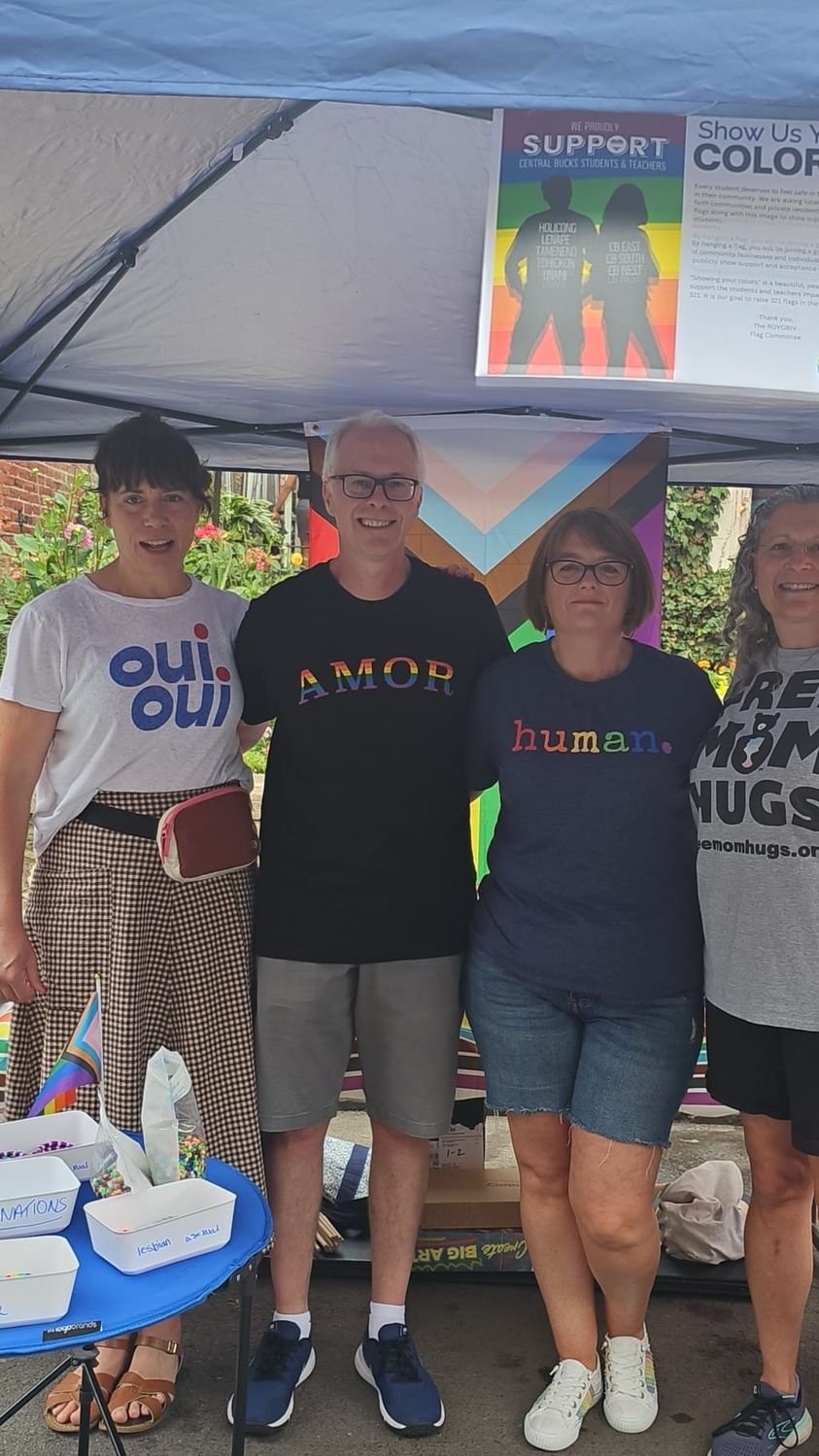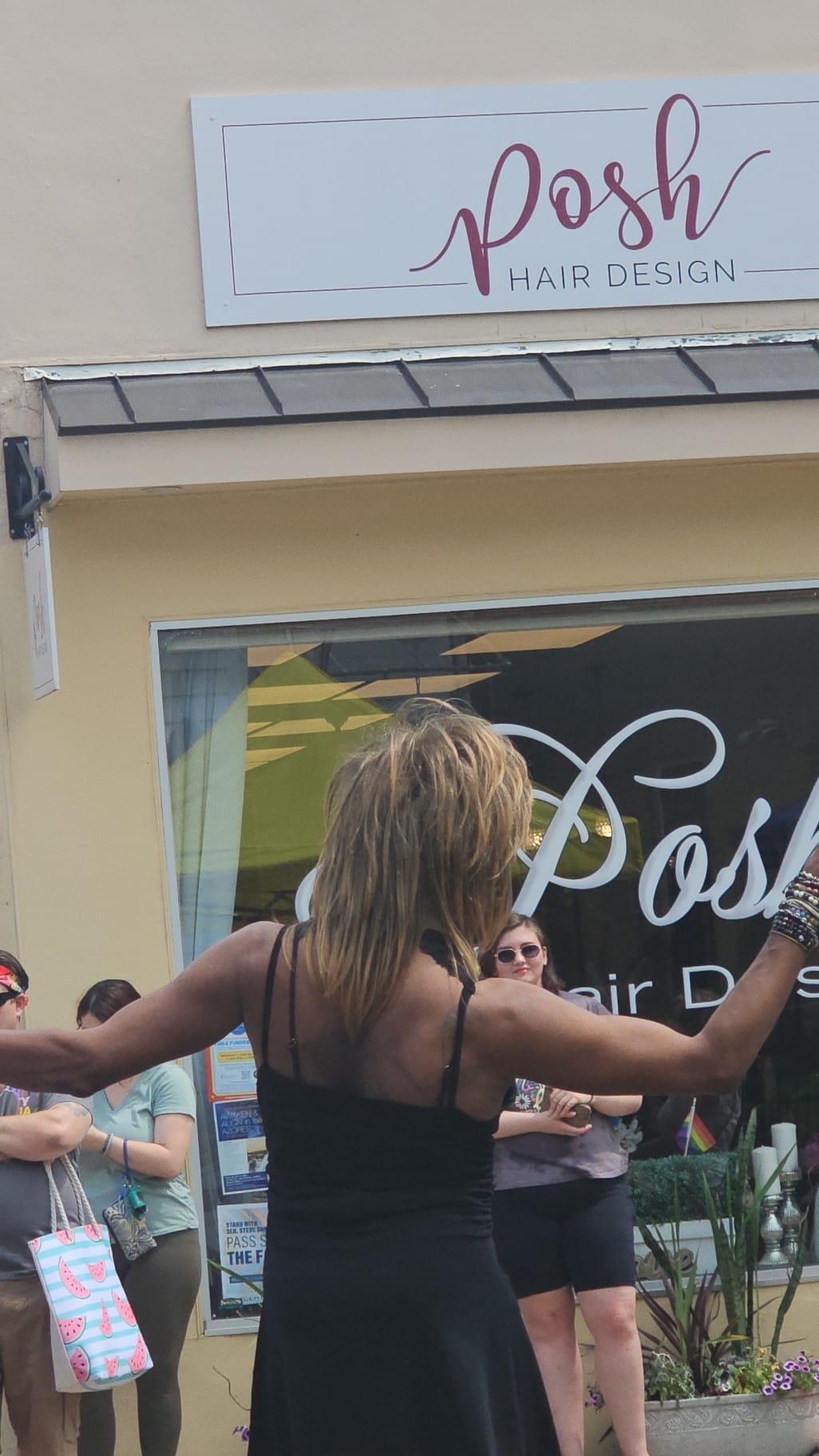 ~
Please consider Boosting our authors' articles in their first week to help them win Elephant's Ecosystem so they can get paid and write more.