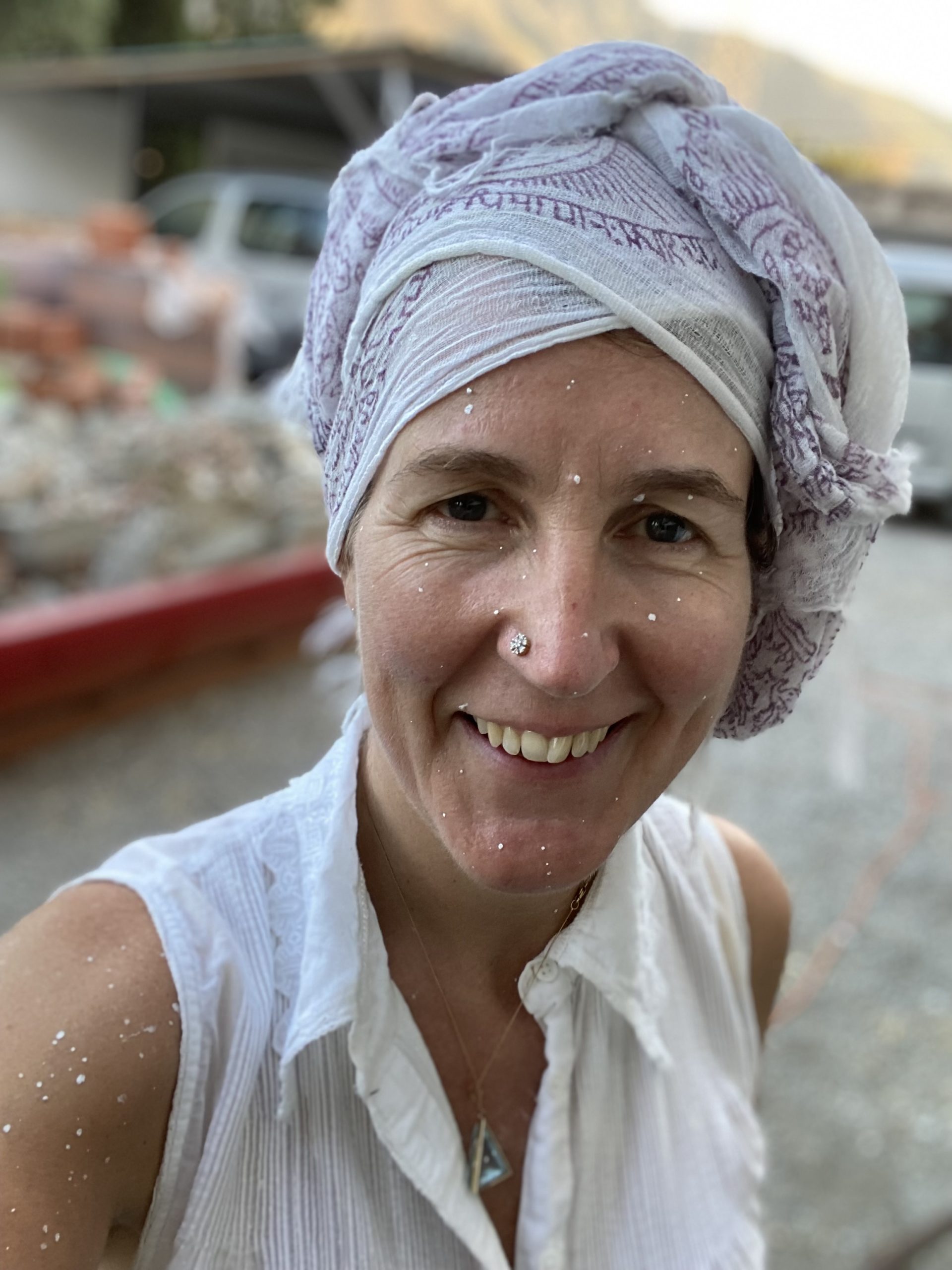 My mojo is back. With a bang. And thank God because yesterday was a sh*t show.
I'm living in a one-man tent under a lemon tree in the middle of a field on what is currently an Andalusian building site.
Over the next few months, this building site will be transformed into a fully functioning Shiva Temple, offering daily satsang and free meals to the needy.
I've volunteered to work here in the 40-degree heat for the next two weeks—which yesterday seemed like a wholly questionable decision.
I've committed to this, I told myself, as I teetered at the top of an unsteady ladder, covered in paint, feeling exhausted and grumpy, so I'm bloody well going to stick it out. But in my heart, I was counting down the days until I'd hit that beach, sangria in hand.
What a difference a day makes. Because today I heard myself offering to stay for an extra month.
This morning, as yesterday, I stumble from my tent bleary eyed at 6 a.m. to do yoga asana practice. The cockerel and the dog have already woken me at 5.30 a.m. so no need for an alarm. I pull on a cardigan against the mild nip of the early morning and notice dew wetting my feet as I walk across to the space that currently—until building works are finished—functions as kitchen, dining room, yoga room, and office.
We line up our mats in a row and do our sun salutations together as the sun rises. There's me, Pascal, the devout, long-haired Frenchman in charge of this adventurous project, and Maria, a delightful fellow volunteer and marine biologist from "a-Roma," as she calls it.
After asana comes Agnihotra, a fire ceremony and chanting. In the Hindu calendar, Tuesday is dedicated to Lord Hanuman and so we sing a mantra to Hanuman. I'm in charge of the mala, beads which pass through thumb and forth finger once with each repetition, until you reach 108. The fire rages, Pascal lights candles and incense and recites rapid incantations under his breath. The cat joins us. He always does. He knows what's good for him.
When I hit my yoga mat, I was feeling drained. During the chanting, I notice my energy shift dramatically. By the end, I'm feeling positively vibrant. This is odd, I think to myself. I've chanted plenty before, but I've never noticed this. It'll probably wear off soon. But 12 hours later, and I'm still bouncing off the walls.
I'm aware there's a risk of sounding like a knob talking about this kind of stuff.
Not unlike Spanish, if you don't speak the language, it sounds like gobbledygook. With language, we fall back on reason, which tells us that once we've learned this language, then its mysteries will be revealed. With spirituality, there is no such recourse to logic available. You either feel it or you don't. If you don't, the tendency is to be dismissive, derisive even. But that's just like a teenager thinking his parents are idiots and he knows best. Laughable. You don't know what you don't know until you know it. How could you? (Yeah, hit me up in the DMs. I can take it.)
For reasons that remain as much a mystery as everything else in my life, I gave up coffee when I got here. After about 20 years of a daily habit, the last drop to pass my lips was Sunday morning. There may be more in the future. That's not the point. This isn't a swearing off. It's just a noticing.
What a curious happening that was. It's not like I had any intention of giving up such a life-affirming beverage. But that's what's happened. The emergency Illy jar remains tucked away in my rucksack.
The upshot of it was a blinding headache for two days, crippling exhaustion, and zero bowel activity. And let me tell you, I'm a twice-a-day girl. Minimum.
On day three, the headache lifts, the poonami hits, and I suddenly feel a million dollars. (Apols for the TMI if it is such.)
As I'm standing in a converted stable slapping whitewash onto cob walls feeling something quite close to joy, it occurs to me to wonder what on earth I'm doing. I realise I wouldn't dream of doing this if I were actually being paid for it—which is an odd thing (my middle-class privilege speaking). I'm fortunate that I have a property in London I'm able to rent out to cover my living costs. That means I'm free to spend my time creatively. Creatively and in service.
I don't know what led me to this path. I really couldn't say. I guess I just noticed, eventually, that the old life wasn't offering what it had promised. Ambition and 12-hour office days weren't what I'd imagined they might be. Alternatives needed investigating. And the alternatives just kept on expanding out and expanding out.
When I think back to someone from this place of contentment, I see all negative emotions have dissolved. I feel almost sorry for him now. A 62-year-old man trotting around London lying to women to get them to sleep with him by the handful. It's okay; I mean, it is what it is. But it's not what you aspire to, is it? It's nobody's childhood dream. Something's gone wrong for him. Life can be brutal. It can knock us out of shape. We're all vulnerable to that. No point in making it personal.
The cat rescue centre in Estepona I was supposed to be working at for the month of September calls. A situation has arisen. She's had to give my bed to a friend who has had some terrible luck. She's so sorry, but she has to cancel my visit. At first I'm disappointed. I've been so looking forward to the kitties. But then I think, it's okay; this is the flow. God will send something else along to take its place.
When I tell Pascal the cat rescue centre has fallen through, he responds excitedly, eyes wide and palms pressed: "It is the grace of Shiva! You will be here for the building of the Temple!"
And here, it seems, I am.
Another from Artemis: The Difference between True Guilt & False Guilt.
~
Please consider Boosting our authors' articles in their first week to help them win Elephant's Ecosystem so they can get paid and write more.