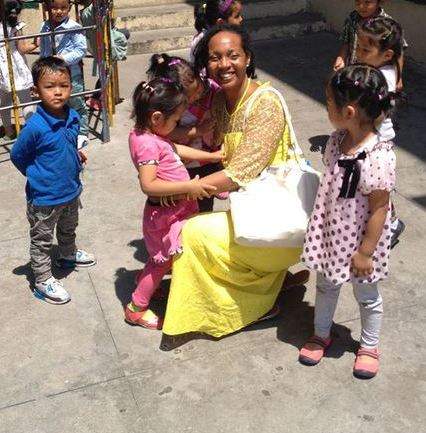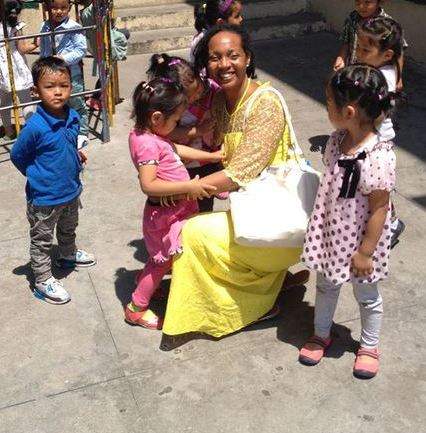 Two years ago I made my first trip to Little Tibet, which lies nestled at the foot of the Indian Himalayan mountains and in a town called Dharamsala.
Dharamsala is an interesting place with worn streets, streaks of color, and clouds of tantalizing aromas. Its name means "spiritual sanctuary" or "rest house for pilgrims."
I traveled there with my husband and our seven-year-old daughter, led by a dream, literally. I will admit at the time I felt like my hope that the world could be a kind and loving place was flagging. To be even more frank I was done, done, done with hope and the world. I was exhausted from the constant barrage of climate change disasters, death, and news filled with hopelessness that flowed from the media. Life felt mentally, spiritually, and emotionally exhausting.
I wanted to help our world, I wanted to believe in love still, but it was becoming harder and harder to muster up the belief. As a counselor, I have a strong belief that hope and love is what feed the world.
Then I arrived in India. I remember being deeply impressed by the fact that our Tibetan host, who was a busy man with wife and children, traveled for 12 rough hours on public transport to fetch us from Delhi airport. I was further impressed when he offered to pay for things for us, while we sorted out our U.S. dollars into rupee, which took a few days.
The busyness of the holiday made us loose track of what we owed him but when I asked about it, he would simply shrug his shoulders and say, "Don't worry about it." Of course, we wanted to pay him back and work out how much we owed him, as soon as we got our rupee. But his kindness and care left an indelible mark on us.
We were surprised at how every minute of the day was treated with a precious sacredness. Old Tibetan women and men would walk around with prayer beads chanting their mantras, turning prayer wheels, and doing prostrations. But not just the old—the young too did that. My husband and I also noticed we saw no homeless or depressed looking Tibetan people in the streets or town of Dharmasala, despite the fact they were a refugee community.
~
Pela, the phone case perfect for Elephant readers. A truly eco-friendly, 100% compostable option for the whole family.
~
Everyone in Dharamsala looked after each other. We became part of that "each one, love one" syndrome. Despite being a family of color, my husband and I, or my daughter never felt out of place. In fact, the odd thing was that we felt completely at home and accepted.
I remember going to the Tibetan Children Village to visit the school, and having the children rush me and my family to hug us. We spent a few hours there and their attitude just became more affectionate. In fact, we had to pray our daughter away. She had been embraced by the teachers and children with so much love, that she became determined and adamant she wanted to stay at the school for the rest of her trip. We also  noticed that the children who were part of the Tibetan orphanage were so rounded, balanced, and well cared for. Each child and group of children had a mother assigned to them.
One day our Tibetan host informed us there were many Tibetan hermits living in Dharamsala's Himalayan mountain. "How do they survive?" myself and my husband both chimed in. Our host replied, "His Holiness the Dalai Lama always sends people to check on them and provide them with what they need."
We were more than impressed—even the hermits were loved and never forgotten! And that was the thing in Little Tibet, no one was ever forgotten, no one appeared to feel the deep pangs of Western loneliness.
Everyday the levels of love impressed us. I could write on and on about the love we experienced during our stay in Little Tibet: If it was not Kuten La, the medium to the Tibetan State Oracle, returning our small gift envelope of money to us, and instead giving us back slightly more money as a gift for the long hard journey we had made from the U.S. to India to see him to tell us about the visions and dreams; then it was the His Holiness the Dalai Lama standing for hours to greet foreign visitors and Tibetans; or it was His Holiness the Dalai Lama greeting us with so much kindness and lovingly putting his forehead to my daughter's head; it was even the Tibetan stray mountain dogs that would sit peacefully by our dinner table at the restaurant and the staff who fed them instead of chasing them off.
Toward the end of our holiday, I was sitting on the bedroom balcony, which overlooked the night sky filled with temple skylines, soft glowing lights, the white reflection of the Himalayan's snow-capped mountains, and the sight of His Holiness the Dalai Lama's home. Myself and my husband were silent, like two lovers, drinking wine. Only we were not drinking wine, we were drinking in the molecules of love that brimmed and overflowed in this place called Little Tibet.
We discussed that "love experience" on the balcony. I said to my husband, "It is like you can take a knife and just slice the air, it is so thick with love." He nodded his head in slow agreement. "It is possible to live with this kind of love, sweetie." He nodded his head again and I could see he too was visibly shaken and moved by the experience. He replied, "Yes, it is. Everywhere we have been we have experienced nothing but love. I am going to hold this experience dear in my heart." "Me too," I said to him and we wrapped ourselves in each other's arms and the warm blanket of love that wrapped around us.
If we had arrived in Little Tibet hopeless, we left filled with hope and the knowledge that building communities and a world of love is possible.
What I found interesting was that when we returned back to the States, out of all the wild tales we told about Little Tibet, it was the tales we told that we had been to a community that was filled with nothing but love, a community that made us realize it was possible to build a world filled with it—that had everyone riveted. Everyone wanted to know more. It was a beautiful thing to see their eyes slowly refilling with that belief too.
~
Author: Yeye Omileye Achikeobi-Lewis
Image: Author's Own
Editor: Sara Kärpänen
Browse Front Page
Share Your Idea
Comments
Read The Best Articles of January
You voted with your hearts, comments, views, and shares.
CLICK TO SEE WHO WON