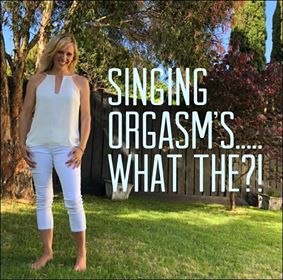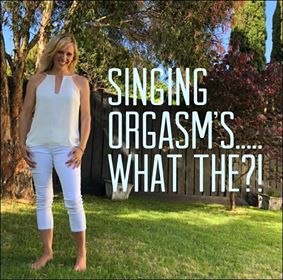 With National Orgasm Day just around the corner, I felt compelled to share what I discovered about a cool type of orgasm you've probably never heard of that we can all experience.
'You can't write that….it's way too risqué!'
And the big one… 'What if my Dad reads it?!'
My ego is having a field day trying to sabotage this piece on the still taboo topic of self-pleasure, somehow managing to cause some people to be very awkward and judgmental about it – even though we all do it!!
Thankfully it's been normalized to a huge degree with the advent of 'Sex Toy' Party Plan gatherings in lounge rooms across the world and much more 'Sex and the City' style, open conversations, between friends about who's vibrator is 'the best' over a glass of wine and much laughter.
The inner dialogue continues….
'Be brave, it's important to share.'
'Don't be a wuss' the inner voice insists.
Thank God courage wins out saying 'F#%k it, I'm doing it.' I am helped by the words of Ricci-Jane Adams who encourages others to develop spiritual stamina by facing our fears and always asking ourselves the question, 'What if there is no problem?' as written about in her Elephant Journal article, 'The question that set me free from my unhappiness.'
So here I am, embracing my inner warrior and unabashedly sharing this with you. In a nutshell, what I stumbled across helps give you mind blowing orgasms via the power of your voice. Um, yes please!!! Despite all things Tantric and Kundalini being familiar, this is new to me; I had never heard anything like it.
Inspired by the work of leaders in the field such as Emma Power of Tantra is Love, who runs hugely popular Sexuality Workshops and Sexologist Juliet Allen, who demystifies all manner of sex enhancing topics, I am excited to openly share my experience on singing orgasms.
To begin, Kundalini energy is the activation of different energy centre's in the body starting at the base of the spine that happens when spiritual awakening occurs and can also be brought about through breathing exercises and yoga practice.
It's a life force energy that is stronger than anything we can imagine possible that is likened to an electrical current running through the body. This was certainly the case for me as I embarked on my spiritual awakening that was interestingly exacerbated by the grief of the impending death of my Mother last year.
It's like my body came alive in a way I never knew was possible. Extreme grief on the one hand, but also blissful heart exploding sensations on the other. Two sides of the same coin. I had started to feel what I called internal energy bursts.
A mixture of butterflies in the tummy feeling/inner goose bumps/blissed out energy all in one. It could happen almost any time, affecting random body parts like my upper jaw, heart chakra or the back of my head.
It would often take my breath away and stop me in my tracks. I have since learned that this is common amongst people going through transformational life events. Music would often be the trigger, but it could equally be looking at a particular image or thinking about something or someone.
At times this left me feeling excruciatingly raw but made me more present to what I was dealing with and the precariousness of life.
So what's this little known singing orgasm all about? Well in amongst my kundalini awakening I'd ordered myself one of those 'all the rage' crystal pleasure wands and was trying it out – (BTW f#%king amazing in its own right!) and had a playlist going when a great song came on. Going with the flow of the moment, I started singing along and noticed that the feelings intensified significantly.
It's like you can feel the songs vibrations (pun intended) within your body when you are singing, taking it to a whole other level. Suffice to say the resulting orgasm is way more powerful. Given orgasms are so healing in their own right, combine that with the healing power of sound and we can massively amplify the energetic effect. As friends I've shared this with have said, 'It makes complete sense. Can't wait to try it!'
It's as if this type of orgasm unlocks an energetic force that can only come out to play in this way. The musical notes reverberating within our body combines with the energy already arising, resulting in a huge release. Our chakras go off the chart, especially the throat chakra which for most of us can do with some clearing.
We so often don't say what we want to say; don't want to offend; want to be seen as nice; hold it in; avoid conflict at our own expense; and suppress, suppress, suppress. This is a way to help unleash all of that crap. Pretty cathartic really. To tune into our bodies and really feel the true depth of what there is to be felt is liberating.
Singing orgasms can simply help us get in tune with ourselves, while taking ourselves to another (very satisfying) place at the same time. So, the moral of the story is we should all crank the music up while getting our 'spiritual hat' on to activate our sensual kundalini energy, to experience way more pleasure.
Why not create your very own 'Orgasm Playlist' starting with a few of my favourites including the soul stirring Cygnet Bay by Caravana Sun and Notion by Tash Sultana. I can already see 'Singing Orgasm' Spotify Playlists popping up everywhere.
As Marvin Gaye says in his song Sexual Healing 'When I get that feeling, I want sexual healing….helps to relieve my mind…. sexual healing is something that's good for me…helps to reveal the mind.' You'll never listen to music in the same way again!
About the Author
Claire McFee is a Transformation Mentor helping women get their 'Mojo' back. Women ready for change. She's 'been there' and knows what it takes to turn things around and reignite your spark. Claire helps increase your confidence, expand your consciousness and tap into your innate intuition.
Website: www.truthcompasscoaching.com
Insta: Truth Compass Coach 
Browse Front Page
Share Your Idea
Comments