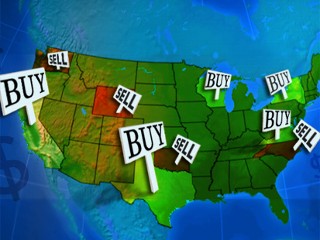 According to Zillow.com "Flat is the new Up" in a real estate market during a recession, but some rare communities (just 11 of them nationwide) are actually increasing in value. Announced on Good Morning America yesterday, Zillow ranked the Top 10 Places to Sell a Home and our fair city came in at number four. Their stats -
Median Home Value: $ 318,900, up 2 percent from a year ago.
Property values are up 2 percent compared with five years ago.
61 percent of homes are increasing in value
85 percent of homes were sold for a gain
Who else made the top 5?
Fayetteville, NC
Washington, DC
Oklahoma City, OK
Boulder, CO
Yakima, WA
Read the full article at: http://abcnews.go.com/GMA/story?id=8297795&page=1
Watch the story at: http://abcnews.go.com/video/playerIndex?id=8300352
Posted by elephant's Realtor, Liz Benson
---
Incorrect source, offensive, or found a typo? Or do you want to write for Elephant?
Liz Benson is a Realtor/EcoBroker with Colorado Landmark Realtors based in Boulder, CO. She is also Mom to a lovely teenage daughter and an energetic border collie. When not juggling those duties, she enjoys travel, riding her vintage cruiser and DIY home improvements.