Yoga + Hunky Yogi + Ocean + Paddleboard – Yoga Mat – Earth + the good Viral Yoga Video folks at Equinox + Instagramesque editing = …
Paddle Board Yoga Video by Equinox – SUP YOGA
Briohny herself sent us heads up on this video of her other half, Dice Iida-Klein, doing yoga with a paddleboard, and the ocean, in place of a yoga mat, and the steady earth.
Dice:
"When you're on the board, you're at the mercy of the wind and the water, and it makes you appreciate the solidity of the mat so much more. The challenge that it adds is humbling. It's amazing…

It applies on the water and on the mat when you're practicing arm balances. You have to fall to realize it's not so bad. You gain a certain confidence from it that gives you the freedom to move forward and put 110 percent effort into it."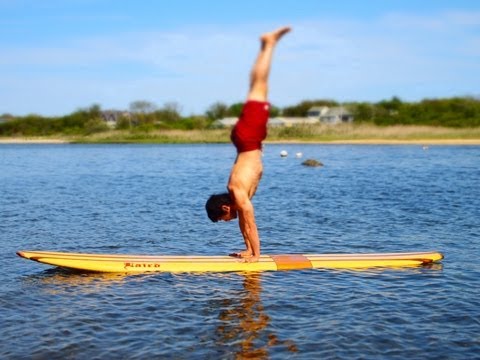 Equinox Yogi Dice Iida-Klein masters the floating flow.

Read the full article on Q: http://q.equinox.com/articles/2012/07/paddle-board-yoga

Video by Dstllry
Loved it? Leave a tip!
2 Responses to "Paddleboard Yoga. {Equinox Video}"