Most Halloween costumes are, you know, plastic, made overseas, shipped at the expense of our climate. Let's DIY. What's your favorite DIY Halloween costume? What you going as this year? ~ Waylon Lewis
And…here's a darker one. 
About the time my first son turned two, I became aware of the rip-off that is the current Halloween costume industry. Cheaply-made polyester costumes sold at premium prices.
It's about that time I became a homemade costume wizard. Why pay $30 for a costume that I can throw together for about $5?
Since then, we've used our local thrift store and ingenuity to make our annual dress up ideas. Here are a few of them, along with a link on how to find more.
Ninjas and Pirates (pictured above)
I'm not the first mom to have used her son's karate gear as a ninja costume. Don't have one? How about black pants and a black t-shirt? We picked up the ninja hood for just a few bucks.  The pirate costume uses a vest we made in previous years, a bandana and handmade "dreadlocks" made from twisted strips of fabric. We even tied beads into them so they looked just like a famous pirate captain.
The pirate vests we've used a few times, made out of felt:
The Tin Man
Grey paint, poster board, a funnel and some string.
Ghost Rider
The ninja turtle costume we found at the local thrift store, along with the ghost rider mask, which we paired with a hand-me-down leather jacket, decorative chains and flaming hair made out of orange and red tissue paper.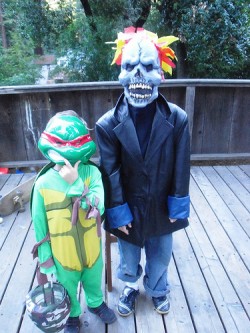 Tooth Fairy
A combination of second hand items and craftiness.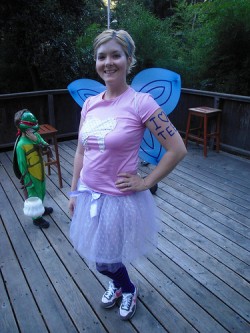 woMAN
This one speaks for itself.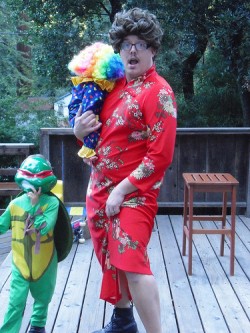 Shark Bites
This one was spotted at our kids school.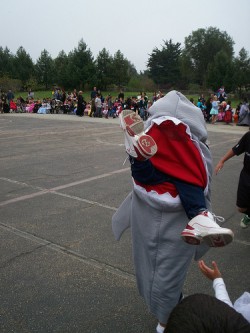 Garden Gnome
Seriously adorable costume from my friend Mandy Holmes: "Items: a shirt from dollar store with a felt strip for belt, black sweat pants he already had, the hat was a $2 witch's hat I painted red and cut the rim off of. The beard is faux fur you can find at Michael's for about $3 that I cut into the shape of beard and hot glued to the hat."

*UPDATE!*
Scenes from the festivities!
Lego Man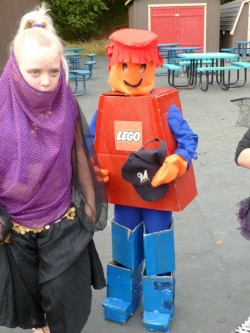 Bart Simpson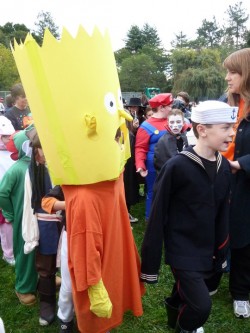 Hobo
Lastly, what about a clothes washer or a mailbox?
Up for this years fixings: Spongebob (using a box) and Patrick (pink sweatsuit), a bank robber (because babies look cute with mustaches)  Harry Potter ( cape and dress shirt, scarf, glasses, lightning scar) and a zombie clown.
Go on get crafty! Post your DIY costume photos on elephantjournal's facebook page or on mine!