A timeless conundrum.
Unravel this one for us: a Hindu Goddess on an Australian bikini enrages conservative Indian men.
We've covered this sort of thing lots before. It—and by it, I mean the intersection of spiritual materialism and, say, conscious consumerism—might just be the thesis or crux of our mission here at elephant journal. Is infusing materialism with mindfulness a good thing? Yes. Is using spirituality to bolster the ego counterproductive? Yes?
We've talked about spiritual tattoos, wrist malas sold in shopping centers, we focus on ecofashion and we've done plenty of straight-up coverage of Spiritual Materialism by the gentleman who coined the term, Chogyam Trungpa Rinpoche.
This latest chapter finds a controversy that pits men against women, fashion against spirituality. Is wearing a goddess on your yinyang sexy, meaningful, a way of preserving the everyday relevance of faith? Or is it desecration? If the genders were reversed, in this case, would women be so worked up about a man modeling Shiva or Vishnu or Ganesh as sexified fashion?
A swimsuit featuring a print of Hindu goddess Lakshmi has caused quite a stir among Hindus, Fashionising writes.

Lisa Blue recently sent the number walking at Australian Fashion Week. It features a vibrant image of Lakshmi across the front and along the rear.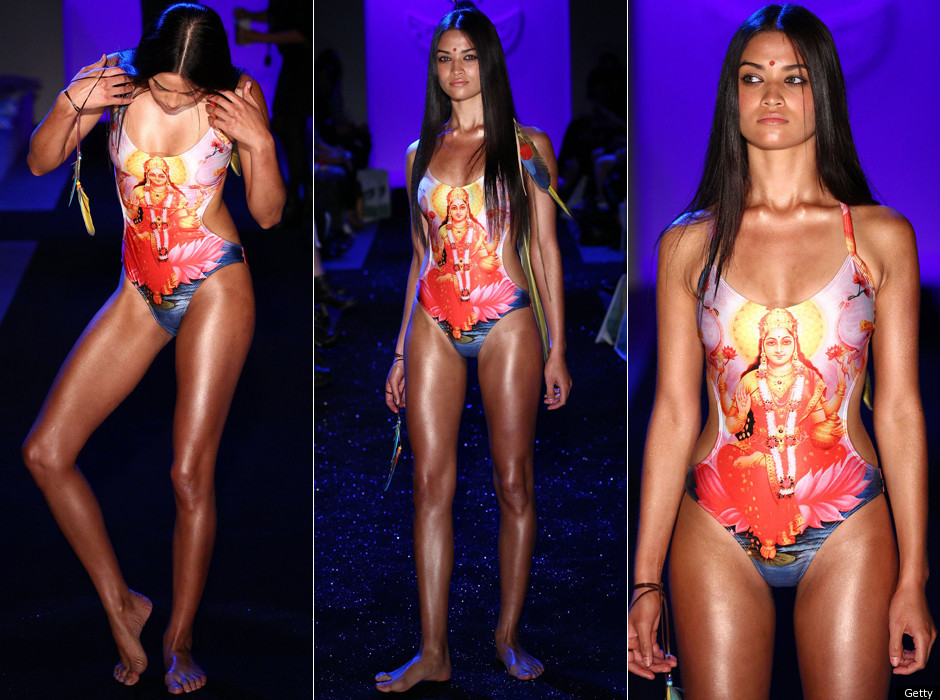 For the story, click here. Photos: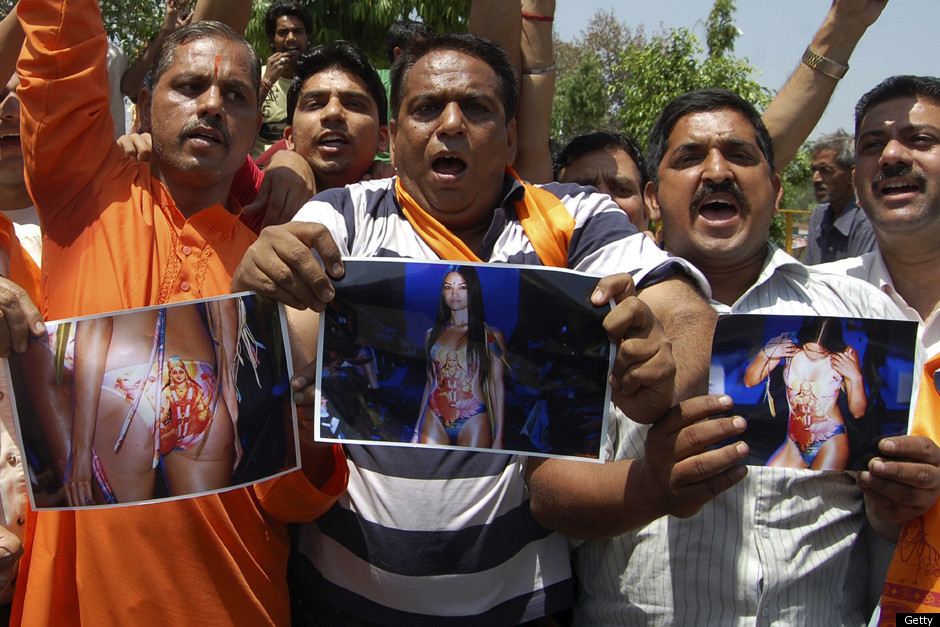 Indian activists of the right-wing Hindu organisation Shiv Sena hold photocopies of models wearing swimwear featuring Hindu goddess Lakshmi during a demonstration in Amritsar on Sunday. Photo: Getty Images
Lisa Blue promptly ceased production:
We would like to offer an apology to anyone we may have offended and advise that the image of Goddess Lakshmi will not appear on any piece of Lisa Blue swimwear for the new season, with a halt put on all production of the new range and pieces shown on the runway from last week removed.

Lisa Blue has been born out of a love of conservation, spirituality and a respect for all people. At no time would we ever have intended that the brand would cause offence. The use of images of Goddess Lakshmi was not in any way a measure of calculated risk taking, simply it was a desire to celebrate different cultures and share that through our brand.