"Hey man, whenever you need someone to hold your lights – I'm your guy!"
There was a time when I would cringe from head to toe whenever the above offer was (repeatedly) given to my partner of five years.  Every guy in the room wished they were my boyfriend, when they found out what he did for a living.  The look in their eyes, the spark of machismo "understanding" that passed through them when it was apparent (to me, at least) that they were thinking about one thing and one thing only:  Boobies.
"Want to come see my nudes in the men's bathroom?"
After several years of extremely casual friendship,  the ending of a marriage and an engagement, Carl and I ran into one another at an art show where he was proudly showing off his very first nude series.  Where did we have to venture together to see these amazing works?  Into the same room where guys can actually hold their dicks in their hand and see a naked chick, the men's bathroom, of course.  Carl proudly led me into the small 6×6 room (where I learned later that I wasn't the only girl who had a private viewing of the artists photographs in the guys john), and there they were…. Boobies.  Lots of them.  A couple of legs, a silhouetted ass and of course, more boobies.  I was enthralled.  I was excited and slightly turned on.  I wanted to know "who this person was" standing in front of me – with the most amazing laughing blue eyes, ex-patting from England, finally single and standing there in the men's bathroom at Collectors Café with me, showing me his…. well, his boobies.
"My boyfriend is an artist.  That is soooooo cool.  Now that we are together, he will probably never want to take pictures of naked women again."
After several months of dating, I was beginning to have a love/hate relationship with the provocative and sensual pictures that adorned the walls of Carl's home.  On some days, I was critical of the female shapes in the frames and on other days, I relentlessly judged and compared my own curves (ahem… 32 AA if we are being honest) to the C-Cup that hung in his bedroom.   I was being confronted with this amazingly scary fear of facing my own issues of self love, self acceptance, trust and faith in a partner and the reality that the "voices in my head" were not going to go away anytime soon.  Carl was starting to plan his second art series.  Line up ladies!
I was dying.  Literally, dying.  "Who are you taking pictures of today?" "What time does the shoot start?" "When will you be home?" "What do you have planned"  "I thought you already took a picture of her?" "Why did you take 485 pictures of her?"  "Do you think she is pretty?"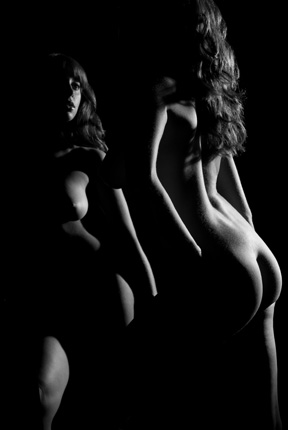 I think I was in sort of a "panic" mode 24-7.  It is amazing what we can internally put ourselves through while moving through the world with a smile on our face.  Deep down, I desperately wanted to understand and support him, but my own insecurities rose up and declared war with my ego leading the cavalry. It was super intense and one ride that my "free-spirited and artist" boyfriend was not willing to take with me.  This wedge in our relationship just gave rise to more anxiety as he left the house frustrated with me and headed to the studio to shoot the local "So You Think You Can Dance" finalist (she was and still is smokin' hot).  I remember that morning.  As I sat, looking for stillness, trying to find my breath through a web of self mutilating thoughts, I recalled a moment of space between the "boobie orgy" that was playing out in my head and seeing my partner as an amazing keeper of beauty and light and whose visions manifested into frames of form.  I saw it from his perspective, not the constant battle to get him to understand "how I must feel."  Give me a fucking break.  Lets step into the "conscious  and evolved" relationship you have always wanted, Jessica.  Let's get naked.
"So, the first nude he ever took of me, he threw a sheet over my head."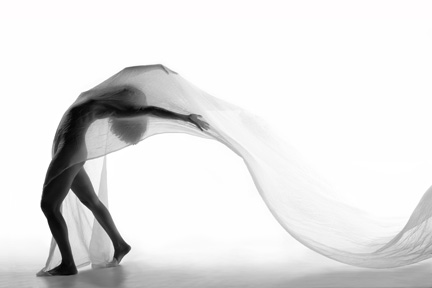 Ok, I know…  It is an amazing shot.  Self depreciation suits me when it is balanced with a dose of comic relief.  I was the WORST model for this shoot.  I complained, I was self conscious, I was bored.   To be honest, I was a little disappointed that in the middle of the shoot my sad fantasy of Carl turning in Austin Powers (Yeah Baby!) and wanting to get his "shag" on with the model so everyone could get in the mood to deliver a sexy "boob-tastic" picture wasn't actually a reality.  This was pretty hard work – even with a sheet over my head.
"The journey to acceptance"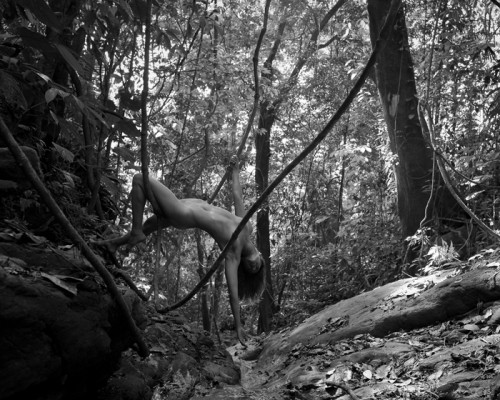 Acceptance came more from the desire to find an appreciation for my partner's gift as an artist, rather than spending hours analyzing the imaginary dialogue he had with his model to let her know that this shot required her nipples to be hard.   Digging in and taking a real look at my own abandonment and insecurity issues left me only appreciating the Divine Humor in who the universe sent me as a partner.   Here is a guy whose profession conjured up every major fear I never knew I had and challenged me to face them. What more can we really ask for? I was and still am up for the long and winding road back to my Self – and I think to truly embrace that path, you must see every experience as an opportunity to chisel away at the parts of you that aren't serving you any longer.  I can't say that I have perfected the art of loving the fact that he gets phone calls to do things like take a group of models to Costa Rica and shoot them in the buff beneath waterfalls.  I am working on it. Ladies, you can do me a favor and stop making comments like this:
"God, I could never let my boyfriend/husband/partner do that!"
We are all here with a clearly outlined list of lessons to learn, fears to overcome and conditioning to release.  I would have never known that opening up to my partner's world of curves, lines, light and shadow would actually be a path to my own freedom had I not made the conscious choice to sit with my fear, day in and day out – gently holding it with love instead of judgment.  It is a tough job being a muse, but ya know… someones got to do it.  I don't think we can underestimate what it means to our partners when we can fully support and embrace their individual journey in this life.  It is a precious lesson and gift to be able to share.
At least I can be certain now, that my partner does indeed "picture" every woman that walks by naked.
Carl Kerridge, the amazing man who took all of the fine art images above will be showing for the first time in Denver on June 2nd with the art group RAW at the Jet Hotel in downtown Denver.  Come meet the man behind the lens.  He will be showing work from his Body of Light series and his most recent collection titled Goddesses.  For more info on Carl, visit his website at www.carlkerridge.com).
~
Featured image: Unsplash/Alexander Krivitskiy