get elephant's newsletter
If A Tree Falls: A Story of the Earth Liberation Front
A 2012 Academy Award nominated film, IF A TREE FALLS explores the tumultuous period from 1995 until early 2001 when environmentalists were clashing with timber companies and law enforcement, and the word "terrorism" had not yet been altered by 9/11. Click here for information on screenings.

* * *
There Once Was an Island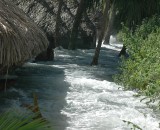 Three people in a unique Pacific Island community face the first devastating effects of climate change, including a terrifying flood. Will they decide to stay with their island home or move to a new and unfamiliar land, leaving their culture and language behind forever? What if your community had to decide whether to leave their homeland forever and there was no help available?

View this film at an upcoming screening or purchase on DVD.
The Big Fix (Release Date: April 2012)
On April 22, 2010 the Deepwater Horizon offshore drilling rig run by BP sunk into the Gulf of Mexico creating the worst oil spill in history. Until the oil well was killed on September 19, 779,037,744 liters of crude oil and over 7,000,000 liters of chemical dispersant spread into the sea.
By exposing the root causes of the spill filmmakers Josh and Rebecca Tickell (FUEL) uncover a vast network of corruption.
The Big Fix is a damning indictment of a system of government led by a powerful and secretive oligarchy that puts the pursuit of profit over all other human and environmental needs.

There are so many more important documentaries. Here are some others I've written about in the past.
Please let me know what environment-related films you recommend.