You asked for it, you got it.
About a year and a half ago we dreamed up the concept of subdividing elephant into topical sub-magazines, each with its own homepage.
This was in response to reader feedback that it was difficult to absorb and make sense of the sheer quantity and variety of great articles coming in every day.
Today that dream has become a reality, and you can see it with the ten gold highlighted tabs at the top of every elephant page:

Just click on any gold tab and you'll get a homepage that looks a lot like the elephant main page, but just for that topic, with its own "Featured Today" and "Popular Lately" sections: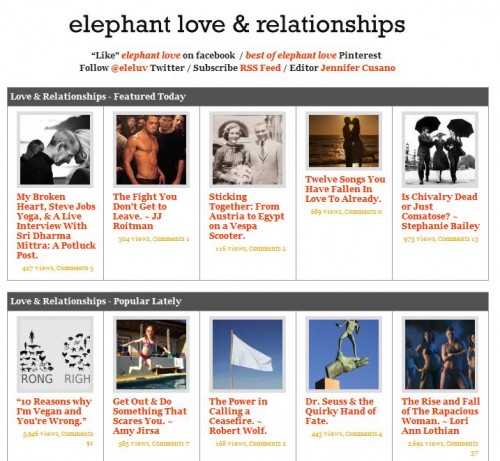 These ten topical pages are supported by ten rapidly growing facebook pages (please go and "like" your favorite topics):
Yoga / Green / Wellness / Spirituality / Society
Food / Culture / Love / Family / Work 
and the "Best of elephant" Pinterest boards, where we're starting to accumulate the very best articles from the past in a highly browsable "coffee table book".  (I'm up through April 2009 so far):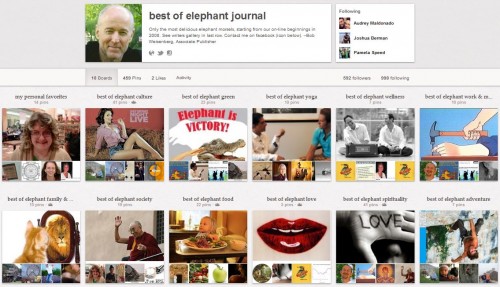 Each topic also has its own Twitter and RSS feeds.
Now it's easy to zero in on and subscribe to the elephant content that interests you the most.
The ten sub-magazines are not just a way of sorting things out, of course.
We are developing each of these topics into leading online magazines in their own right–recruiting writers and building readership.
Obviously, managing all this doesn't happen all by itself!  To that we owe our terrific team of dedicated volunteers.  Thank you everyone.
Please let us know if you have any suggestions on how we can make elephant better for you.
Thanks for your support.