get elephant's newsletter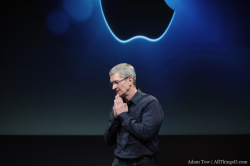 One would so dearly love to believe that the news emanating from Apple's CEO Tim Cook is an innovative and positive move for the American economy.
Cook announced in an interview with NBC this week that one of its existing lines would in fact be made in the United States next year. He's not said where exactly, but he also mentioned in the same interview that the glass for the iPhone is already made in Kentucky and that the engines are produced in the U.S.A., and exported out to other countries.
"Next year we are going to bring some production to the U.S. on the Mac. We've been working on this for a long time, and we were getting closer to it. It will happen in 2013. We're really proud of it. We could have quickly maybe done just assembly, but it's broader because we wanted to do something more substantial. So we'll literally invest over $100 million. This doesn't mean that Apple will do it ourselves, but we'll be working with people, and we'll be investing our money."
So this all sounds like a positive step forward for a local economy somewhere and the ecology. But is it?
Tim Cook has certainly stepped out from under the shadow of Steve Jobs and secured his place in Apple's history. He's successfully overseen the launch of several of Apple's new products but not without them being wrapped in plenty of controversy.
Apple has come under withering criticism about its exploitation of workers in China. Its Foxconn plant just happens to have suicide nets attached to the outside of its buildings and has recently quelled a riot after a worker was beaten up by security staff.
I decided to do a bit of research online. I asked people's opinion regarding Apple's latest move and within minutes there was a heated discussion going on. On the one hand, I had a Mac user who extolled the virtues of Apple's quality, coolness and service. He relayed a great story about being abroad and able to have his Mac fixed on its global warranty.
In the other corner, I had a web designer friend who pointed out Apple's failings. I asked for sources and there were plenty available online. It's losing the specification war, constantly suing its competitors and Apple's shares are on a perilous downward slide.
What was apparent is that Apple's marketing of its iconic brand has been truly spectacular. What was also apparent to me is that there must be an awful lot of 'cognitive dissonance' going on in the minds of both Mac users and potential customers.
People want to believe that it's cool to buy Apple. But how do you escape the mental tension and guilt of all that freight pollution and the Chinese workers who're made to put in 15 hour days, in terrible conditions, which has driven some to suicide?
I wrote in an earlier article that a truly innovative thing would be for Apple to make as many of its products as possible in America. Cook says they don't do that, not because of an issue of cost but because of a lack of skills. I thought this response was both insulting and a cop out. Apple could easily train people.
Is this really an altruistic move by Apple and CEO Tim Cook? Or is it a skilful move during the Christmas shopping period to remove cognitive dissonance from the minds of all those potential buyers?
If it is a marketing ploy, it is a skilful strategy. It's a tactic worthy of an iconic brand which has already shaped the culture of society and transformed the electronics industry several times over and is now hinting that TV will be its next move.
Will it save Apple from the universal product cycle, which ultimately ends in death? Only time will tell.
~

Ed: Brianna B.