get elephant's newsletter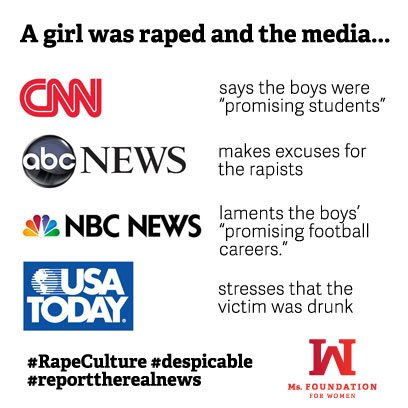 I'm all for giving people second chances.
We all made foolish choices in high school, and some of us may have even hurt people.
But this?
This is inexcusable. This is worse than the boys taking pictures while they abused this girl.
This is a society-wide statement that we are willing to sanction rape.
Sadly, The Onion predicted this type of media reaction a few years ago.
Is this who we are, as a society? Have we decided it's better to sweep things under the rug and allow our children and teens to be violent bullies? Are we ever going to start teaching our boys that rape isn't okay instead of teaching our girls how to stay safe?

Please speak out against the mainstream coverage of this trial.
"Your Steubenville verdict coverage was terrible and offensive. These boys committed a very serious crime, and they were held accountable. The verdict that the judge handed down was justice–not a "tragedy." The tragedy was the rape. Please apologize and make this right."
We are better than this.