get elephant's newsletter
Move over Disney.
Luxurious tropical weather, breathtaking beaches, surf lessons on the North Shore with tanned 20 year olds, yoga with Baron Baptiste & Shiva Rea, dance parties in the grass commencing in a 100 person hug, & soul shaking intimate concerts with Michael Franti & JBoogie that leave everyone sweaty and smiling, believing in the sound of sunshine and a possible better world. I am home.
But wait.  There's more…
Did I forget the Stand Up Paddleboard yoga with Jenn Perell in water so warm you actually want to fall in- and the fabulous 55 year old to the left rocking a thong in downward dog? And the exquisite hikes through the jungle to indescribably beautiful sunset vistas. What more could be asked?
The coastline drive to WanderLust, Oahu festival at Turtle Bay resort passes scenic shoot locations from Giligan's Island, Lost, Jurassic Park as well as the famously delicious Giovanni's shrimp scampi truck. Just gorgeous. And the Wanderlust attendees are just as beautiful as the scenery.
The kindness and consciousness of this beautiful community is overwhelming.
Volunteer beach cleanups with Sustainable Coastlines, protests against Monsanto mc'd by famous musicians, & a friendly openness that speaks of connection over judgmental separation gives an already perfect trip an element of charity and cause.
Making a difference together in designer yoga apparel with a soundtrack by the best DJ's—found on Yogi Tunes for later download, the festival transitions between an athletic event, a concert, and a retreat center. The grassy knoll has the super adventurous and coordinated attempting slacklining with Yoga Slackers while nutritionist Jessica Quinn advises others on longtime imbalances.
And then there's the bounty of beautiful bendy yogi's as far as the eye can see.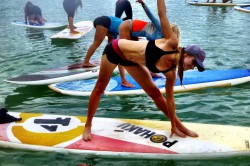 Women in bikini's debating between poolside lounging or putting their leg over their head overlooking 10 foot face waves so blue, no Instagram filter could compete.
Droves and droves of athletic goddesses here to breathe & bend in spandex… all to get closer to their bliss…and the smart men that have taken notice and booked the flight. It's a very conscious, very sexy scene.
While the yoga community understands the euphoria of breathe, of presence, of fine tuning our bodies and focusing our minds, the yogi novice may mistake this communal honoring in paradise as nothing short of heaven.
As I board the flight home, I close my eyes and try to savor the melting restoration of naps on secluded beaches, the giggling in waves with girlfriends, the sheltering meditative sounds of the winds through the Palm Trees, the first understanding of the importance of restful Yin thanks to Gerry Lopez, and my new found happy place, Wanderlust.
See you next year.
Sara Plummer is a UCLA alumna; Writer; Wellness, Fitness, & Relationship Coach. She spends her free time adventure traveling, cycling, practicing & teaching yoga, fitness modeling, doing stunt work, and discussing public policy. A Los Angeles native, Sara is enamored with her move to San Francisco enjoying her work with LiveWeal, helping conscious businesses do good. She loves throwing themed parties & now heads the event planning for Alibi Lounge. Her passion project is a controversially titled couple's therapy book that addresses the limitations of our outdated primal brains and our resulting vast gender differences. She coaches & helps men, women, & couple's enjoy eachother fully by honoring how they are designed. She can be found at www.saraplummer.com, www.liveweal.com, & www.goodgirlsguide2.com.

~

Ed: Elysha Anderson