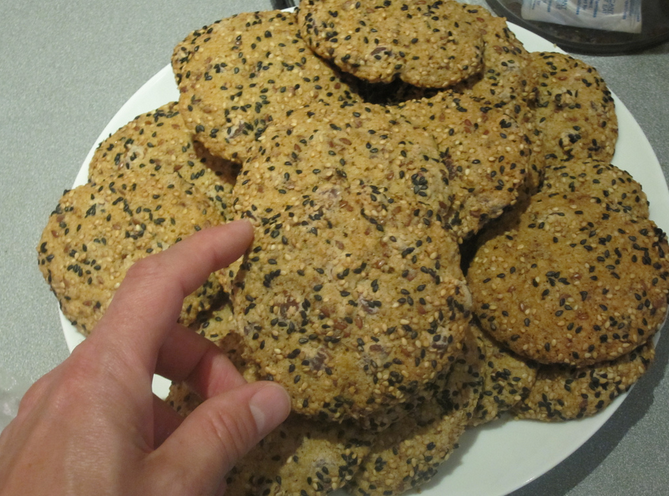 While driving home yesterday, a craving for chocolate chip cookies took hold of me with ferocious urgency.
I thought I was being mindful by making myself drive home and make cookies rather than stop by the bakery on the way home. Better for my wallet, and better for my waistline, right?
While the first batch baked, I ate the batter (you can do this with vegan cookies). By the end of the day, I'd eaten about 10 cookies, maybe 12.
I just embraced it. I didn't promise myself I'd do better today (in fact, I just chowed four more). I didn't scold myself for such indulgence and gluttony. Then…
This morning I went to yoga. The teacher greeted me and asked how I was. I gushed, "I ate 12 cookies yesterday [I didn't mention the batter], so I don't know how I'm going to do in class today. I might be hyper, or I might crash."
I have no idea why I said this. It was like a confession I guess.
She nodded and turned all of her natural beauty in my direction. She smiled with her bath-tile-white-teeth, rested her hand on her slender hip. Her softly curled pony tail glided off her shoulder, and she said with wide-eyed earnestness, "I was craving chocolate chip cookies yesterday too!"
She continued, "But I didn't have anything like that in the house, so I poured a bowl of chocolate chips," and here she gestured with her hands to describe a bowl the size of a shot glass, "…and ate those." She said this as if that satisfied her.
It was then that something shifted in me.
First, I recognized that a shot glass of chocolate chips would have never satisfied me. I would have refilled it 10 times over.
Secondly, and more importantly, I didn't start imagining her life as one of perfect control all the time. I didn't beat myself up for not measuring up to that perfect, although fictional, life.
Instead, I turned toward the mirror to set up my mat. I smiled at the other women who had come in during our talk about cookies. I noticed their lean limbs and narrow waistlines. But rather than longing to be like them, I allowed a glance in the mirror, which I usually avoid at all costs, and felt a light-hearted familiarity and acceptance of what I saw: fuzzy socks that can only be described as Cookie-Monster-blue shedding little blue puffs all over the studio, black tights that ended mid-calf exposing stubbled skin, and a body with all kinds of curves and heft people don't think of when they think "yoga," (but maybe they do when they  think "12 cookies.")
I've practiced yoga for over 10 years. Every teacher in every class has tried to get me to stop striving, to stop trying to force myself into an asana, to relax. I hear them, I even think I understand, but there I go gripping my toes and yanking myself into Janu Sirsasana.
Today might have been the first time I relaxed. Instead of striving, I noticed what I am capable of and admired it rather than focusing solely on how far from perfect I am. And, paradoxically, I had a great practice: stronger in some poses than usual, more flexible in others and still plenty limited in others.
It was in those limited asanas I felt the greatest difference and even chuckled out loud once or twice. It was fun! Trying things I can't do, and may never be able to do, felt fun, playful and interesting, instead of one more "to-do" item on my ever lengthening list of self improvement goals.
Although I won't be eating 12 cookies every day, I may start wearing those Muppet-y socks to class, just to keep it real.
Love elephant and want to go steady?
Asst. Editor: Edith Lazenby/Editor: Rachel Nussbaum