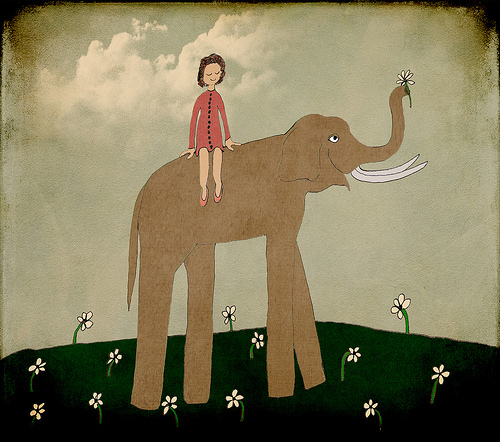 You might say I'm feeling the love.
Maybe it's the proximity to Valentines Day, or all the years of goodness yoga and other soul pursuits have built into my bones, but this morning I am fairly bursting with positivity. And that's a pretty good feeling for someone who had a permanent scowl etched on their face for the first 30 years of her life.
There was a time when I would have scoffed at all this talk of karma, shakti, prana, prayers and anything else remotely mystical or spirit related. "Life is simple," I would've said. "It is what it is and then we die. End of story."
I don't think that way anymore and it's a good thing too—as a writer I'm here to tell you, that's a pretty lame ending.
One of the nice things about realizing our spirit is a real thing is the sangha, or community it allows us to discover. And one of the best places to find such a community is right here, in the virtual pages of elephant journal.
We are now a group of over seven million people who believe in being good stewards of the earth, in being kind to ourselves and to others, and that what we do matters.
elephant journal gives us a place to express our joys, frustrations, questions and epiphanies in an uncensored way, and also gives us a way to respond to those who have expressed themselves. I have found countless kindred spirits through my daily writing efforts and publication in elephant journal, all of whom have deepened my experience of what it is to be alive.
For that, I am more grateful than I will ever be able to articulate.
In thanks, I offer this video, banjo pickin' and all, of a sweet baby elephant doing silly stuff in a mud bath while his mom and dad gaze proudly on. It's not intellectual, but not everything has to be—another revelation the wisdom of years has brought me.
Keep watching until the end, when in the final frames you will see this baby's parents smoosh together, suffused in pachyderm love. If that doesn't make you smile, nothing will.
Here's to all the beauty in the world. Happy Valentines day, dear elephants. May we be free from suffering and the cause of suffering.
Love elephant and want to go steady?
Editor: Catherine Monkman
Photo: The hills are alive*/Flickr