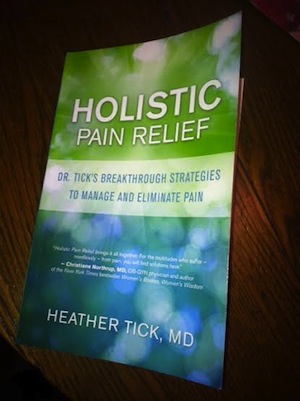 In Dr. Heather Tick's Book Holistic Pain Relief she walks the reader through the nature of pain and its effects on the individual and society, describing how pain is a growing and complex problem, and detailing how traditional medecine's approach is failing to deal adequately with it.
Moreover, Dr. Tick highlghts how the evolution of our medical training and practices have led to a system in which conventional approaches to the treatment of pain are often unsuccessful, or lacking.
Dr. Tick states that she wrote this book, "…as a partients' guide to understanding and managing chronic pain." The subject matter in this book is easily accessible to people like me, with little to no medical knowledge, and very interesting.
Within her book, Dr. Tick goes into great detail as to why traditional medicine is currently inadequate at treating pain and presents the reader with effective holistic approaches instead.
Dr. Tick recommends the use of an integrative physician, as this physician looks at all aspects of the patient (and their pain) and stresses the importance of a holistic lifestyle (going into wonderful detail as to how the decisions we make about how we treat our bodies and live our lives directly affect our health in major ways).
In terms of avoiding pain and maintaining good health, Dr. Tick stresses the importance of a healthy diet (discussing which foods help and hinder the healthy function of the body). This book is also chock full of other ways to manage pain and reduce stress and highly recommend it for anyone who's struggling with finding balance in their lives and body.
Overall, I highly recommend the book Holisitc Pain Relief. Dr. Tick highlights the importance of living a holistic lifestyle, and presents her facts, in a clear, concise and informative way.
Yes, she talks about quitting smoking, and about how this will improve our health, which is probably something the reader already feels they know.
However, she weaves into the narrative many other holistic, healthy habits and advice (such as paying attention to our dental care, being in touch with our environment and how to better deal with our work and home life in a healthy way) that is of great benefit to the reader. (Note: There is also a chapter dedicated to the "Toxic Stew" we live in and I highly recommend paying close attention to the toxins we can eliminate within our daily lives that are highlighted in this chapter).
This book is a must read for anyone who's interested in living holistically and for those suffering from the imbalance of illness and pain.
Love elephant and want to go steady?
Editor: Bryonie Wise

Photo: courtesy of author