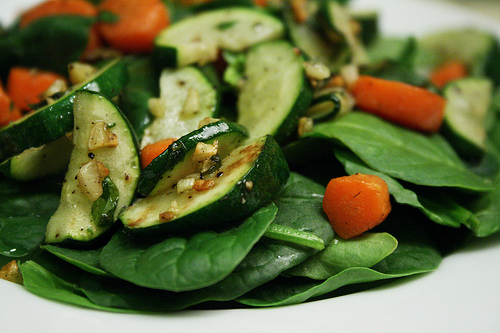 I have four requirements for recipes: they have to be fast, healthy, simple and delicious.
That's probably why I make big pans of roasted vegetables several times a week, but admittedly, the delicious part is the main reason.
Whenever someone tells me that they don't like vegetables, or a certain vegetable in particular, I always tell them that it's probably because they haven't had vegetables cooked properly.
Years ago I discovered that everything tastes good roasted in a combination of olive oil, garlic, salt and dried, red pepper flakes. Formerly insipid veggies suddenly come to life in the oven. I thought I hated squash, Brussels sprouts and green beans until I roasted them and now I can't get enough of all three; I've been inspired to try so many more new vegetables. So far, I haven't found anything that isn't delectable when roasted. Greens, root vegetables, alliums, brassicas—anything goes.
Here's how to make roasted veggies:
Roasted Vegetables
Any combination of vegetables that you want.
Extra-Virgin Olive Oil
2 cloves of garlic slivered or chopped, or garlic powder
Crushed Red Pepper Flakes
Sea Salt and Freshly Cracked Black Pepper
Squeeze of Fresh Lemon Juice (Optional)
Preheat your oven to 425 degrees.
Line a rimmed sheet pan with parchment paper.
Spread a thin layer of olive oil on the parchment paper. You can use spray olive oil for an even coating if you have it.
Wash and cut up the vegetables. The size of the veggies will determine their cooking time. Larger pieces take longer and in general, a good rule to follow is to keep everything about the same size so the veggies will cook evenly. I prefer to cut my veggies into bite-sized pieces (about an inch or so all around).
Put the veggies in a mixing bowl and drizzle with olive oil. Then season with salt, pepper, garlic and red pepper flakes. I've left out any measurements because seasoning is an individual preference. If you like it mild, use a small amount of red pepper flakes or leave them out entirely. With your hands, toss the veggies in the oil and seasonings to coat.
Spread the cut vegetables in an even layer on the parchment. The most important thing here is to leave space between the pieces. Do not crowd the pan or the veggies will steam on top of one another and get mushy, instead of crispy, brown and caramelized.
Put them in the oven and roast for about 20 minutes. After 20 minutes, check the veggies. Broccoli, cauliflower and greens will probably be done at this point, while root veggies tend to take a little longer. Again, this is a matter of individual preference. Some people like their vegetables less done, while others prefer them softer. I'm in the softer camp, so I usually cook everything a little longer. I like my veggies with lots of brown, crispy edges too because that's where the flavor lives.
At the 20 minute point, give the veggies a stir, make sure they're still evenly distributed on the pan, and if they aren't finished, put them back in. Check them about every 10 minutes until they are done to your liking.
When the vegetables are cooked, take them out of the oven and toss with a squeeze of lemon juice if using. Eat them now or cool to use later.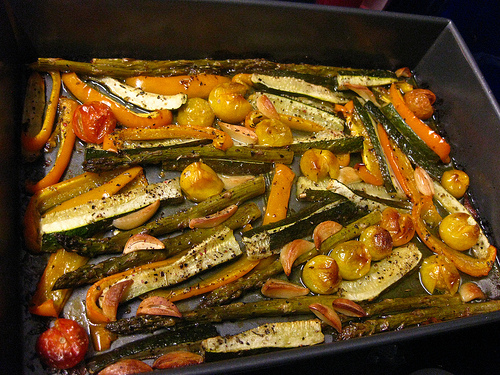 Now that you have a big pan a delicious roasted vegetables what can be done with them?
How about:
Put them in a burrito.
Top with Parmesan cheese and toasted pine nuts.
Add to salads and dress with a lemony, mustardy vinaigrette.
Eat them in a sandwich.
Make power bowls by topping brown rice with roasted vegetables and hummus.
Stir into scrambled eggs or use as omelet filling.
Use them as a side dish to compliment any protein.
Toss them with pasta, with or without sauce.
Fold into rice and beans for an amazing pilaf.
Pile on couscous and top with plain yogurt.
Puree in a blender with some broth to make a simple, but hearty soup.
Mediterranean—zucchini, eggplant, tomatoes, onions and garlic.
Southwest—zucchini, tomatoes, onions, garlic, sweet potatoes, corn, red bell peppers, jalapenos, poblanos.
Irish—leeks, white potatoes, cabbage (this one will be best with a longer cooking time so the potatoes can crisp and the leeks and cabbage can soften and brown.)
Mushrooms, leeks, peppers
Cauliflower, zucchini, red bell peppers, corn
Carrots and leeks
Brussels Sprouts and halved red grapes
Get creative!
Tips
Asparagus is delicious roasted, but it will get mushy and stringy if cooked too long. Asparagus is best roasted alone, for about 10-15 minutes tops. Check it often.
Give turnips a chance. I had no idea how wonderful turnips were until I roasted one. Peel first.
Unless you are roasting beets whole, peel them. Same goes for butternut squash.
If you don't want beets to turn the other veggies red, use golden beets. They also have a milder flavor.
Add cubed tofu or cooked beans to the veggies and roast with them for extra flavor and protein.
For a smoky flavor, add a few dashes of smoked paprika to the seasonings.
For a spicy, smoky flavor add dried chipotle flakes or a 1 diced chipotle pepper (canned in adobo sauce) to the mix.
Good luck! If you already love roasting veggies, let me know some of your favorite combinations or creative uses in the comments. I'm always looking for new ideas.
Love elephant and want to go steady?
Editor: Catherine Monkman
Photos: ccharmon/Flickr; Bexx Brown-Spinelli/Flickr