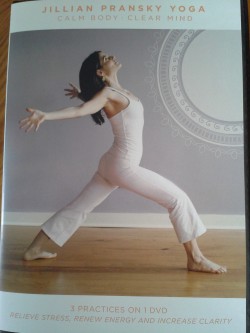 Yogaliscious Practice:  Yoga for Everybody
Sometimes DVDs are slightly different from their titles. Jillian Pransky Yoga—Calm Body Clear Mind offers exactly what the title promises along with some lovely surprises.
This DVD offers an alternative to our multi-tasking lives and practices. To slow down and pause, the student/viewer has three options: a 30-minute Slow Flow Practice, a 30-minute Restorative Practice with Props and a 10-minute Relaxation Practice. Or all together, these segments are a complete practice from beginning to end.
In Jillian Pransky Yoga—Calm Body Clear Mind you are instantly welcomed into a bright and clear space. It appears so relaxing you will yearn to crawl into your TV screen and join Jillian on the yoga mat.
On screen, as in person, Jillian creates a safe space to heal, restore, relax, unwind, explore, detox, clean and practice.
My favorite surprise in this DVD is Jillian's voice is in voiceover. She is not speaking while practicing like we see in many DVDs and older videos, in that old-school "aerobics" style. Instead, we see Jillian practicing on the mat, demonstrating prop placement and hear her voice on a separate track. I found this technique to be peaceful and inviting. After a while, I stopped watching and found myself simply listening to Jillian's voice. It can stand alone as a meditative audio.
I asked Jillian about this as a production value.
She intended to make this DVD feel "less instructional and more melodic" creating a "personal and intimate" experience for the audience. In filming, there is always an unexpected noise or openness to the vocals. Recording in voiceover offers a more "quiet" alternative enhancing this calm practice.
Another interesting detail I found in Jillian Pransky Yoga—Calm Body Clear Mind, one Sanskirt word is spoken, Namaste. This beautiful gesture offers a yoga practice for all practitioners and all levels. Everyone from strong vinyasa yogis who are surrendering or healing to those yogis who prefer a gentle or more restorative practice will be grateful for this DVD.
Jillian shared with me her intention to create an "inclusive experience" for her audience. She wants them "to feel warm, fluid, grounded and liquidity." This choice eliminates barriers in the audience's perspective of yoga.
 "I want this to be everybody's practice."
This DVD gives several camera angles and close ups. The change in point of view provides a detailed perspective for shape and direction of poses. Proper alignment for optimal safety is not a guessing game. Jillian gently guides the student/viewer from one pose to another with ease and grace.
The last segment in Jillian Pransky Yoga—Calm Body Clear Mind offers alternatives to yoga props often found in the yoga studio. By using household items such as pillows and towels, the yogi on a budget can still experience a complete restorative practice.
This is Jillian's first DVD. She was inspired by her students, from her workshops and trainings (Kripalu and YogaWorks NYC) to expand her teachings with more material. The audiences from her Retreats (Mohonk Mountain) requested a tool for practicing at home. A way to "maintain mindfulness" received from their retreat experience.
This is not an intimidating intense Vinyasa yoga DVD. Jillian shares her love of yoga and commitment to therapeutics as she does in her classes, workshops and trainings. This practice is healing, accessible, quiet and just what the title suggest, Calm Body and Clear Mind.
Jillian continues to offer us practices that are Yogalicious.
Note: elephantjournal.com received this book free, in return for a guarantee that we would review said offering. That said, we say what we want—good and bad, happy and sad.
Love elephant and want to go steady?